The city of Tucson has experienced a great boom in terms of medical facilities over the past few years. CNAs and other medical professionals are in great demand due to an influx of new residents as well as an increase in the elderly population. Individuals who seek a rewarding career in the medical field and wish to assist others then this is the right choice for you and there are several positions available for Certified Nurse Assistants (CNAs). There are also various schools and universities offering CNA training in Tucson. Students applying to the training programs must ensure that they are approved by the state. Training programs are also available at nursing facilities and hospitals.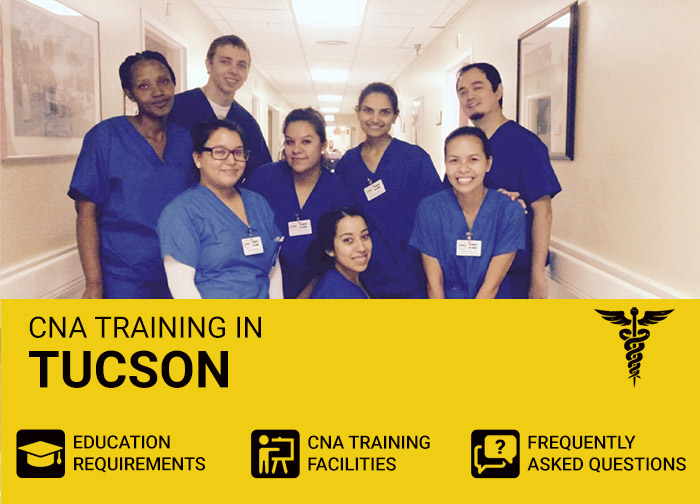 Academy for Caregiving Excellence
The Academy for Caregiving Excellence was founded in 2015 and is committed to teaching the principles of excellence in care through healthcare careers. The programs aim to prepare students for a rewarding healthcare career and achievement of their goals. The top quality program aims to prepare students to provide care and compassion for their patients. Admission into the training program requires students pass an admissions exam administered by ACE. Admission into the course does not require any previous healthcare experience.
The Certified Nurse Assistant program consists of lecture, skills training (lab) and off-site clinical practice (at an approved healthcare facility). Students must pass all three successfully in order to receive the certificate of completion. The course is made up of 125 total hours comprising of 40 hours of off-site clinical training, classroom lecture/instruction and skills lab. Upon successful completion of the training program, students are eligible to take the state's certification exam. Successful completion of the certification exam, the student will be certified as a Nursing Assistant and expand their job opportunities.
Website: https://www.academyforcaregiving.com/nursing-assistant
Location: 4723 N 1st Ave, Tucson, AZ 85718
Tuition: $1,995
Phone: (520) 338-4402
Brookline College – Tucson
Brookline College has a dedicated team of staff including qualified and professional instructors who are willing to help and guide students towards success. There is also an exceptional team to assist students with financial aid, they are there to guide students through the process from scholarships, grants and loans. Most programs offered at Brookline College provide an opportunity for students to learn through practical experience before graduating. This is done directly under supervision of instructors and it helps build students' confidence and skills while acquiring relevant field experience. After students graduate, the team at Brookline College even assists them with a job placement. From resume writing and cover letter writing to interview tips.
The Nursing Assistant training program is a state-approved program that covers a total of 145 hours instructional hours. Instructors focus on ensuring that students are equipped with the essential skills and knowledge to pass the state's certification exam and help care for patients at hospitals, clinics, nursing homes and other long term care facilities. Topics covered in the program include basic nursing principles, patients' rights, communication skills, interpersonal skills, checking vital signs, infection control and much more. Students complete their clinical rotation during the final week of training at a licensed nursing facility and graduates of the training program are qualified to sit for the state's certification exam.
Website: https://brooklinecollege.edu/
Location: 5441 E. 22nd Street, Suite 125, Tucson, AZ 85711-5444
Tuition: ranges from $500-$1,000
Phone: (520) 748-9799
Caregiver Training Institute
Caregiver Training Institute (CGTI) is a private, non-profit training school with a vision to transform lives through healthcare education. The institute offers post-secondary educational programs for Certified Nursing Assistants and Certified Caregivers. Since 2003, their mission has been to provide men and women a high quality education and skills to be able to provide quality healthcare to patients at long term healthcare facilities. Graduates from CGTI are immediately employable and can move towards advanced degrees.
The Nursing Assistant course has been approved by the Arizona State Board of Nursing and the Arizona Nursing Care Institution Administrator's Board. The classes cover various skills and other topics such as body systems, basic knowledge, food and nutrition, death and dying etc. the course is 198 total hours and can be completed in 6 weeks if you're taking day classes or 12 weeks if you're taking evening classes. Admission into the program requires students to be at least 17 years old, possess a valid government ID, show proof of a high school diploma, and pass a TB test, clear a criminal background check and a drug screening. Successful completion of the training program qualifies students for graduation and sit for the state's certification exam.
Website: https://cgtiaz.org/
Location: 710 S Kolb Rd #4, Tucson, AZ 85710
Tuition: $3,250
Phone: (520) 325-4870
Fred G Acosta Job Corps
Fred G Acosta Job Corps offers both in-campus and online training programs. The school offers over 20 different programs including CPR, CMAA and CNA. The training is provided free to students between age 16 and 24. Admission requirements include showing proof of a high school diploma, if students don't have a high school diploma they will be required to test on the entrance TABE to begin the CNA classes. The CNA program is self-paced and flexible allowing students to learn at their own pace. Topics covered in the training program include; communication skills, interpersonal skills, infection control, safety and emergency situations, death and dying, food and nutrition and many more including assisting patients with daily basic activities such as bathing, dressing and feeding them. On completion of the classroom instruction, students will complete the clinical rotation and then sit for the state's certification exam.
Location: 901 South Campbell Avenue, Tucson, AZ 85719
Phone: (520) 792-3015
Pima Community College
Pima Community College offers a wide variety of programs across academic and technical subjects including degree programs and certificate programs. It is an excellent option for anyone who wishes to get top quality training and practical experience as a nursing assistant. Pima is dedicated to providing convenient, affordable and accessible high quality education with the power transform the lives of students and community members.
The course curriculum covers 120 hours of classroom instruction, lab skills and practical training. Pima Community College offers flexible and convenient class hours including daytime classes, evening classes and weekend classes to accommodate all students. Students are required to attend all classes in order to graduate and graduates of the program are eligible to sit for the certification exam. Successful completion of the certification exam qualifies students for jobs at long term care facilities such as hospitals, clinics and nursing homes.
Website: https://www.pima.edu/
Location: 4905 E. Broadway Blvd., Tucson, AZ 85709
Tuition: $1,236
Phone: (520) 206-5140
Other CNA Training Centers in Tucson, AZ
Kino College of Northwest Medical Center
Located: 6080 N. La Cholla Boulevard Suite 110 Tucson, AZ 85741
Phone: (520) 202-2737
Pima County Joint Technical Education District – 8727 E. 22nd
Located: 2855 West Master Pieces Drive Tucson
Phone: (520) 352-5833
Tucson College
Located: 5151 East Broadway Boulevard #155 Tucson
Phone: (520) 296-3261
Online CNA Training
Brookline College
Brookline Online is about providing the essential skills, knowledge and experience for success in the field. The online CNA program at Brookline College provides the same great learnings. Students are involved in academic learning (theory) or a field based externship. Students who live close to the campus can take full advantage of the campus library and tutoring facilities.
Further information can be accessed on the college website: https://www.brooklinecollege.edu/online-programs/
CNA Training by City (Choose your City):
CNA Training Center Reviews
Academy for Caregiving Excellence
Flexible class hours, convenient for every student! Friendly staff, professors and classmates. The professors are qualified and work hard to help students achieve success. They use unique and fun teaching methods including videos and lecture which involves students and encourages them to work hard. There's a great combination of classroom learning and hands-on training. The environment is well maintained and always positive. I love this school and I would definitely recommend this program.
Brookline College – Tucson
The team at Brookline College go out of their way to ensure that students have everything they need to succeed. They show students that they're going to soar with flying colors and become top professionals in the field! Everyone gets along and is friendly with each other including the instructors and staff. There are flexible hours offered including evening and weekend classes. This is a great advantage for students who are working or parenting. Brookline College is like one big family. There are helpful career services on campus and the team also helps you with various other questions or requests. Great hands-on! Students gain a lot of experience and receive job opportunities as well. This is helpful for our career. I would recommend my friends, peers and relatives to attend this program at Brookline College!
Pima Community College
The professors at Pima have been a great support! Plenty of resources including tutors provided at low rates and they are useful for the success of students. There are also lots of events that involve students. Small class sizes allow for one-on-one interaction with students. Pima also offers certificates for students to join the workforce as quickly as possible! The staff are great and always supportive in any matter. Excellent advisors who really care about helping to improve your experience and career. Very affordable and flexible program. There is a huge library and quiet study area with lots of computers. I would highly recommend the nursing program here and Pima Community College in general is a great and cheaper choice for a freshman student.
Frequently Asked Questions
How long does it take to get my CNA license in the mail? If you have recently applied for your license, you may need to wait for 4-6 weeks while the state's board processes your application and then you should receive your license number by mail.
What additional skills or traits are CNAs required to have? Personal traits for a Certified Nursing Aide include; cooperation, optimism, determination, compassion and emotional stability. Effective communication skills is one of the most essential traits required for a CNA. Others include observation and empathy.
Do CNAs work 12 hour shifts? Some CNAs prefer to work five 8-hour shifts while others prefer to work longer each day for an extra day off. Most hospitals and nursing homes also allow CNAs to work three 12-hour shifts.