CNAs are kind, compassionate and caring individuals who work alongside physicians, Registered Nurses (RN) and Licensed Practical Nurses (LPN) to assist patients and provide the best quality healthcare at hospitals, nursing homes, rehabilitation centers, assisted living centers and other long-term healthcare facilities. These individuals are required to undergo training at a state-approved training center and upon successful completion of the training program, the students will sit for the state's certification exam. Successful completion of the exam qualifies individuals to be listed on the Nurse Aide Registry and easily acquire a job. CNAs are in high demand in California and considering a career as a CNA holds great rewards.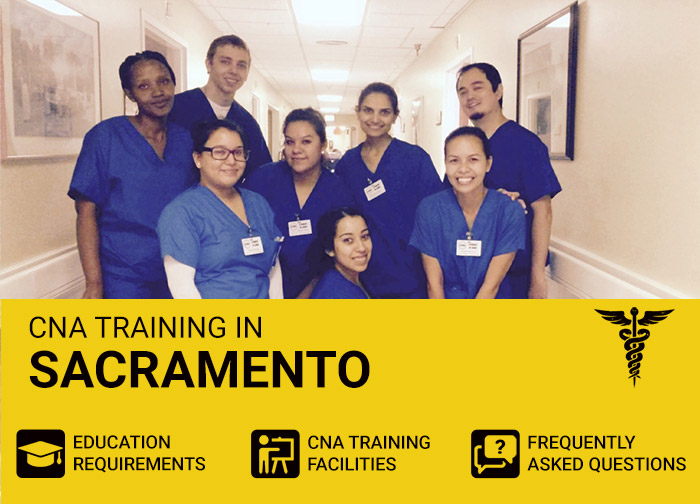 Charles A. Jones Career & Education Center
This training center operates under the governance of the State of California Department of Education (CDE) and the Sacramento City Unified School District (SCUSD). CAJ career training programs graduated their first students in 1968. All programs use face-to-face (classroom) instruction and some require hands-on training as well. Other teaching methods used include computer-assisted instruction, multimedia presentations, project-based activities, technology lab activities and externships. The Charles A. Jones Career & Education Center continues to provide career training in areas identified by community partners as having the highest employment opportunities.
The Nurse Assistant training program is a 5-week program (185 hours) and it consists of classroom instruction, lab and clinical training at an approved healthcare facility. The course emphasizes on essential skills including infection control, effective communication skills and interpersonal skills, emergency procedures, checking vital signs, observations and many more. Applicants are required to show proof of a high school diploma and a negative TB test before they can be accepted into the program. Graduates of the program can successfully pass the competency exam and gain entry-level employment at hospitals, nursing homes and medical offices.
Website: http://caj.scusd.edu/
Location: 5451 Lemon Hill Avenue, Sacramento, CA 95824
Tuition: $1,890
Phone: (916) 433-2600
Curam College of Nursing
Curam College of Nursing aims to provide individuals with the necessary skills and technological knowledge for success in the field. The college offers top quality educational programs with curriculums that cover essential skills and knowledge to empower students to achieve their professional career objectives and become a vital part of the healthcare industry.
The Certified Nurse Assistant training program combines theory and hands-on training. The hands on experience requires students to train at an approved nursing facility and demonstrate the skills learnt in the training program. The theory portion covers topics such as anatomy and physiology which will be directly applied during clinical experiences. After becoming certified, some students may choose to advance in their nursing career while some gain employment as CNAs in approved hospitals or other long-term care facilities.
Website: http://www.curamcollege.com/
Location: 6520 44th Street Suite #312, Sacramento, CA 95823
Tuition: ranges from $1,000 – $15,300
Phone: (916) 427-4400
Kash Career College
Kash Career College is Sacramento's leading college for Certified Nursing Assistant (CNA), Home Health Aide (HHA), Restorative Nurse Assistant (RNA) and Continuing Education Units (CEU). Programs are offered at a low, affordable cost and students can even pay in installments. Flexible class schedules available, morning, afternoon, evening and weekend classes. Upon successful completion of the training program, graduates can gain employment in various settings including hospitals, nursing homes, medical offices and other long-term care facilities. The college has a high success rate; many have passed through the program and are now working and earning a good salary in the nursing field.
The CNA course prepares students to become entry-level workers at acute care or long-term healthcare facilities. The course consists of lectures and clinical experience. Students are trained to help care for individuals at healthcare facilities and to assist them with basic activities. This includes how to interact with patients, how to observe their condition and assess their progress, access the patient's needs and preventive healthcare measures. The morning classes are 28 days long, evening classes are 40 days and weekend classes are 20 days (10 weekends).
Website: http://www.kashcareercollege.com/Certified-Nurse-Assistant–CNA-.html
Location: 1333 Howe Avenue, Suite 100, Sacramento, CA 95825
Tuition: $1,290
Phone: (916) 978-0700
Mary Seacole Nursing Care Training Academy
Mary Seacole Nursing Care Training Academy is a state-approved training provider licensed by the California Department of Public Health offering CNA and HHA training programs since October 2011. It is a privately held business licensed to operate and serve individuals in Sacramento. The college aims to prepare students to train as healthcare professionals and offer the best quality healthcare to patients at hospitals, nursing homes and other healthcare centers.
Mary Seacole Nursing Care's CNA program can be completed in just 21 days! Students learn through hands-on, interactive sessions by experienced and professional nurses. Successful completion of the training program qualifies students to sit for the State's Nurse Aide Competency exam. Graduates from the CNA program at Mary Seacole Nursing Care Training Academy are in high demand in the healthcare field.
Website: https://www.maryseacolenursing.com/our-programs
Location: 7500 Elsie Ave, #103, Sacramento, CA 95828
Tuition: $1,500
Phone: (916) 525-5179
Sunrise School of Nursing
The Sunrise School of Nursing aims to provide quality and affordable education to students and improve their well-being. The training programs aim to equip students with the essential knowledge and skills to be able to provide the best quality healthcare. The school goes by the motto, "GREATER THINGS ARE YET TO COME" and the programs are focused on assisting students and ensuring achievement of their career goals.
Entry into the CNA program requires; applicants must be at least 16 years old, show proof of a high school diploma or GED, a valid photo ID (a driver's license or passport), social security card, a physical and health examination, fingerprinting and criminal background screening and applicants are required to attend a mandatory orientation 1 week before start of class.
The Nursing Assistant Training program is a 160-hour which trains students to provide safe, efficient and quality healthcare to patients and residents at nursing homes. The curriculum has two components; the theory and skills lab which (60 hours) in a classroom and a 100 hours of clinical training at an accredited long term care facility under direct supervision of professional, licensed nurses. The instructors use various ways of teaching including lectures, videos, role play and skills lab. Students are trained on essential skills such as checking vital signs, assisting patients with daily basic activities, bathing patients, bed making and many more. Successful completion of the training program qualifies students to take state's nurse aide competency exam and become a registered Certified Nurse Assistant.
Website: http://www.sunriseschoolofnursing.com/
Location: 3050 Fite Cir, Sacramento, CA 95827
Tuition: $195 (application fee)
Phone: (916) 903-7247
Other CNA Training Centers in Sacramento
American Red Cross
Located: 1565 Exposition Blvd, Sacramento, CA 95815
Phone:(916)993-7070
Horizons College of Health Science
Located: 4700 Northgate Blvd., Ste. 160, Sacramento, CA 95834
Phone: (916) 929-6963
SacMed Training Center, LLC
Located: 3443 Ramona Ave, #25, Sacramento, CA 95826
Phone: (916) 226-5427
CNA Training by City (Choose your City):
CNA Online Training
Online training focuses on making learning convenient for every student and is especially aimed at individuals who are occupied with other responsibilities such as working. Online training is flexible and self-paced allowing students to study at their own time even at night and on weekends. It is affordable too. Over the past few years, online training programs have become more popular mainly because of its flexibility and applicants can choose their study hours to fit their schedules without compromising other responsibilities. Online classes enable students to study from anywhere in the world and achieve their certificate or degree as long as you have a dependable internet access.
All individuals applying to online programs are required to ensure that the training provider is approved and that it offers the clinical section required to obtain your license. The topics covered in the online training include; infection control, safety and emergency, communication skills, laws and ethics, body systems and functions, nutrition and much more! The clinical experience will cover at least 16 hours of instruction at an approved nursing facility. Students will work alongside licensed nurses in order to demonstrate the skills learned and gain experience.
The American Red Cross offers one of the best quality online CNA programs with professional instructors and up-to-date equipment. The CNA program is fully accredited and consists of theory, lab training and clinical rotations.
CNA Training Center Reviews
Charles A. Jones Career & Education Center
I am so glad that I chose Charles A. Jones to do my nursing program, I have had such a great experience! The teachers are amazing! They work so hard to ensure that students understand everything and they're so helpful and supportive too. I have had so many great opportunities as well, we've also had career guidance that helps to get a job faster upon graduating. The campus is very pretty and it is always kept clean and safe. The professors know each student by name because the class sizes are small. Charles A. Jones is a culturally diverse school with people of different ages, genders and race. There are also various programs offered accommodating all kinds of careers. Great tutoring facilities too.
Kash Career College
Great hands-on experience. Flexible and convenient class hours. The instructors are professional and knowledgeable. They are patient with students and assist them in every way possible. The classrooms are nice. Positive environment. Great combination of classroom instruction and clinical training. Flexible schedule. Affordable tuition. Greatly recommend!
Sunrise School of Nursing
I've learned a lot at Sunrise School of Nursing and I would like to receive more education to advance in my career. The teachers are amazing, they're knowledgeable and very friendly too. The training program is quick and thorough, it's easy to receive certification. The flexible schedule is very convenient. The program has really prepared me well for the work place. I would definitely recommend Sunrise School of Nursing to family, friends, peers and everyone interested in this career.
Frequently Asked Questions
Can I challenge the CNA exam in California? Students who have completed the required CNA course are eligible to challenge the CNA exam.
Can one work as a CNA without being certified? Some employers may hire individuals while they are still in a CNA training program if they have completed at least 16 hours of the program and intend to sit for the certification exam.
Can a CNA work with babies? CNAs interested in pediatrics can work with children from birth to the age of 18. Most states require CNA candidates to have completed a high school education or a GED.