Nurse assistants are in high demand in San Diego so it's just the right time to get in! If you've recently graduated high school and are considering a nursing career, then you're making a wise choice! The nursing program typically consists of both classroom and clinical training and students must complete 160 hours total. Classroom training is where students are provided with basic nursing skills including patient safety and rights and other important information. The clinical practice portion trains students at health facilities in order to provide experience and prepare them for the future. San Diego is a great place to train as a Certified Nursing Assistant and embark on an enriching career!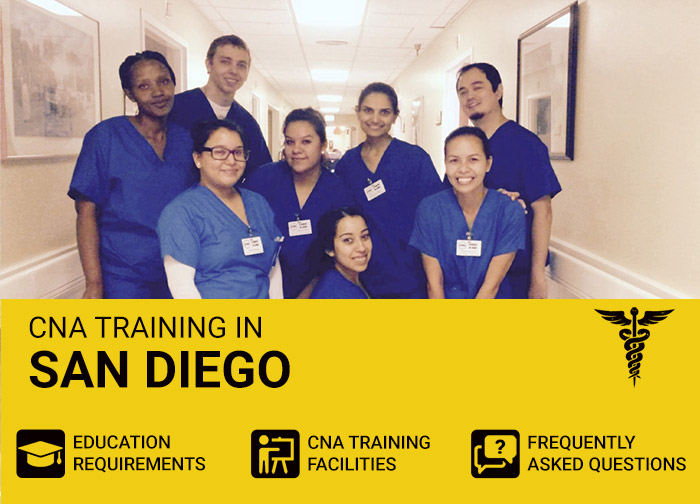 California Medical College
For over 10 years, California Medical College has been providing students in San Diego and other communities around with the essential education and training required for a successful career in the medical field. Each individual is trained on the skills and knowledge needed to meet the changes in the healthcare field. Students at California Medical College are trained by professional instructors and receive national and state certifications on completion of the course. The college facilitates financial aid options for its students and also provides job placement and certification assistance.
The nursing assistant program is a 210-hour program that aims to prepare students for a career as a nurse assistant and it provides the necessary skills required by home health aides. California Medical College also offers the weekend nursing assistant program which is short and can certify students in just a few months! It is a 172-hour program that was developed to prepare students for a career as entry-level health care worker in long term care facilities.
Website: http://www.californiamedicalcollege.edu/programs/
Location: 7851 Mission Center Court Suite #326 San Diego, 92108
Tuition: $2,750 (average cost)
Phone: (858) 357-8800
Fast Track Medical Training Center
Fast Track Medical Training Center focuses on preparing students for great future careers as Certified Nurse Assistants in the healthcare field and it believes in participation in learning activities to enhance professionalism in the field. The nursing assistant program offered at Fast Track Medical Training Center provides classroom and clinical training under supervision in the basic knowledge of care-giving. The classroom session covers skills and procedures such as bathing, dressing, personal care etc. These procedures and skills will then be put to practice in the clinical sessions. CPR training and job assistant services are also a part of this course. Integrated Academic sessions are a vital part of the training, incorporating fundamental skills in medical vocabulary and math knowledge required in the nurse field. The program aims to prepare students for the California State Nurse Assistant Competency Evaluation Testing Program. Upon successful completion of the course, graduates are Certified Nurse Assistants (CNAs). They are then qualified to gain employment in hospitals, private homes, clinics, long-term care facilities and other medical facilities.
Website: http://www.fasttrackmedicaltraining.com/cna.htm
Location: 6160 Mission Gorge Rd. Suite 120, San Diego, CA 92120
Tuition: $1,500
Phone: (858) 610-4767
International Health Group Inc.
The CNA Certification program offered here at IHG Career College is a 22-day flexible course provided for students' convenience. Students that attend hold high chances of earning high test scores and high passing rates for the state CNA tests. Students are trained on personal care and how to be compassionate with patients while assisting them with daily tasks such as dressing, bathing and feeding. CNAs will train under Registered Nurses or Licensed Practical Nurses and they will assist doctors in diagnostic procedures and technical treatment. Other typical duties of nurse assistants include patient charting and instruction, reporting any care that has been given and register significant observations to the senior nursing staff. Graduates of the program can sit for the state certification exam and upon completion of the program, students are prepared for careers in the medical field including; home health aide, caregiver, personal care aide, personal care assistant, companion care provider etc.
Website: https://www.ihgcareercollege.com/cna-program
Location: 8787 Complex Dr STE B100, San Diego, CA 92123
Tuition: $1,500 (includes live scan fingerprint, state exam review course, state exam fee, medical, TB test, CPR certification, textbooks, and two sets of uniform and state exam kit.)
Phone: (858) 278-9800
San Diego Continuing Education
San Diego Continuing Education offers a 12-16 week course (about 250 hours) and students are trained to provide care for patients and the elderly. The training consists of lectures and practical training where students are taught to bathe, feed, dress and assist patients with day-to-day activities as well as report the progress in the patient's physical/mental status. Skills taught are many including; communication skills, patient's rights, emergency procedures, vital signs, observation and charting, long term care and many more. On successful completion of the program, students are qualified to apply for the state certification exam. In order to take the test, the California Department of Public Health (CDPH) requires a United States legal identification and social security card. Students are also required to undertake a Live Scan and the CNA initial application needs to be completed on the first day of class. Successfully passing the exam makes one a Certified Nurse Assistant by the state of California.
Website: http://www.sdce.edu/job-training/health-career-training/nursing-assistant
Location: 1400 Park Blvd, San Diego, CA 92101
Tuition: Free for California residents, however, students need to budget $350 for supplies and other expenses.
Phone: (619) 388-4600
Southwestern College
Southwestern College offers 4 classes throughout the year; January, March, June and August. Classes meet thrice a week (8 hours) for nine weeks. Each class admits only 40-50 students that means it's a first come first serve basis. Students learn basic nursing roles including observation and collecting patient data. Graduates from the certificate program can then transfer their course credits to the school's nursing Associate Degree and Vocational Nursing programs. Graduates are also qualified to sit for the State certification exam to work as CNAs.
Southwestern College also offers an online training program which is an alternate to classroom learning, and a more flexible option too. It provides training, answers questions and offers useful resources that can assist with mastering the learning management system. Students can attend at their convenient time as long as the instructor's schedule of assignments and due dates is followed. If you have a reliable internet access, you can take the course whenever you want and wherever you are. The online instructors are professional and provide the same high-quality training through video lectures and online practice tests. It is beneficial to individuals as they won't need to struggle with parking and commuting any longer!
Website: https://www.swccd.edu/locations/higher-education-center-at-otay-mesa/programs/nursing/certified-nursing-assistants-cna/
Location: 8100 Gigantic St, Room 4401, San Diego, CA 92154
Tuition: $750
Phone: (619) 482-6352
Other Training Centers in San Diego
American Red Cross
Located: 3950 Calle Fortunada, San Diego, CA 92123
Phone: (858) 309-1200
MiraCosta College
Located: One Barnard Drive, Bldg., T420 Oceanside, CA 92056
Phone: (760) 757-2121
Pacific Health Educational Center
Located: 10225 Barnes Canyon Rd. a208, San Diego, CA 92121
Phone: (858) 658-0362
Western Medical Training Center
Located: 1161 East Main Street #205 El Cajon, CA 92021
Phone: (619) 241-9931
CNA Training Center Reviews
International Health Group Inc.
Flexible class hours and the course is fast-pace so we get done in shorter time. Classes are also offered on the weekend for students' convenience. The environment is positive, friendly and other students and staff around are also supportive! Great communicative instructor with hands-on experience and awesome preparation for the exams. Helpful career services for graduates, this makes it easier to find a job and gain experience too! The tuition is affordable and worth the training provided. I would recommend this program to anyone interested in becoming a Certified Nurse Assistant!
Southwestern College
The instructors are professional and they make sure students understand the lesson. Good career preparation, there are counselors available to assist students with their careers. Good hands-on training, flexible class hours and great environment. The school is always buzzing with cheerful professors and friendly staff. Fellow students are also helpful and supportive. The tuition is affordable and they also offer grants/scholarships. Resources are plentiful and are of great help to students. The environment is peaceful and perfect for studying. The greenery is also beautiful! The library is also a great place to spend time especially if you need to study for a test or exam! I would definitely recommend this program to a friend. I have had an amazing experience!
Frequently Asked Questions
How do I renew my CNA license in California? You can call or email the Aide and Technician Certification Section. Complete the required 48 hours of in-service training over 2 years.
Can a CNA give shots? A Certified Nursing Assistant (CNA) who is properly trained and experienced can administer medication to patients under supervision of a Registered Nurse or a Licensed Practical Nurse.
How can I prepare for a CNA job interview?
The usual simple techniques like dressing, reviewing your skills, review the answers to commonly asked questions in an interview, keep your questions ready, keep it professional and arrive on time.
Is the CNA skills test hard? You would only find the exam hard if you haven't prepared enough, however, nurses may also find this section a little hard because they have to be competent in all 25 areas to pass the test.
How many hours a day is a CNA at work? CNAs have various different schedules. They may work 8-12 hours in a row or work in four to five 8-hour shifts. Some may prefers to work longer each day to earn an extra day off. For them, the hospitals allow them to work three 12-hour shifts.
CNA Training by City (Choose your City):