Certified Nursing Assistants (CNAs) are amazing individuals who help care for patients in hospitals, nursing homes and other healthcare centers, under the direction of a registered nurse (RN). A CNA's daily tasks include checking patients' vital signs such as body temperature and blood pressure, feeding, bathing and dressing patients who are unable to perform such tasks on their own and monitoring patients' conditions and answering any queries or performing requests. Nursing assistant students in Los Angeles can take maximum advantage of the free training provided by the American Red Cross and other free or low-cost institutions.
The demand for CNAs in Los Angeles is increasing and is expected to increase significantly in the near future. Therefore, considering a career as a CNA in Los Angeles is a wise and promising idea. Salaries are also decent and job growth rates are high.
Nurse assistant candidates (CNAs) have up to 2 years to take and pass California's National Nurse Aide Assessment Program Examination after completing a state-approved course. Approved programs consist of 150 hours minimum and a 100 hours of supervised practical training.
The CNA Requirements in California
Completion of an approved training program. These programs comprise of at least 60 hours of classroom instruction and 100 hours of supervised training.
Applicants must undergo a criminal background check and complete a physical/ TB test.
Applicants must pass a reading and math test or present a high school diploma/ GED certificate.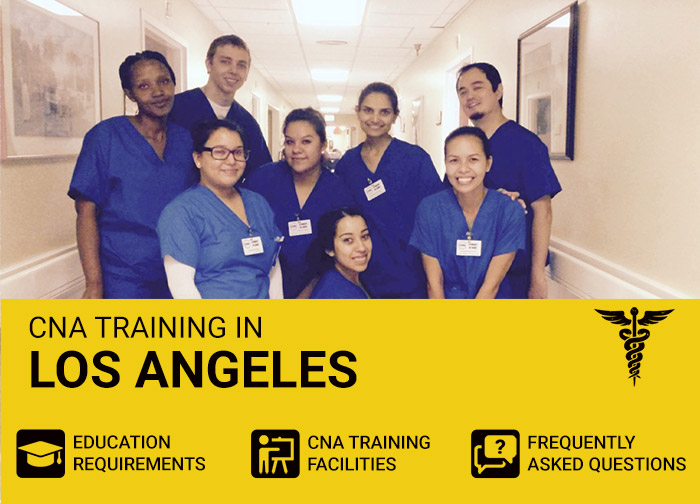 Advanced Career Institute
Admission requirements:
Applicants must be aged 18 or older
Individuals must possess a valid social security number and government issued ID
Individuals are advised to complete a reading assessment
Individuals need to possess a health and physical form, immunization records and TB test which must be completed by a physician.
Advanced Career Institute focuses on providing a quality education for students in the nursing field. Courses offered include certification programs and students are able to gain the essential skills and knowledge required for the career.
The CNA course is a 5/6 week program and it is approved by the California Department of Public Health (CDPH). The training aims to prepare students to assist at nursing homes, hospitals and other nursing care facilities. The training comprises of 50 hours classroom instruction and 100 hours of practical training under a professional instructor's supervision. Once students graduate from the program, they are eligible to sit for the California state certificate examination. Students also receive the CNA certification after completing the CNA training program and this certificate is issued by the state of California.
Website: http://advancecareerinstitute.com/programs/nurse-assistant/
Location: 3407 W 6th Street Suite 701, Los Angeles, CA
Tuition: $2,497
Phone: 213-381-1120
American Medical Careers
American Medical Careers is committed to provide students with the necessary training and essential skills that they require to begin their career in the healthcare industry. The combination of classroom learning and practical training makes sure that students are well-equipped with everything they require to become nursing assistants. Upon completion of the classes, students will possess all the knowledge and skills required to take the Certified Nursing Assistant exam and become a licensed CNA. Courses are offered on the weekends too in order to accommodate students who cannot attend during the week due to several reasons and the campus is also easily commutable.
The CNA course is just 5 weeks long, the course curriculum includes content required by the State of California and aims to prepare students to work in the medical field and in settings such as hospitals, nursing homes, agencies etc. The training provided ensures that you will receive your CNA certification. Students receive training and actual experience in the healthcare field along with hands-on patient care instruction and theory.
Website: http://americanmedicalcareers.org/cna-classes.php
Location: 3333 Wilshire Boulevard #208 Los Angeles, CA 90010
Tuition: $2,221 (includes tuition, registration fee and supplies)
Phone: (213) 387-8900
Los Angeles Harbor College
LAHC serves the diverse LA community and provides access to various associate and transfer degree programs, certificate programs etc. The college aims to promote unity and student success through their academic programs and support services.
LAHC requires all students to undergo a background check and supply a BLS card prior to entering the clinical segment of the CNA course. The nursing program is 4 semesters long and the curriculum includes topics in basic communication, patient rights, long term care, vital signs, and observation, dealing with death and emergency actions. The biological, social and behavioral sciences act as a basic foundation in the nursing program. The program combines theoretical instruction and practical training which takes place in a hospital setting. Students will be qualified to take the CNA certification exam upon completion.
Website: https://effectiveness.lahc.edu/academic_affairs/healthsci/nursing/SitePages/Home.aspx
Location: 1111 Figueroa Place, Wilmington, CA 90744
Tuition: $606
Phone: (310) 233-4000
Los Angeles Valley College
LAVC offers an AS in nursing which comprises of major, general education and elective courses. Each major course must be completed with a C grade or higher. The program covers approximately 380 hours of instruction and about 20 weeks are spent in practical learning where students gain experience at long-term care facility. Once all the required training hours are completed, students will receive a certificate of completion.
Website: https://www.lavc.edu/
Location: 5800 Fulton Ave, Valley Glen, CA 91401
Tuition: $3,200
Phone: 818-947-2600
Red Cross Los Angeles
By 2020, the need for CNAs is expected to grow by 20% and therefore considering a career as a CNA in Los Angeles is a great career choice with a promising growth and a decent pay too. The CNA career extends the opportunity to gain greatly valued skills and understanding, and explore your options while in the field. The training provided is both scientifically proven and in line with the industry's best practices.
Red Cross offers CNA classes that help individuals to develop their skills and confidence to begin a career in the medical field. It offers both in-class instruction (theory) and practical training, and also emphasizes on the importance of good communication skills and care-giving. The course prepares students to take and pass the CNA certification exam.
Prior to attending the CNA training sessions, individuals will be required to attend a local information session, a math assessment and a reading assessment. Applicants will also be required to show a high school diploma or a GED certificate, pass the criminal background check and complete the Red Cross physical exam/TB test.
The CNA classes in Los Angeles are taught by licensed professional nurses who help to ensure that students receive the necessary hands-on training required as a Certified Nurse Assistant. Classes are offered during the daytime hours.
Website: https://www.redcross.org/local/california/take-a-class/cna-los-angeles-ca
Location: 11355 Ohio Avenue, Los Angeles, CA 90025
Tuition: Training at the Red Cross is free
Phone: 310-445-9900
Westchester College of Nursing and Allied Health
WCNAH aims to provide a quality nursing and allied health course taught by a team of professional individuals who are devoted to serve individuals seeking a solid base for positions in the medical field. Students are trained and prepared to work in hospital settings and other facilities including laboratories and private practices. The purpose of the nursing programs is to a quality career education that is relevant to the current and future needs of nursing areas of the society.
The nursing assistant program is 6 weeks in length and comprises of 159 hours covering these modules; introduction to nursing assistant, patient rights, communication skills, body mechanics, vital signs, nutrition, emergency procedures, observation and charting etc. Students are required to complete a physical exam with medical history, a TB screen and a criminal background check.
Website: https://www.westchestercollege.edu/nursing-assistant/
Location: 8939 S. Sepulveda Boulevard, Suite 302, Los Angeles, CA 90045
Tuition: $1,800 (includes registration, course fees, uniform, physical exam, books & materials, CPR certification and the state nursing assistant exam.
Phone: 888-657-2677
Other CNA Training Centers in Los Angeles
West LA College
Located: 9000 Overland Avenue, Culver City, CA 90230
Phone: (310) 287-4200
Los Angeles Technology Center
Located: 3721 West Washington Boulevard, Los Angeles, CA 90018
Phone: 323-732-0153
CNA Training Center Reviews
Los Angeles Harbor College: "Los Angeles Harbor College has an excellent child development center on campus which my daughter can attend and she absolutely loves it. The teachers are professional and helpful, they go all out of their way to assist students" says one student.
"The counselors are amazing and they helped me with setting up a plan to transfer. The buildings are updated and the campus is nice and small. I would definitely recommend attending for an Associate's degree" a sophomore student says.
Los Angeles Valley College: A junior student wrote that "Everyone at the college is so friendly and helpful! I work full-time and can only attend night classes, which the college offers and I am so grateful! I really enjoy studying here!"
"I love the staff here, the professors are so amazing and always motivating students and pushing us to work hard toward success. I find the online classes very convenient and I love taking the classes. Everyone is supportive and helpful. I recommend this school!" says a senior student.
CNA Training by City (Choose your City):
Frequently Asked Questions
What is included in a CNA job description?
Some of the duties of a Certified Nurse Assistant includes:
Helping patients move, stand or walk
Assisting a patient to dress or undress
Bathing and cleaning patients
Checking and recording vital signs
Talking with patients to ease stress and help them feel better
Ensuring rooms and living areas are clean and disinfected
Recording all medications administered, patient activities and progress.
What is the importance of CNA certification?
The reasons why CNA certification is important include;
It proves to the public that the person taking care of you has been professionally trained. It provides a sense of relief for patients who are stressed over their situation. The CNA certification adds the idea of responsibility for the certified nursing assistant as well as patients.