The Certified Nurse Assistant training programs provided in colleges in New York City are just about 6 weeks long. There are a wide variety of different colleges and universities that you can attend and enroll in affordable nurse assistant training programs. Nurse assistants in New York City are certified by the New York State Department of Health and in order to gain employment as a CNA, individuals are required to pass a state-approved training program which prepares you for the NYS exam. CNA's will also be required to undergo a criminal background check and that includes fingerprinting and a national check for criminal convictions.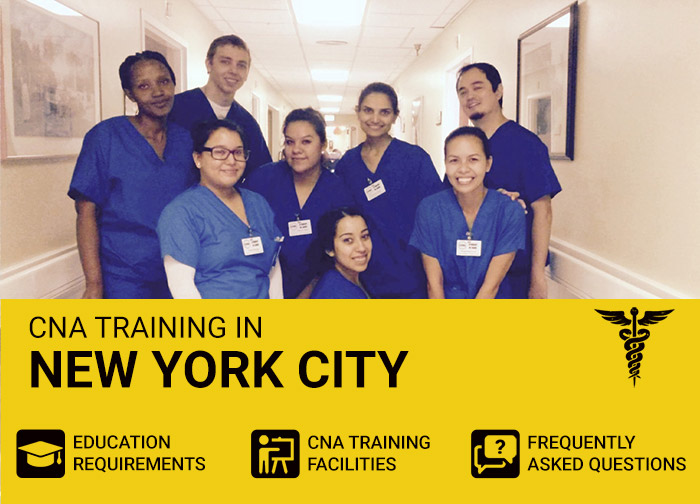 ASA College
The Associate in Applied Science (AAS) degree program in Nursing offers a strong base in science and technology in order to prepare the experienced nurses and meet the needs of the modern healthcare delivery system. The program also focuses on essential skills and knowledge required for advance study at the graduate level. Graduates of this nursing program will be qualified to provide patient care to patients of all ages.
The requirements of this program include completion of 68 credit (43 credits in the major and 20 credits in general education). Graduates of the program will also be eligible to sit the RN certification exam. Continuing education opportunities are also available.
Website: https://www.asa.edu/news/gallery-december-continuing-education-ceremony/
Location: 1293 Broadway, New York, NY 10001
Tuition: $13,531
Phone: (877) 679-8768
Manhattan Educational Opportunity Center
The CNA program prepares students to care for individuals in nursing homes under supervision of professional medical staff. Students also prepare to take the New York State exam and for CPR certification. Applicants to this program are required to be New York State residents and aged 18 or older. The professors and instructors are determined to help students succeed. Classes are small and the learning environment motivates students to work hard and strive toward success. Every semester, more than 95% of students are guaranteed to pass the state exam. Absenteeism is discouraged because the training provided is very much essential to the students' success. For students who are economically and educationally underprivileged, the tuition is free.
Website: https://www.bmcc.cuny.edu/meoc/
Location: 163 West 125th Street, 15th floor New York, NY 10027
Phone: (212) 961-3231
New Age Training
New Age Training is a licensed business school located in New York City. It is accredited by the Accrediting Commission of the Accrediting Council for Continuing Education and Training (ACCET). Students at this center can take the NYS CAN Board exam, the National Healthcare Association (NHA) and the National Center for Competency Testing (NCCT) certification exams.
The CNA program ensures to help students to stay ahead of the unemployment curve. It is a great program to boost the career of anyone who is new to nursing or even those seeking to grow in the career. The program will prepare students to work as entry-level nursing assistants at hospitals, residential nursing homes and other healthcare facilities. Training involves skills and theory intended to meet the requirements of the New York State Department of Health curriculum while also preparing students for the NYS Nurse Aide Certification Exam.
This CNA training program comprises of both the theory and hands-on practical training. The course curriculum is approved by the New York State Education Department and it is the #1 CNA Training Program in NYC.
Website: https://newagetraining.com/
Location: 145 West 30th Street, 8th floor, New York, NY 10001
Tuition: $1,750 (includes tuition, study materials, uniform and registration fees)
Phone: (212) 947-7940
The City College of New York
The City College of New York (CCNY) was founded as the 'Free Academy' in the year 1847 and it is home to 8 schools each aiming towards progress in research and knowledge. This is the college where Albert Einstein initially invented his theory of general relativity and our former graduates have come across the polio vaccine, built the internet and various other discoveries. City College of New York is the perfect place for you!
The CNA program offered here is a New York state-approved 130-hour program comprising of 100 hours of classroom instruction and 30 hours of internship experience that prepares students for the NHA exam. The course curriculum includes anatomy and physiology, patient care basics and basic life support (BLS). The course requires applicants to show proof of a high school diploma or GED and physical examination. Please note that textbooks, medical exam, CPR certification, the uniform and certification exam fee are not included in the tuition.
Website: https://www.ccny.cuny.edu/cps/certified-nursing-assistant-cna
Location: 160 Convent Avenue New York, NY 10031
Tuition: $1,199
Phone: (212) 650-7000
TIA School of Allied Health
TIA Medical Training is an academic training company based in NYC with a dedication to help students with their personal career development. TIA aims to provide the best learning experience and affordable prices! Students are provided with the latest knowledge and skills that keep them at a balanced level with any changes in their careers.
The CNA program at TIA offers an opportunity to learn various essential skills and prepares individuals for a career in the health field. TIA is accredited by the better business bureau and licensed by NYS Education Department and NYS Department of Health. The nursing field acts as a foundation for advanced nursing or healthcare occupations.
Students are required to hold a high school diploma or GED and be strong and healthy both physically and mentally.
Website: https://tiamedical.com/cna_training_course_nyc.html
Location: 545 8th Avenue, Suite 400, New York, NY 10018
Tuition: Ranges from $900 – $1900
Phone: (212) 564-2351
Other CNA Training Centers in NYC
Mandl
Located: 254 W. 54th Street New York, NY 10019
Phone: (212) 247-3434
Mildred Elley
Located: 25 Broadway, Floor 16 New York, NY 10004
Phone: (212) 380-9004
New York Medical Career Training Center
Located: 500 8th Avenue, 5th floor B/W 35 & 36 street, New York, NY 10018
Phone: (212) 947-4444
NYC CNA Training Center Reviews:
ASA College: ASA has great student services, unlimited free tutorials and lab training with a class professor, job and career assistance, intramural sports, nationally ranked athletic programs etc. A senior student states that "The professors are knowledgeable, professional and caring".
A sophomore student says that "The staff are extremely friendly and helpful. I learn something new each day and most importantly, I apply the knowledge in my daily life. I am also for grateful for being part of this great community with the friendliest and warmest people around me. With the foundation that ASA has given me, I look forward to taking my career to the next level".
The college also helps out with job placements and industry certifications after graduation.
New Age Training: A graduate states that "the professors and staff are so friendly, helpful and kind, they're just amazing! They have really helped me a lot, and thanks to them, I just landed a job. They made it happen and I'm truly grateful! May God bless them".
"This place has helped me grow so much in my career and as a person. My time spent at New Age was so smooth and there were no problems at all. Just a few weeks after I graduated, I was sent to an interview and I got the job! For that, I am beyond thankful to everyone at New Age and I am who I am today because of the amazing people at New Age. Thank you!" says another graduate.
TIA School of Allied Health: The instructors are amazingly helpful and nice. They ensure that they train students on all the essential skills required and the theory and knowledge too. They teach in a simple way, making it easier to understand and memorize for the exams. I was able to pass the exam just at the first attempt! The professors motivate students and encourage us to work hard to achieve success. The tuition is very affordable and they provide financial assistance as well. I definitely recommend attending TIA for the most fruitful training and experience! I'm so excited to start working as a CNA, I cannot wait!
The City College of New York: This college has a beautiful environment! The college gives you the experience of being at an out-of-state college. There is a great number of resources available to students including a library that is accessible for long hours. Other resources include computer labs, group study, a lounge and even a special napping area! There's a beautiful park available if you want to take a break from studying and a gym too. Students also organize bake sales and other events that involve students and give them the opportunity to socialize and make new friends. The tuition is affordable and the training provided is worth every penny! Students are diverse and the food available at the college is great! The course schedule is flexible and students who are working are able to study as well, either during evening hours or late afternoon classes. CCNY is definitely a college to consider for nursing students. 
CNA Training by City (Choose your City):
Frequently Asked Questions
How long is the exam? The written exam is 90 minutes long and the clinical exam takes about 30-40 minutes to complete.
What ID do I need to bring to the testing center? All individuals must present two ID cards before taking the exam. The ID cards must be original, photocopies will not be accepted. The first one must be current and not expired, containing a current photo and the individual's signature. This could be a school ID, an official employment ID or a government issued driver's license. The second ID must be a signature ID meaning the name must match the name on your first ID. This one could be a social security card, credit card, a library card or a gym card.
How long does it take to get my CNA certificate? The CNA certificate will be mailed to you within 5 business days from your testing date.
My certification has expired, how do I reactivate it? There are certain requirements to follow in order to become active again on the Nurse Aide Registry.
How long is CNA reciprocity? The transfer takes approximately two months to complete and some states may let you work while you await the transfer.