Certified Nurse Assistants are individuals who train to provide high-quality healthcare services to elderly individuals and the sick. They are kind, compassionate and very caring, their role is to provide comfort and peace in patients knowing that they are being lovingly looked after. CNAs work in a variety of settings including hospitals, nursing homes, personal homes and many other facilities. They work directly under Registered Nurses (RN) and Licensed Practical Nurses (LPN) who assist them and guide them on how to go about certain procedures. Typical daily roles of a nursing assistant are feeding, clothing, bathing and even talking to patients and making them feel comfortable. They help them with basic necessities and entertain their patients so that they don't feel depressed and lonely.
Are you considering a career as a CNA? That's amazing because you're applying to be a respectful and kind person! Below are some of the training centers in San Francisco to help you get the essential skills and knowledge to become a nursing assistant!
American CareQuest, Inc.
American CareQuest, Inc. has been operating as a home care company since 2002, has recently expanded their services to become a complete home healthcare agency and became certified in 2004. In 2009, they began providing hospice service and are accredited by Medicare. The course aims to prepare and train students to provide the best quality patient care and trains them on various skills and duties required in the field.
The 4-week training program combines 50 hours of classroom training and 100 hours of supervised practical training at an approved nursing facility. Admission requirements include; applicants must be at least 16 years old, complete a live scan and TB screening, and have a clear criminal record. A high school diploma is not mandatory. The instructors are skilled and professional, they assist in preparing students for the nurse aide exam.
Website: http://www.americancarequest.com/medical_education.php
Location: 1426 Fillmore St. San Francisco 94115
Tuition: $1,200 (students can pay in 4 instalments of $175)
Phone: (415) 885-9100
American Red Cross Training Site
The nurse assistant training program at American Red Cross provides the essential knowledge and skills training to enable individuals to provide high quality health care for patients at long-term care facilities and other healthcare settings. The classes are held every day of the week for 7 hours and the training includes hands-on under supervision of experienced instructors.
There is an online course available too for those individuals who prefer to work at their own pace and schedule. These classes are interactive sessions where instructors provide you with the course material required and they are always accessible if you have any concerns. The online program is flexible and takes a shorter time to complete compared to in-class training.
Website: https://www.redcross.org/take-a-class/search?cgid=cna&zip=san+francisco%2C+ca%2C+usa&latitude=37.7749295&longitude=-122.4194155&zipcode=&searchtype=class
Location: 1667 Market St, San Francisco, CA 94103
Tuition: $1,500
Phone: (800) 733-2767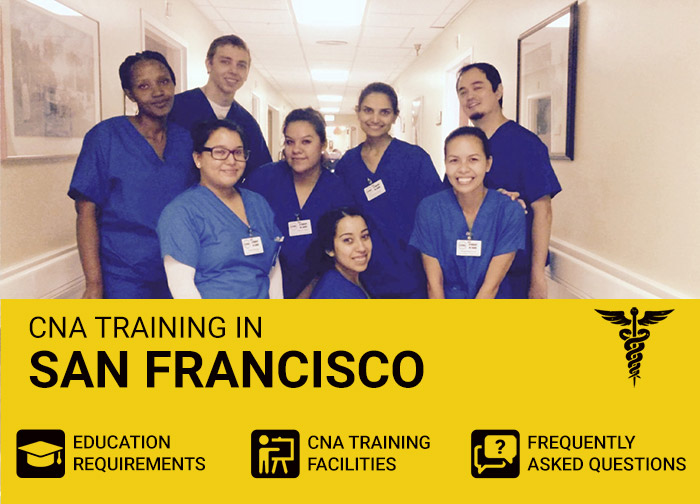 Arriba Juntos
Arriba Juntos was created by three social justice activists on May 13th 1965. It began with just these three men whose vision led to a successful, new non-profit organization for a constantly changing community. This institution was originally named Organization for Business, Education and Community Advancement (OBECA) and was later changed to Arriba Juntos. Their mission was to meet the basic needs such as housing, education and healthcare, of Latino immigrants who were moving into the neighborhood. Overtime, Arriba Juntos grew and added new programs & services in the development of clients' employability. From the 1990's, AJ has expanded and now provides all programs on a citywide basis serving more of San Francisco's diverse population.
The Certified Nurse Assistant training program is created to prepare students to provide healthcare for patients in long-term care facilities, hospitals, private homes and other healthcare facilities. The program length is a 150 hours of clinical and classroom hours. Successful completion of the program qualifies students to take the Nursing Assistant Certification exam.
Website: http://www.arribajuntos.org/programs/health-careers
Location: 1850 Mission St, San Francisco, CA 94103
Tuition: $1,340
Phone: (415) 487-3240
California Nurses Institute
California Nurses Institute has been running for two decades now and provides classes for CNA, HHA, Acute Care, CPR and Pharmacy Tech. The courses are state-approved and are also offered in various languages including English and Spanish. The nurse assistant certificate program is state-approved and aims to prepare students for the state certification exam. Upon completion of the program, students are certified and eligible to take the exam administered by the American Red Cross. Admission requirements include TB clearance, documentation of immunization and Live Scan fingerprinting.
Website: http://www.californianursesinstitute.com/
Location: 78 Ocean Avenue, San Francisco, CA 94112
Phone: (415) 406-1561
Reviews: The enrolment system allows for easy sign-up and you can start classes here at any convenient time and also study as you work. Payment plans available. Flexible class hours. Study even one day a week, Saturday/Sunday.
City College of San Francisco
City College of San Francisco is an accredited public community college in San Francisco. It was first founded in 1935 as a local junior college and has since transformed into one of the largest multicultural community colleges in the country. CCSF offers a wide range of degree and certificate programs in various fields including healthcare.
The intensive nurse aide classes at CCSF prepares students for the state certification exam. After successful completion of the program, graduates earn certificates in home health care and after-care. There is an orientation session that all applicants must attend prior to beginning of classes. Requirements include; applicants must be 18 years old or older, possess CPR certification & have up-to-date immunizations.
Website: https://www.ccsf.edu/
Location: 1800 Oakdale Avenue, San Francisco, CA 94124
Tuition: $46 per semester unit for California residents and $211 for non-residents.
Phone: (415) 550-4300
Oxman College
Healthcare professions are highly rewarding and are constantly in demand. Oxman College offers high-quality education in various healthcare fields. The program first introduces students to basic important elements, then progressing along a path of comprehensive coursework. The instructors are professionals in the field and with the combination of classroom and hands-on learning, students are committed and determined to succeed in the advanced subjects.
The nurse assistant training program prepares students to provide patient care at long-term care facilities and hospitals. The state-approved course curriculum comprises of a 150 hours of training; 50 hours of classroom instruction and 100 hours of hands-on training under supervision. Course topics covered include body mechanics, nutrition, vital signs, medical terminology and emergency procedures.
Website: http://www.oxmancollege.com/
Location: 309 4th Avenue, San Francisco, 94118
Tuition: $2,000. Financial aid is not available. Unemployed students may qualify for assistance through One-Stop Centers.
Phone: (415) 751-6461
Other CNA Training Centers in San Francisco
Bay Area Medical Academy
Located: 530 Bush St #201, San Francisco, CA 94108
Phone: (415) 217-0077
CNA Training Center Reviews
Arriba Juntos
Arriba Juntos offers various opportunities for students to gain relevant experience in the healthcare field. Helping the community is their main objective and mission. There is great diversity of students and staff, people from all walks of life. I have learned so much from my instructors and peers on how to excel! Equipment and resources are plenty! A great group of peers can make the experience better! The staff are very helpful and they guide students around. I highly recommend this program to not just family and friends, but also to anyone who wants to succeed in the medical field. The staff and professors genuinely care about students' success and they go all out to ensure you achieve your goals.
City College of San Francisco
The professors are clear with the syllabus. Instructors are professionals in the field, the administrative staff is helpful and supportive and the admission process is quick. There's a free tutoring center with kind and intelligent tutors. Students are exposed to scholarships and grants, various useful resources and multiple opportunities. The nursing program is nice and very affordable. The student body is diverse with all kinds of people from different backgrounds which is so beautiful! They're all so friendly and helpful, an opportunity to make life-long friends. The community around is very nice. Library is big with many study rooms where you can sit for hours and study seriously. Lots of good restaurants and cafes. Campuses are huge and always clean. I recommend CCSF for its nursing program! High quality education and A+ professors.
Oxman College
Oxman College has a convenient location which is easy to get to so no time is wasted in commuting. The admission procedure is quick and simple, staff is very helpful. There's a lot to learn at clinical sites and experience. The teachers are professionals in the field and each has a unique teaching style. They share nursing experiences and real life stories. They cover important pointers to keep in mind for your career. Resources and equipment are plenty. The college also organizes various events to help boost your career and gives students an opportunity to relax and have some fun. You may also find libraries and quiet places to get some studying done without distraction. All in all, Oxman provides a base for your career and you come across several opportunities to grow and excel!
CNA Online Training
If you're the kind of person that is looking for convenience and quicker ways to complete the training, then online training is right for you! It is self-paced and affordable too. Each state has different requirements regarding the number of hours of hands-on and practical training that must be completed before you can become licensed. The theory part can be fully completed online but as for the practical training, students will have to be in touch with the college and set a date to meet. Before starting, all individuals need to ensure that the program adheres to the state's CNA guidelines. Programs need to be state-approved and this can be checked through the state's Department of Public Health website.
Cons of Online Training
For some students, online training may be difficult because everyone's learning styles are different and you may get easily distracted. However, if you're someone who's serious about studying and achieving the certificate then there's nothing to worry about!
CNA Training by City (Choose your City):
Frequently Asked Questions
Does the State of California have a Nursing Aide Certification prerequisite that I need to be aware of? The National Council of State Boards of Nursing manages a national registry that has every registered Nurse Aide on it. Upon being certified, one may receive increased pay and job satisfaction.
How do I renew my expired CNA license in California? If your certification has expired in the past two years, you need to complete an application for renewal. If the expiration has been more than two years, the California CNA must complete a 75-hour approved training program.