Healthcare is one of the fastest growing industries and CNAs specifically are in great demand due to the rising population of the elderly. Therefore, considering a career as a Certified Nurse Assistant (CNA) is a wise choice and it is a greatly rewarding career. Individuals training to become CNAs are required to complete a state-approved training program and sit for the certification exam. A CNA's job roles typically require them to care for and assist patients or residents at nursing homes, hospitals, rehabilitation centers, assisted living centers and other long-term care facilities. The CNA training programs aim to provide students with the necessary skills and knowledge to be able to provide the best quality care for patients. Louisville has various approved training centers offering CNA training programs.
American Red Cross
The Red Cross is a non-government agency which relies on donations of time, money and resources from individuals in the local community. Nurse aide is a rewarding career where individuals care about the life of other individuals and make a difference in the society! Nurse assistants are a very vital part of today's healthcare industry and therefore receiving the right knowledge and skills is very important so that they're able to provide the best quality care for their patients/clients.
Red Cross has been training women and men as nurse assistants for nearly 30 years. The program comprises of classroom instruction and hands-on training to prepare students for this field. The course curriculum covers a 100 hours of nurse aide training and it includes practical training at a long-term facility where students can demonstrate their skills and prepare themselves for the field. Classes are available in the day and evening too. Upon successful completion of the program, students are eligible to take the certification exam administered by the Kentucky Community and Technical College System (KCTCS). Students interested in this program are required to attend an orientation session where they will learn about the admission requirements for the program.
Website: https://www.redcross.org/take-a-class/cna
Location: 510 E Chestnut St, Louisville, KY 40202
Tuition: $1,300
Phone: (502) 589-4450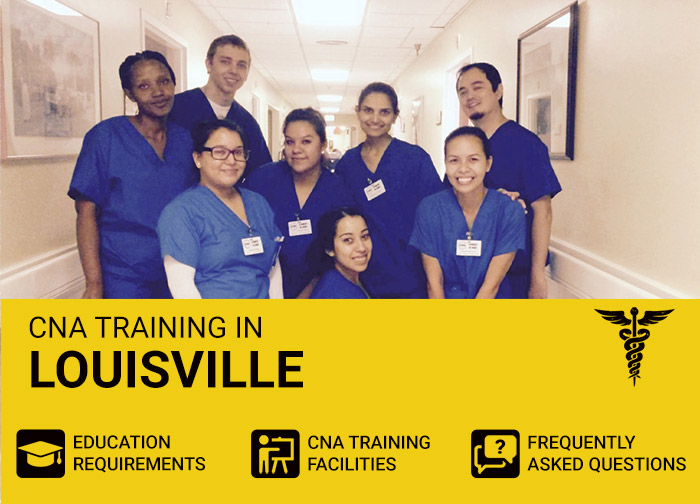 Jefferson Technical and Community College
Jefferson Technical and Community College is a community where students find confidence, collaboration and success. The college focuses on improving the quality of life through providing high-quality education and aiming to live up to the highest standards. JTCC offers an opportunity for students to meet new people and make new friends. The college also offers a wide range of activities to involve students and encouraging a fun learning environment.
The Medicaid Nurse Aide program at Jefferson Community College is 75 hours in length and it equips students with the essential knowledge and skills to provide quality care for patients at long-term care facilities. Applicants are required to attend a mandatory information session before the beginning of classes. The school also requires applicants to submit a clear criminal background check result and a negative TB skin test result.
Website: https://jefferson.kctcs.edu/education-training/program-finder/nurse-aide.aspx
Location: 109 East Broadway, Louisville, KY 40202
Tuition: $420
Phone: (502) 213-5333
Kentucky Healthcare Training Institute
This school has been training nurse aide students for 30 years now and it is approved by the State Board for Proprietary Education and by the Kentucky Department for Medicaid Services. The institute has over 40 years of experience in the field and they are committed to train nurse aide students to provide the best quality patient care for their clients.
The course length is 75 hours total which takes 10 days (2 weeks). It comprises of both classroom instruction and hands-on training where students will get the opportunity to practice and demonstrate their skills at an approved long-term healthcare facility. Successful completion of the training program awards students a certificate and qualifies them to sit for the state's certification exam.
Website: https://www.healthcareky.com/Docs/emailppay.aspx
Location: 3010 Taylor Springs Drive, Louisville, KY 40220
Tuition: $475
Phone: (502) 458-4570
RightChoice Healthcare Training Institute
RightChoice aims to provide an excellent educational opportunity to individuals interested in entering the healthcare field. The training program aims to fully prepare students to pass the state exam and advance their education in the healthcare field. The purpose of the Nurse Aide course is to prepare students to become a State Registered Nurse Aide. As the aging population increases, the demand for nurse aide's rises and this healthcare training institute focuses on empowering students to be successful and equips them with the skills required in order to provide high quality healthcare to patients and residents at hospitals, nursing homes and other long-term care facilities.
The 75-hour program requires students to complete at least 16 hours in a clinical setting (an approved healthcare facility). The course curriculum covers safety, assisted living, measuring vital signs, body structure and functions, mental health problems, basic emergency care and many other essential topics. Applicants must be at least16 years old when applying, pass a background check and drug screening.
Website: http://chooserightchoice.com/
Location: 2301 Hurstbourne, Village Dr., Ste. 200, Louisville, KY 40299
Tuition: $590
Phone: (502) 974-2541
Spalding University
Spalding University is a diverse community of dedicated learners and an institute that offers quality programs that focus on serving the community and promoting peace and justice. Spalding University is the first certified compassionate university in the world. It is an institute that embraces diversity and welcomes people from all walks of life. The team is committed to do better and continue making a difference in the community. Their mission to compassion brings everyone together within the community and throughout the world.
The nursing assistant program is a combination of classroom instruction and practical (clinical) training. Students cover the first 45 hours of training online and on completion of the online training, students spend 14 hours in the University's skill lab to practice and prepare themselves for the clinical rotation at an approved nursing facility. Experienced nurse instructors assist and supervise students during the lab skills and clinical rotation. Admission requires applicants to submit the results of a TB test, Hepatitis B waiver, state ID, social security care and a clear criminal background check. Successful completion of the program qualifies students to take the certification exam. Further information can be accessed on the university's website.
Website: https://www.spalding.edu/
Location: 845 South Third St., Louisville, KY 40203
Tuition: $514
Phone: (502) 585-9911
Other CNA Training Centers in Louisville
Health Education Center
Located: 3903 Vantage Place Louisville, KY 40299
Phone: (502) 762-5151
Wisdom & Health Institution CNA & CPR School
Located: Upstairs, 3500 Bardstown Rd, Louisville, KY 40218
Phone: (614) 218-2947
CNA Training Center Reviews
American Red Cross
The training has excellent instruction and an expert teacher who teaches using unique and fun learning techniques ensuring that no one is left behind. The teachers use informative videos, practice tests and hands-on activities that aim to provide relevant experience in this field. Class hours are flexible and convenient for students especially working individuals. The class size is reasonable and students get an opportunity to spend one-on-one time with professors. I would recommend this class to my friends and family.
Jefferson Community and Technical College
The staff at JCTC make you feel welcome. The environment is warm and friendly, teachers and classmates are supportive. The campus is diverse and the professors really care about the success of their students. The programs at this college equips students with all the tools required to be successful and I'm so thankful I chose to go to this college! The advisors are always willing to help assist students so that they are successful. I really enjoy the program and I love that the instructors are there for the students at all times. Affordable tuition, small and friendly campus, various events for students to participate in and beautiful environment. I love JCTC and I will definitely recommend this program to family, peers and friends.
Kentucky Healthcare Training Institute
Great learning environment, hands-on training and assistance with job placement. Great combination of classroom instruction and hands-on training. The program encourages students to demonstrate their skills at an approved clinical site and equips students with the required knowledge to be able to provide the best healthcare possible. Class hours are flexible and the tuition is affordable, most students can pay on their own. The teachers go all out of their way to ensure that students understand everything being taught and they make time if students need assistance. I would recommend this program to friends and family.
Spalding University
The student body is diverse and everyone including the staff, professors and classmates are friendly, helpful and supportive. This private university offers small class sizes and students from different backgrounds. The professors care about the success of their students and help to create a better and fun learning environment. There are plenty of resources available to help students. The campus environment is beautiful and it is also safe. I really love this college, the program, the teachers and the atmosphere is always so positive which motivates us to work hard and achieve success. The university also offers students financial aid to help with the tuition. I appreciate the flexible class hours as a working student, it is convenient. I am definitely recommending this program to friends, peers, family, everyone!
Frequently Asked Questions
How long is an active nurse aide registration valid? An active nurse aide registration is valid for two years and must be renewed every 24 months. The expiration date is the last day of the month in which the certification was issued.
Is my Kentucky CNA license recognized by other states? This varies from state to state, each state has different requirements. If you seek employment as a CNA in a state other than Kentucky, you will be required to check the reciprocity policy of that state.
What type of documentation do I have to submit if I have completed a CNA course? You will be required to submit a program completion certificate, a college transcript listing the completed course or state registry verification.
CNA Training by City (Choose your City):