Becoming a Certified Nurse Assistant in Michigan requires individuals to complete a state-approved training program and pass both the written test and the practical test. Detroit city has a large number of training centers offering approved nurse aide training programs and students can apply to these programs if they meet the requirements. The common admission requirements include that students must be at least 17 or 18 years of age before starting the program, students are required to hold current CPR and First Aid certification and students must show proof of a high school diploma or an equivalent. Below are some of the training centers offering nurse assistant training in Detroit.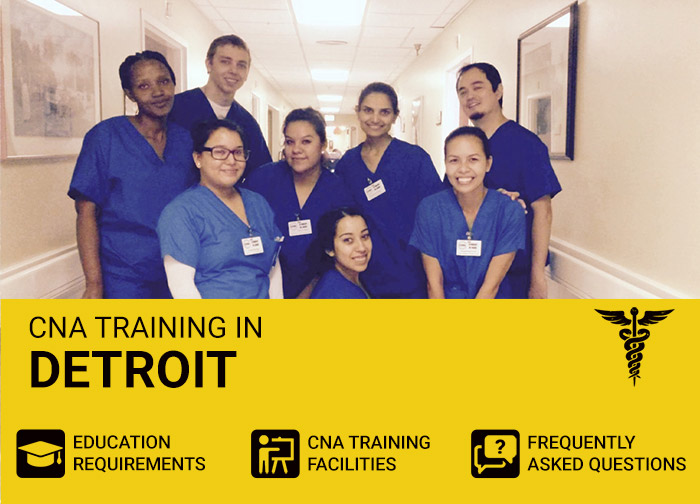 Genanscot Services, LLC
Genanscot Services, LLC has a motto, "Reach for the Stars" and the training program is designed to assist individuals and ensure that they achieve success. Genanscot provides educational enhancement services with a spirit of commitment and team working. Individuals gain experience and skills to be able to provide sufficient healthcare to patients and clients. Genanscot aims to maximize the capability and professional growth. There are pre-requisites prior to enrolling to the program; students must be at least 17 or 18 years old, must be able to read and write, must be able to lift, bend and move, completion of a background check and all required forms, application and interview process to be completed.
The nurse assistant training program includes care, compassion, decision-making skills and clinical practice by highly-trained instructors. The program also includes CPR certification. this training program can be completed in only 10 days and it is certified by the state of Michigan, so graduates are qualified to sit for the Nurse Aide Certification Exam.
Website: http://genanscot.com/services.php
Location: 17800 E Warren Ave, Detroit, MI 48224
Tuition: ranges from $500-$1,200
Phone: (313) 647-9860
Greater Horizon Training Institute
This training center aims to provide great opportunities for students and assist them in achieving their career goals. The education provided prepares students for real-life situations and equips them with the essential knowledge and skills to achieve success! The professors and instructors have adequate experience in the field and this is of great benefit to students! Greater Horizon Training Institute embraces the diverse cultures and religions of its students. The quality programs offered emphasize on hands-on training that is relevant to employers' demands and focus on providing long-term employment opportunities.
The nursing assistant program is approved by the Michigan Department of Public Health. The 75-hour Certified Nursing Assistant program comprises of lecture, lab sessions and clinical practice taught by licensed, registered nurses. It is divided into 13 days for day classes and 13 days for evening classes and it trains students on entry-level skills and knowledge required to be able to work in a long-term facility. Successful completion of the program qualifies students to take the nurse aide competency exam and passing the exam certifies students as Certified Nursing Assistants in the state of Michigan. Nursing Assistant graduates may gain employment in hospitals, nursing homes or other long-term healthcare facilities.
Website: http://www.greaterhorizontraining.com/certified-nursing-assistant
Location: 615 Griswold Street, Suite 1520 Detroit, Michigan 48226
Tuition: ranges from $500-$1500
Phone: (313) 871-2600
Healthcare Solutions and Career Group
This center aims to help people fulfill their dreams in health care. Healthcare Solutions and Career Group offers a wide range of programs including Phlebotomy Technician, CPR-BLS, EKG Technician and Home Health Aide. Students of the CNA program are required to dress in an approved school uniform and soft-soled white shoes throughout the course. Admission to the program requires students to be at least 17 or 18 years old, show proof of a high school diploma or GED and take a background criminal check and TB test before commencing the clinical training.
The 2-week nursing assistant program focuses on assisting individuals to get a rewarding career in the healthcare field. The program comprises of classroom instruction and skills training where students will learn the necessary skills required to help take care of those in need (their patients/clients). Upon successful completion of the program, students will be eligible to take the state's nurse aide competency exam and successful completion of the exam will award certification. Nursing assistants can work in various settings including hospitals, clinics, nursing homes and assisted living.
Website: https://www.healthcaresolutionsandcareergroup.com/cna-certified-nursing-assistant
Location: 15800 W McNichols Road, #233, Detroit, MI 48235
Tuition: $575
Phone: (313) 270-4550
Helping Hands Training Program for CENAs
Helping Hands Training Program for Certified Nurse Assistants provides effective and supportive classroom learning and hands-on training for individuals seeking to achieve success and build a rewarding career in the healthcare field. The goal is to provide basic education and skills necessary for individuals to be able to assist Registered Nurses in providing care to patients with various health issues. The program equips students with skill sets that help create a career path which provides an opportunity to advance professionally as well as personally.
The 4-week program covers everything that student needs to know for the state exam. The course covers classroom instruction and clinical training at a licensed healthcare center. Students are trained to provide care with compassion and assist patients with daily activities such as feeding, bathing and dressing. Graduates of the program will be eligible to sit for the state's nurse aide exam. Further details can be found on the Facebook page.
Website: https://www.facebook.com/helpinghandstrainingprogram/
Location: 430 Mack Ave, Detroit, MI 48201
Tuition: $450
Phone: (313) 355-3258
Yes, We CNA
This training center is committed to providing quality education and aims to prepare its students for rewarding careers in the healthcare field. The program focuses on preparing strong individuals and equips students with the essential knowledge and skills to be able to care for those who require assistance with daily activities. The main objective of this program is to motivate students to offer high-quality care and show compassion towards their clients/patients. The program admission requirements include; a thorough and interactive interview with the program coordinator, a valid current driver's license or state I.D and a TB skin test less than 1 year old.
This training site also offers a CPR certification course. The fees covers books, laboratory supplies, training materials, lecture and clinical practicum. The dress code requires students to wear burgundy scrubs and full white shoes.
Website: https://yeswecna.com/
Location: 18820 Woodward Ave Suite 102, Detroit, MI 48203
Tuition: $500
Phone: (313) 400-7668
Other CNA Training Centers in Detroit
Advanced Care Training For Healthcare Professionals
Located: 18211 Plymouth Rd Detroit Michigan
Phone: (855) 238-7823
Hazy Institute
Located: 21700 Greenfield Rd #264 Detroit, Michigan 48237
Phone: (248) 850-7110
CNA Training Center Reviews
Genanscot Services, LLC
The class was great! I received a lot of knowledge and skills to help care for patients properly. I've met wonderful people and I've made lots of new friends. Good combination of academics and hands-on training. The teachers genuinely care about the success of students and they go all out to ensure that they achieve their career goals. It is a great place to go if you're just beginning your CNA journey. The tuition cost is affordable, most students can pay the cost by themselves. Good preparation for the state exam, the teachers often give quizzes and practice tests and students also get to visit licensed centers to see how working in nursing homes or hospitals would be. I would definitely recommend this program, 100% worth it!
Greater Horizon Training Institute
The instructors are professionally trained and they know what they are teaching. The teachers also give time to students and assist them wherever they need. There's a great amount of hands-on training including 1 week at the hospital or nursing home which is a great opportunity for students to put their skills into use and gain real-situation experience. Flexible class hours, ideal for working individuals. Helpful career services and good career preparation. In less than 10 weeks, students are fully equipped with the skills to become Certified Nurse Assistants and jobs are easy to find. I would definitely recommend this program to my family and friends.
Helping Hands Training Program for CENAs
First-class education and excellent staff. The course is not just academics and skills training but also teaches students personal development skills and life lessons. The instructors go all out for their students, ensuring the lesson is well-understood and they even keep the class fun but very informational. The staff and instructors are supportive and helpful. There are plenty of useful resources and tools available for students to use. The whole class is just like one big family and even peers are friendly and supportive. I've also had an opportunity to make life-long friends and I love that everyone is so friendly! I am very happy that I came to Helping Hands and I recommend that everyone enrolls in this program!
CNA Training by City (Choose your City):
Frequently Asked Questions
What are clinicals like for CNAs? Students will first demonstrate basic skills during the first week. The instructor will then assign students to 1 or 2 patients where they'll be required to practice basic tasks like infection control and feeding patients.
How do I study for CNA skills test? Practice! Practice all your performance skills. Listen carefully to each scenario. Repeat tested skills if necessary. Wash and return all the equipment used. Approach your patient with respect and compassion.
Can I achieve CNA certification if I have a criminal record? You can take the CNA exam but you may have an issue with finding employment. It will depend on the actual crime and the demands of your employer.