The Ohio Department of Health provides Certified Nurse Assistants (CNAs) (also known as State Tested Nurse Aides (STNAs) in Ohio) with the necessary knowledge and skills required to maintain high-quality healthcare within the state. Applicants must ensure that they complete a program that is approved by the state, whether online or in-class. Upon successful completion of the program, students will be qualified to sit for the Certification exam administered by the Ohio Nurse Aide Registry. Programs are 75 hours minimum and 16 of those hours are assigned for hands-on training and 59 for academic learning. Let's take a look at the schools providing CNA training in Columbus, Ohio and their reviews too.
Academia Medical Institute (AMI)
AMI is a private Nursing Education school willing to co-operate with community leaders in order to invest and strengthen education in the community. It focuses on providing affordable education that will help improve the community and prepare compassionate healthcare professionals to contribute positively to the ever-changing healthcare industry. Their nursing training aims to prepare individuals to function effectively in the role. AMI believes that nursing education should provide an opportunity for students to progress through a system in order to intensify the profession of nursing and to serve as a platform for life-long learning.
The nurse aide training program is approved by Ohio Department of Health (ODH) since January 2014 and the skills taught in the program include communication, interpersonal skills, basic nursing skills, mental health, social services, safety & security, grooming, mobility and more. The training also includes hands-on, practical training apart from classroom training. The hands-on training is designed to provide experience on real-life situations. After completion of the program, students can take the Ohio State Tested Nurse Aide examination.
Website: https://www.amiohio.com/
Location: 3445 South Blvd, Col OH 43204
Tuition: $125 registration fee
Phone: (614) 279-4900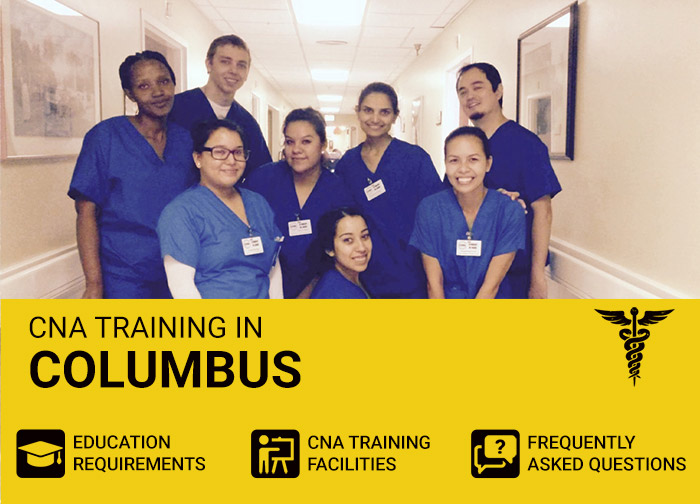 Buckeye Health Agency, LLC
Buckeye Health Agency, LLC aims to promote, maintain and maximize clients' health to the highest and they provide experience to medical professionals and support service to meet clients' social, emotional, medical and family needs, so they can achieve a better life in the comfort of their home. Skilled healthcare professionals are available 24 hours, 7 days a week.
The STNA/CNA program is a 75-hour (2 weeks) certificate program. The program comprises of classroom instruction and practical training where students are trained at a hospital/clinic under supervision of a Registered Nurse. Classroom instruction covers topics such as basic nursing skills, CPR, infection control etc. After successful completion of the program, students are certified as nursing assistants in the state of Ohio. Admission requirements include students to be aged 17 or older and be able to read & write English.
Website: http://www.buckeyehealthagency.com/home-health-care-stna-cna-classes
Location: 2700 East Dublin Granville Road, Suite 200 Columbus OH 43231
Phone: (614) 899-2478
Columbus State Community College
Columbus State Community College (CSCC) aims advance the region's prosperity and to educate, inspire and provide students with an opportunity to achieve their goal. CSCC provides a platform for students to pursue their career and achieve success. The college embrace new and innovative ideas for the sake of improving the college and ensuring a perfect environment for students.
The nurse aide training program is created to provide individuals with the necessary instruction and practical training in order to prepare them to be able to provide basic patient care in long-term care facilities. Attending classes every day is compulsory especially since it involves practical skills training and classroom instructions. This nurse aide program is approved by the Ohio Department of Health. Upon successful completion of the program (at 80%), students will be awarded with a certificate of class completion and will therefore be qualified to sit for the state exam.
Website: https://www.cscc.edu/
Location: 550 E Spring St, Columbus, OH 43215
Tuition: $352 for books and supplies
Phone: (614) 287-5353
Larock Healthcare Academy
Larock Healthcare Academy is the leading educational institute in Columbus and other areas in Ohio with higher educational opportunities in various healthcare fields. For almost 10 years now, Larock is committed to meeting the educational and workforce training needs of the healthcare industry and the community. Larock provides various certificate programs in the healthcare field, ranging from 5 months in length. Most programs are approved and are registered by the State of Ohio Board of Career Colleges and Schools. Larock offers on-campus classes and partners with other healthcare facilities to provide on-site learning for not only students but current employees and future employees too.
STNA/CNA classes at Larock are taught by professional instructors, focused on teaching basic nursing and personal care skills along with other basics required for the state test. The program includes 75 hours of both classroom instruction and practical training. In less than 1 month, the nurse aide STNA training can be completed and individuals are prepared for the first step in the nursing education. Upon successful completion of the program, students will be qualified to sit for the state test.
Website: https://larockacademy.com/about-us/
Location: 833 Grandview Ave, Columbus, OH 43215
Tuition: $395
Phone: (614) 733-9542
Premier Choice Health Services
PCHS offers a nurse aide training program that provide individuals with personalized education needed to be successful. PCHS was created in 2008 and aims to help individuals to positively change their lives by providing STNA courses in the Home Healthcare Industry. PCHS focuses on educating and training students as State Tested Nurse Assistants (STNAs). Students who complete this program will be better prepared to face the challenging job market in Ohio and across the world.
PCHS's nurse aide training program is 2 and a half weeks long. It is a 75-hour course that comprises of 59 hours of classroom instruction and 16 hours of clinical experience in a long-term care facility. The program aims to train individuals to perform specific roles of personal care to patients in hospitals or long-term care facilities. After successfully completing the CNA classes, students are eligible to sit for the state certification exam.
Website: https://www.pchslive.com/classes/stna-classes/
Location: 1901 E. Dublin Granville Rd., Suite 201, Columbus, OH 43229
Tuition: $385
Phone: (614) 896-6420
Other CNA Training Centers
Alia Healthcare
Located: 1495 Morse Road, Suite 101, Columbus, OH 43229/3526
Phone: (614) 847-3617
Felbry College School of Nursing
Located: 6055 Cleveland Ave, Columbus, OH 43231
Phone: (614) 781-1085
My Tees Healthcare
Located: 5454 Cleveland Ave Columbus, OH 43231
Phone: (614) 306-6447
CNA Training by City (Choose your City):
Online CNA Training
Approved online CNA Training programs provide individuals with the same instruction and training as taught at training schools. Common skills taught include assisting patients with daily basics and providing safety and security. CNA online training is perfect for individuals with busy schedules. Its benefits are many including enabling individuals to be stress-free while studying from home and a flexible self-paced schedule.
When choosing the program, students must first ensure that the program is accredited by a governing body or by the Ohio Board of Nursing. Checking out these other factors may also assist you in choosing the right program for you;
Find out if the program has ever had qualification challenges
Assess the success rate of students on the certification exam during the last 3-5 years
Check certifications of teachers.
CNA Training Center Reviews
Academia School of Nursing
Good combination of classroom learning and hands-on training. The teachers are thorough with the syllabus and they are helpful in you have any doubts. They provide practice tests as well to prepare students better for the state exam. Good career preparation, there are various different companies offering career opportunities. The tuition is also affordable and definitely worth it for the high-quality education and training provided. The environment is always cheery and positive, giving you a good feeling throughout your time spent there. Peers and staff are also very friendly and supportive. Yes I would recommend this program to friends, family and just anyone interested!
Buckeye Health Agency, LLC
The teachers at Buckeye do everything they can to help students and ensure their success. They are compassionate at what they do and they motivate students to work hard and achieve their goals. Class hours are flexible. Good hands-on training on skills and career preparation. Affordable tuition, I was able to pay for it myself though they do offer payment plans and an instalment plan is available to assist students in paying for the course.
Columbus State Community College
The professors at CSCC are absolutely commendable! Their teaching methods, they are helpful & supportive and they are always willing to help out with anything at all. Flexible hours (night classes and weekend classes) are especially beneficial and convenient to working individuals and they even have a library, cafeteria and gym for students. The students and staff are diverse and include individuals from different races and cultures. It's a great place to start college as it is very affordable and has lots of useful resources to help students achieve success.
Larock Healthcare Academy
Larock Healthcare Academy offers a unique learning experience through affordable programs with a quick-entry into the healthcare field. It has flexible schedules with day-time, evening and weekend hours, 2/3 days per week. Affordable plans are available for easy tuition payment. Class sizes are small, students receive one-on-one assistance from professors. The instructors are professional and experienced in the field. Good hands-on training with real-life clinical setting completed in-house. The environment is diverse and student-centered.
Frequently Asked Questions
What skills will I learn in class? Skills commonly taught in class include how to provide care for the sick and elderly, infection control, bathing, grooming, feeding and dressing.
What jobs can I apply for by being certified as a STNA?
Patient care associate
Nurse assistant
Home healthcare aide
Or you can work in hospitals, nursing homes or physician's offices.
How many questions are on the Ohio STNA test? The written STNA exam has 79 multiple choice questions.
How many days does it take to receive the STNA exam results? You can access your results online, 2-3 days after you sit for the exam or 24 hours if you take an electronic test. If you've given an email address, you may receive your result via mail or postal mail.
How long is a STNA certificate good for? The STNA certificate is valid for 2 years from the date of issue. *The requirement to renew your license depends however it includes working for an employer for a specified amount of time and completing a continuing education course.