According to the U.S. Bureau of Labor Statistics (BLS), there is an estimated 21% increase in jobs and demand for CNAs over the coming years. The large number of nursing homes in Florida account for the growth expected but also, upcoming CNAs or individuals considering this career in the healthcare industry are promised high salaries, good job outlook and long-term job satisfaction. Considering the CNA training opportunities available is a wise choice and a very promising one! The training program aims to equip students with the skills and knowledge to be able to provide high-quality healthcare for patients and residents at a nursing home. It trains individuals to be passionate and caring with the sick and elderly. Here is an outlook on the CNA training opportunities available in Jacksonville, Florida.
Acumen Medical Services
Acumen's small classes and full hands-on training distinguishes it from other institutions. Alumni students praise the instructors and the flexible training options, classes are limited to 5 students only. Students can choose the session that best fits into their schedule; morning, afternoon or evening classes, and the course can be fully completed in just one short week!
Acumen Medical Services offers a 4-hour CNA Refresher Course, a Basic Life Saving (BLS) CPR course and a 6-hour Med-Tech.
The 4-hour CNA Refresher Course is mainly for students that have had some sort of CNA training before and they do not need the entire course to be prepared for the exam. However, these students are required to take some type of training before they can sit for the state examination. The CNA Refresher Course covers all 21 clinical skills which are performed by the instructor and students are required to perform four of these skills in front of a prometric nurse on the Nurse Aide exam day. Students need to pass all four skills in order to succeed in the exam.
The BLS CPR course is designed to provide professionals with the ability to recognize emergency situations, provide CPR where required, relieve a person from choking and save lives! This course aims to equip professionals with essential, life-saving skills to be applied in hospital surroundings and outside too.
Med-Tech has been updated from a 4-hour to a 6-hour course. A medication tech is an unlicensed individual who assists with medications in adult care homes, group homes etc. The medication includes eye and ear drops, ointments, insulin pens and more. Florida Med-Techs do not work in hospitals and do not need to be a CNA to be certified as a Med-Tech. This course can be completed in just one day! Students must pass the exams in order to receive the FL Assistance with Self-Administered Medication Certification at the end of the course.
Website: http://acumenmedicalservices.com/
Location: 2811 W 4th St Jacksonville, Florida 32254-2418
Tuition: $245 (includes a training manual)
$140 will have to be allocated separately for testing, $79.50 for FBI screening and $20 for the institute's processing fee.
Phone: (904) 786-6047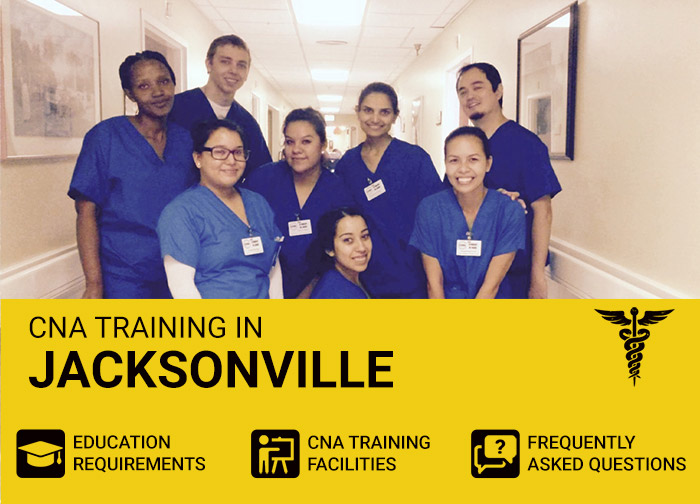 A+ CNA Training
A+ CNA Training provides its students with A+ training on essential skills and knowledge required to provide the best quality healthcare to the sick and elderly. Students can work immediately after certification, having successfully completed the program at A+ CNA Training. A+ provides students with first-class training, classroom and hands-on. The instructors know what is required to get you licensed and therefore ensure that you know how to use hands-on skills properly.
The Certified Nurse Assistant Program is designed to prepare individuals to pass the nurse aide exam and become qualified CNAs. All students are trained to pass the state board exam in any state and the certificate is awarded after successful completion of the program. Certificates will be signed the nurse.
A+ CNA Training also offers online classes which is the best in the industry, it is a flexible learning method providing training 24/7 which is convenient because students are able to study at their own pace and time.
Website: https://www.apluscnatraining.com/
Location: Main Office, 3225 Beach Blvd. Jacksonville, Florida 32207
Tuition: $225
Phone: (904) 554-5601
Florida State College at Jacksonville
There is nothing more important than a person's wellbeing and no more important professions than those that help improve and maintain it. FSCJ offers a wide range of programs for students to pursue and these include; Bachelor of Science in Nursing (BSN), Associate in Science Degree, Registered Nurse (RN) etc. This is the place to go to if you want a quick start to a new career, most programs can be completed in just a year or less! FSCJ promises a high-quality and affordable education.
FSCJ's Nursing Assistant program is being offered as a Continuing Education program and is designed to prepare potential nurse assistants to provide basic care and services to patients in hospitals, nursing homes or other medical facilities. A nursing assistant works in collaboration with physicians and nurses, assisting to provide patients with vital support while physicians and nurses do their duty in treating the patient. Nursing assistants hold a vital position in team of healthcare providers and complete patient experience.
The program combines classes and clinical experience in hospitals, nursing homes and long-term care facilities. Upon successful completion of the program, students are advised to complete the Florida Board of Nursing Certification exam to earn CNA credentials qualifying them to provide certified nursing assistance in various situations.
Website: https://www.fscj.edu/
Location: 501 W State St, Jacksonville, FL 32202
Tuition: $2,219 average cost. (Includes fees and books per term).
Phone: (904) 646-2300
North Florida Training Center
A Certified Nurse Assistant (CNA) is supervised by a Registered Nurse (RN) or Licensed Practical Nurse (LPN) and they typically serve as a connection between the patient and the medical staff (physician and nurses). A CNA provides personal attention to each patient which motivates the patient and makes them comfortable. Additional duties include bathing the patient and help them keep clean, feed them, clothe them and assist them with daily basic needs. A CNA also serves as a friend for certain patients, helping to keep them positive and stress-free, talking and laughing with them etc. The main duty of a nurse assistant is to act as an add-on medical staff.
The 1-week (75 hours) CNA training program trains and prepares students for exam. Upon successful completion of the program, students will be awarded a certification of achievement. Only 10 to 15 students are allowed per class in order to provide personalized hands-on training. The college provides a free textbook and all the resources needed to pass the State Certified CNA exam.
Website: https://www.nftcjacksonville.com/
Location: 5310 Lenox Avenue, Suite 21B, Jacksonville, FL 32205
Phone: (904) 434-2949 or (904) 434-1253
Other CNA Training Centers in Jacksonville
American Red Cross
Located: 751 Riverside Avenue, Jacksonville, FL 32204
Phone: (904) 358-8091
LifePoint Career Institute
Located: 1131 N. Laura Street, Jacksonville, FL 32206
Phone: (904) 355-0000
CNA Training Center Reviews
Acumen Medical Services
The professors have the perfect style of teaching! They make sure that each student has clearly understood the lesson and they even simplify it to your understanding, the teachers at high school would rarely go all out to do that. Essential training is provided for success in the outside world. Very good hands-on training which provides an opportunity to experience what the career is actually like and with the best instructors, the training is super interesting! Class hours are flexible, easily fit into busy schedules. I really enjoyed my experience here, it is affordable and totally worth it! I definitely recommend the program to anyone looking to pursue their career as a CNA.
A+ CNA Training
As the name suggests, the program is high-quality and totally worth the money! Excellent hands-on training and the teachers are extremely supportive with everything! They cover the most important details and ensure that students have understood it well. Helpful career preparation for graduates and other students too. The environment is friendly and positive, students, staff and instructors are friendly and supportive too. Flexible class hours, convenient for working individuals and parenting individuals. Tuition is affordable, I was able to pay for it myself and I received the quality of education I was seeking. I've had an awesome experience and I suggest this program to friends and family too.
Florida State College at Jacksonville
I love the connection that students have with professors and staff at this college. The professors even assist in arranging face-to-face appointments to help improve students' grades and provide guidance for students' success. There is free tutoring and mentoring which is very beneficial to the students. Resources are plenty, a gym, a library and many others all for the benefit of students! The quality of the training and education offered is of high-quality and the instructors genuinely care about making improvements in students' careers. I just love the diversity of the campus! There is a wide variety of students from different backgrounds and there are also so many opportunities and events for students to be a part of and relax their mind from all the hard work! I love FSCJ and I wouldn't have had it any other way! Definitely recommend 100%!
CNA Training by City (Choose your City):
Frequently Asked Questions
Are there any age restrictions for getting a CNA license? Yes. Applicants are required to be at least 18 years or older, (17 with parental consent) this is the minimum age limit. There is no maximum age limit, individuals in their 60s can also apply.
Is my license good if I move out of Florida? Yes it is. Each state has a distinctive certification process. You will need to contact the Board of Nursing in Jacksonville for more information regarding their process for transferring your certification.
How can I become a CNA instructor? To become a CNA instructor, the individual must have an associate or bachelor's degree in nursing. Certification as a Registered Nurse is also required. Employers will also require at least 2 years of experience as a Registered Nurse and 1 year of experience in a long-term care facility.
Can I become a CNA online? Yes, there are flexible admission requirements and individuals can apply to CNA programs online. Typical requirements include high school diploma or GED and applicants must be at least 16 years of age.