Did you know that in order to become a CNA in North Carolina, you do not necessarily need to attend a training program to be certified?! However, enrolling yourself in an approved training program (either online or in-class) prepares you for the CNA written and skills state exam. Most CNA programs require students to complete a minimum 75 hours of training. After completion of the training program, students can take the state exam and obtain a listing on the Nurse Aide Registry. Below you can check out the CNA training centers in Charlotte and also read the reviews that some students have shared.
American Academy of Healthcare
American Academy of Healthcare is determined to provide brilliance in education to men and women in the healthcare field. The small class sizes ensure each individual's growth and development in their field of education. All programs are comprehensive, some programs involve clinical practice sessions as well. Completion of these courses awards students with a certification of completion and those who wish to, can advance from there.
The Nursing Assistant course is an introduction of basic nursing skills that are required to provide the best quality personal care to patients or clients at hospitals, clinics and other healthcare facilities. The skills covered include effective communication skills, patients' safety, vital signs, emergencies, mental health and others. On successful completion, students should be able to demonstrate necessary skills to qualify as a Certified Nurse Assistant with the North Carolina Nurse Aide Registry. The morning classes are from 8:30am to 5:00pm and the evening classes start from 5:00pm to 10:00pm. The weekend classes are only available during the morning hours (8:30am to 5:00pm). For further details, kindly visit the website or the school itself.
Website: http://americanacademyofhealthcare.com/nursing_assistant_i
Location: 4917 Albemarle Road #207, Charlotte, NC 28205
Tuition: $525
Phone: (704) 525-3500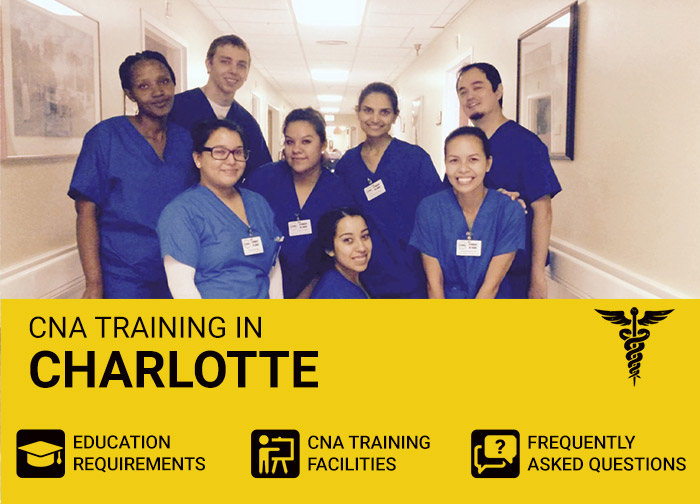 Carolinas College of Health Sciences
Nursing is one of the most essential and exciting professions in the healthcare industry. Nurses are individuals who care for and provide treatment for ill men, women and children and usually work at hospitals, nursing homes, rehabilitation centers and other healthcare facilities.
The nursing training program at CCHS has a 95% first time pass rate on the licensure exam and 96% of the graduates take a position with Atrium Health. The curriculum is designed to provide experience in various different areas before students can decide their area of interest. The nursing program is approved by the North Carolina Board of Nursing and accredited by the Accreditation Commission for Education in Nursing (ACEN).
Website: https://atriumhealth.org/education/carolinas-college-of-health-sciences/academic-programs/nursing
Location: 1200 Blythe Blvd., Charlotte, NC 28203
Tuition: $368 per credit hour
Phone: 800-821-1535
Divine Health Academy
Divine Health Academy is committed to providing high-quality education to its students which results in the development of their skills and knowledge in order to provide high-quality healthcare to patients. Divine Health Academy offers all the required learning resources and equipment to enrolled students and they assist students in reaching their nursing educational goals and ensure the success of their students. The demand for qualified nurses continues to increase and Divine Health Academy offers just the kind of training required!
The CNA program requirements are; proof of a high school diploma/GED/8th grade education, United States citizenship or a national identity that legalizes you to take the courses, have a completed and verified immunization form, background test and a physical test within the last one year.
The CNA program is a 112 hour approved training course which provides the fundamental knowledge and skills required to provide the best quality healthcare to patients at hospitals, nursing homes and other healthcare facilities. Skills taught include training students on the how to properly move or lift patients, basics of personal care such as feeding, bathing and clothing etc. On successful completion of the training program, students are qualified to take the state examination and then be listed in the Nurse Aide Registry.
Website: http://divinehealthacademy.com/programs
Location: 5633 Monroe Road, Charlotte, NC 28212
Tuition: $550
Phone: (704) 566-2955
Queens University of Charlotte
Queens University of Charlotte is a private university with approximately 2,300 undergraduate and graduate students through the College of Arts and Sciences. In the Queens Presbyterian School of Nursing, undergraduate and graduate students maintain a tradition in the development of the current and future nursing workforce. The college provides students with various opportunities to learn from industry leaders and they have immediate access to leading healthcare professionals. Students gain the opportunity to boost their skills and knowledge though shadowing from experts in the field. It is a personal experience where there is room for growth into the nurse you want to be.
Website: https://www.queens.edu/academics/schools-colleges/presbyterian-school-of-nursing.html
Location: 1901 E 5th St, Charlotte, NC 28204
Tuition: $780 per credit hour
Phone: (704) 337-2314
TheraCare Health & Wellness
TheraCare Health & Wellness is committed to providing the highest quality care to the elderly population by providing professional training for individuals interested in nursing and assisting with patients on a daily basis. The online training is a convenient and flexible learning opportunity that aims to facilitate learning for individuals beyond the service area. The course is a 120 hours and can also serve as a CNA Refresher course. It includes;
Nursing Assistant Care Basics Textbook and Workbook
Skills Training DVD
2 hours consultation with the instructor
Provides access to chapter tests and course exam
Successful completion of this course awards students with two certificates.
This website and contact below can assist you with further details:
Phone: 800-381-6452
Unity Nursing Institute
The Unity Nursing Institute aims to prepare potential nursing assistants with the essential knowledge and skills to provide high-quality healthcare with a positive and compassionate attitude. Students who successfully complete the program will be able to provide nursing care for patients in long-term care facilities, home health, hospitals and other healthcare settings.
The training program covers various topics including human anatomy, monitoring nutrition, basic and complex nursing care, communication skills, infection control procedures, safety in patient care delivery and more. The course pre-requisites include; proof of a high school diploma, drug test, background check, TB report, vaccinations and annual physical report.
Website: http://www.unitynursinginstitute.school/healthcare-training-nurse-aide-training-CNA
Location: 5715 Westpark Drive, Suite 202, Charlotte, NC 28217
Tuition: $550
Phone: (704) 525-1448
Other Training Centers in Charlotte
Central Piedmont Community College (CPCC)
Located: 1201 Elizabeth Avenue Charlotte, NC 28235
Phone: (704) 330-2722
Chosen Healthcare Institute
Located: 8401 University Executive Park Dr. Charlotte NC, 28262
Phone: (704) 547-1988
Umanah Healthcare Institute
Located: 5801 Executive Center Dr. #103, Charlotte, NC 28212
Phone: (704) 531-1100
CNA Training Center Reviews
American Academy of Healthcare
American Academy of Healthcare is a good school to go to, it prepares students for the state exam and for a job too. The professors and staff are all very helpful and they do their job best. The small classroom sizes allow for more one-on-one assistance from teachers. Affordable tuition and flexible class hours. Good combination of academics and hands-on learning. Everyone is helpful and friendly too, any questions that you may have will always get a response and it helps in ensuring that the course goes smooth. I would recommend this program to friends and peers.
Carolinas College of Health Sciences
This school is the perfect fit, the teachers, the staff, resources available etc. The staff members are friendly, helpful and knowledgeable too. The instructors work very hard to help you and ensure that you achieve success. The school is connected with the hospital which is a great aspect towards the school. The nursing program also provides students with an opportunity to gain clinical experience and the teachers are always there to help you succeed. Class sizes are small, they have career counselors and many job applications open. Free tutoring, study groups and a great student organization including amazing activities and free lunches.
Divine Health Academy
Divine Health Academy has a lot of offers and opportunities for jobs and the training aims to prepare students and provide relevant experience for jobs. The diverse student body is an opportunity for all kinds of students to connect and become life-long friends. I loved learning all the skills and knowledge required to become a Certified Nursing Assistant and I am looking forward to applying all that I've learnt practically at a hospital or nursing home. Good hands on training and flexible class hours.
Unity Nursing Institute
The training facility includes large classrooms equipped with contemporary desks and chairs, whiteboard and a projector. The skills training lab includes two working hospital beds and all other supplies required to provide basic nursing care for patients. The break-room is big and spacious and there are also restrooms on site. The free parking makes it easier for all students and staff at Unity Nursing Institute and also saves a lot of time. Class hours are flexible, the tuition is affordable and most importantly, the instructors are excellent! The director of this school puts in a lot of hard work into the environment and conditions in order to ensure smooth learning and success.
Frequently Asked Questions (FAQs)
What is on the CNA exam paper? The CNA exam is divided into 2 sections; the written exam and the practical skills training. The written exam paper consists of 60 multiple choice questions and is 90 minutes long. The skills test requires students to perform nursing tasks under supervision of a Registered Nurse.
Do students get paid during CNA training? Yes, employers may pay for you to get certified and after completion of a certificate program, you can gain employment at that facility for a specific amount of time.
Can I get a student loan for CNA classes? If students require financial assistance in order to complete the CNA program, loans are available. Depending on what training center you're going to, you will need to request the administrative staff or write an email to the college.
CNA Training by City (Choose your City):