There are various centers in Milwaukee offering Certified Nurse Assistant (CNA) training programs including community colleges, vocational schools, the Red Cross, hospitals and long-term care facilities. Individuals applying to nurse assistant programs must ensure that the program is approved by the state. Other requirements to enter the program include passing a criminal background check and a health screening. The demand for CNAs is currently high and continues to rise due to an increase in the population of the elderly. The CNA program can be a career choice or it can be a foundation towards an advanced career. CNAs typically work in hospitals, nursing homes, rehabilitation centers, assisted living centers and other long term care facilities.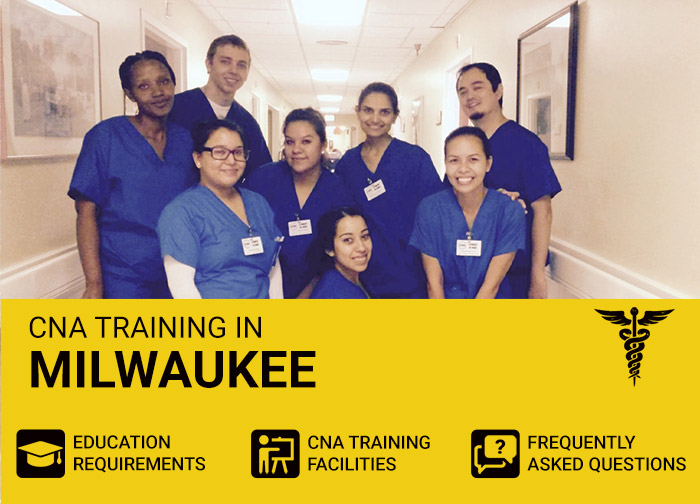 J. Johnson Education Center
J. Johnson Education Center is the stepping stone into the medical field for Certified Nurse Assistants (CNAs). All of the instructors are highly trained and qualified in the field. J. Johnson is committed to offering quality training and aims to equip students with all the essential skills required in order to care for patients in the best way possible.
The CNA course is designed to prepare students to obtain nurse aide certification in the State of Wisconsin. The course curriculum includes 88 hours of classroom learning and 32 hours of practical training. Students will be taught through lectures, videos and lab practices and the skills taught include assisting to bath patients, dressing and grooming patients, positioning and vital signs. Some of the requirements to be admitted into the course include; applicants must be at least 18 years of age (applicants under 18 will be required to show written permission from a parent or legal guardian), applicants must be able to read, write and understand English, present a valid photo ID, present a social security card and applicants must present documentation of negative TB test results.
Website: http://jjohnsoneducationcenter.com/courses.html
Location: 7905 W Appleton Ave #202, Milwaukee, WI 53218
Tuition: $1,000
Phone: (414) 438-9390
Milwaukee Area Technical College
Milwaukee Area Technical College aims to provide affordable and high-quality programs to best prepare students for jobs in the medical field. MATC offers 170+ certificate, degree and diploma programs with experienced instructors. The nursing assistant program at MATC is a 3-credit course which prepares students for employment as entry-level CNA. The course prerequisites include; a medical exam, TB skin test result and a background check.
The CNA coursework focuses on introducing students to basic nursing skills and procedures required in order to be able to assist patients and clients with daily activities such as communicating, feeding them etc. Classes are offered in the morning hours, evenings and weekends. The course curriculum aims to prepare students for the National Nurse Aide Assessment Program (NNAAP). Graduates of the program are qualified to participate in NNAAP activities upon successful completion of the course.
Website: https://www.matc.edu/course-catalog/healthcare-services/nursing-assistant.html
Location: 700 W. State Street, Milwaukee, WI 53233
Tuition: $420
Phone: (414) 297-6282
Paramount Healthcare Training Institute
Paramount's nurse aide training program can be completed in just 4 weeks. The course curriculum focuses on laboratory training from the first week providing students with an opportunity to develop strong clinical skills and prepare for the job as a CNA. Topics covered in the program include infection control, vital signs, patient hygiene, patient rights, personal care skills and emergency procedures. Class schedules are flexible in order to accommodate all students including those working or parenting. Admission requirements include possession of a valid driver's license or photo ID, a social security card and a 50% deposit of the tuition must be presented at registration. Upon successful completion of the training program, students are eligible to sit for the state's certification exam and job placement assistance is also available.
Location: 2140 South 55th Street, Milwaukee, WI 53219
Tuition: $600
Phone: (414) 257-0701
Quality Healthcare Options
QHO has been providing high quality healthcare training for over 30 years and it is the second largest training center for CNA training, CPR certification and CBRF training. QHO also provides great job opportunities for graduates and the institution has a high reputation in the community. The center's training programs focus on training students to a higher standard and ensure that graduates from the program are fully equipped to provide the best healthcare and compassion towards patients.
The Certified Nursing Assistant Training program is approved by the Department of Health Services. The curriculum covers a 120 hours and it includes theory, lab, group work, games and video learning for the enhancement of students. The program also includes hands-on practical training with clients at an approved healthcare facility. QHO has maintained an average pass rate of 97%-100% for 20+ years and therefore offers a high success rate for students. Skills covered in the training program include; food & nutrition, vital signs, preparing for emergency situations, infection control and much more.
Website: https://www.qhotraining.com/cna-certification
Location: 7425 Harwood Ave, Milwaukee, WI 53213
Tuition: $1,045
Phone: (414) 475-7337
St. Martin's College and Seminary
St. Martin's College and Seminary is an institution of higher education which serves the educational and professional needs of the community. St. Martins' College provides adult learners with opportunities to earn Bachelor's, Master's and Doctorate degrees in healthcare programs and to acquire the skills and knowledge to achieve success in the field. The admission requirements include documentation of previous educational experience, college transcripts, continuing education training, consent to a criminal background check and drug screen, complete the health requirements and attend all the program hours to graduate.
The Certified Nurse Assistant program trains students on the necessary skills and knowledge to be able to take the CNA certification exam. Class schedules are flexible including day, evening and weekend classes. The training program curriculum includes theory (classroom instruction) and practical (hands-on) training. The job growth for CNAs is faster than average at a rate of 20% and CNAs are vital individuals for providing quality patient care. Some of a CNA's daily roles include bathing and dressing patients, checking and recording vital signs, assisting to feed patients, answering patient calls etc.
Website: https://www.saintmartinscollege.net/certnurse.html
Location: P.O Box 170106, Milwaukee, WI 53217
Tuition: $1,000
Phone: (414) 247-1451
Other CNA Training Centers in Milwaukee
Amber House, Inc.
Located: 7414 W Hampton Ave, Milwaukee, WI
Phone: (414) 393-9922
Aurora Healthcare Center
Located: 750 West Virginia Street, P.O Box – 341880, Milwaukee, WI 53204
Phone: (877) 592-7996
Community Healthcare Educational Center
Located: 5140 N. Teutonia Ave, Milwaukee, WI
Phone: (414) 578-3132
Milwaukee Job Corps Center
Located: 6665 N 60th St, Milwaukee, WI 53223-5805
Phone: (414) 616-8752
Online CNA Classes
The online CNA programs cover the essential skills and knowledge to equip students and prepare them for the nursing assistant medical field. The topics covered in the course curriculum include nutrition, anatomy, medical terminology, basic personal needs and much more. Over the past few years, online training has become well liked due to its flexibility and convenience. Online classes has enabled students to complete their studies in a comfortable environment and at their own pace. It is also quite affordable depending on what school you choose. One key point for students to note and ensure before beginning the program is that it is a state-approved program in order to be certified by the state.
The American Red Cross is well-known for providing high quality programs both online and on-campus. Their Certified Nurse Assistant training program and other programs are in full compliance with the state regulations. Their classes consist of lab skills training, clinical rotations and theory too. Upon successful completion of the training program, students are eligible to sit for the state's certification exam.
CNA Training by City (Choose your City):
CNA Training Center Reviews
Milwaukee Area Technical College
I like that there is a small number of students in a classroom, it allows for one-on-one communication with professors. Milwaukee Area Technical College has excellent diversity! There are people of different ages, genders, race and culture. The classes are more like family and everyone around is friendly and supportive. The teachers are informative and thorough with the syllabus. They are also very supportive and share advises with students. There are also various activities for students to be a part of and involves all students. The tuition is affordable and most students can pay on their own. It's been a wonderful experience at MATC and I definitely recommend this college.
Quality Healthcare Options
The faculty and instructors at QHO work closely with students and assist them to ensure that they are well-equipped and skilled for the healthcare field. The institute also facilitates extra lab time or study time and extra practice prior to exams. They are very supportive and wish to see every student succeed! Class hours are flexible. Instructors are very hands on and they even share personal experiences and advises. Classrooms are clean and the environment is well-maintained. Good career preparation and helpful career services which ensure employment after graduation. The classmates are helpful and friendly. I highly recommend this school and the nursing assistant program. There are also a variety of other programs and evening classes available too.
Frequently Asked Questions
How long does it take to get on the CNA Registry? It may take up to 4 weeks.
How can I renew my license in Wisconsin? CNA certifications must be renewed every 2 years. It can be done online and renewals are valid for another 2 years.
How many times can one take the CNA test? Most states allow students to take the test up to 3 times within 2 years of completing the training program. If it has been more than 2 years, students will be required to attend the training program or take a refresher course. It is only necessary to retake the section that you failed.