Certified Nurse Assistants are vital individuals who are currently in high demand across the world due to an increase in the elderly population. Therefore, they are required to meet certain requirements and obtain certification in order to be able to manage the tasks and responsibilities of a CNA. The training programs provide up to 75 hours of training which comprises of 51 hours in the classroom and 24 hours at a medical facility. After graduation, students can take the competency exam to qualify for placement on the Texas Nurse Aide Registry. Students will be required to complete a written exam and a skills test to assess their capability for the job.
Good Careers Academy
Good Careers Academy aims to provide training, education and employment opportunities to start, retain or advance careers. The 12-week nurse aide training program at Good Careers Academy aims to provide students with the necessary skills and knowledge to successfully complete the State of Texas' written and skills examination for nurse aides. Topics covered in the course include anatomy and physiology, communication and interpersonal skills, medical terminology, infection control, basic nursing skills, basic computer skills etc. Students are equipped with the skills of caring for the elderly, caring for surgical patients/ambulatory patients and providing care for the critically ill patients.
Website: http://www.goodcareersacademy.com/good-careers-academy-certified-nursing-aide.html
Location: 12332 W IH 10, San Antonio, TX 78230
Tuition: $1,000 (average cost)
Phone: (210) 924-8581
Quest College
Quest College was initially established in 1995 as Career Quest. It offers unique training concepts that were developed by its founder, Jeanne Martin and her husband who had about 40 years of experience in the field. It is a school of higher education aiming to offer quality education programs that provide career-based training to its students so that they can achieve their goals. Quest College is approved by the Texas Workforce Commission and is accredited by the Council on Occupational Education in Atlanta. Quest College is committed to educate and train its students with the skills necessary to achieve success in future careers.
The nurse aide program offered by Quest College provides students with essential knowledge, skills and expertise required for the basic care of patients in hospitals, nursing homes or personal homes. The course requires students to pass a criminal background check, physical and TB test before proceeding to the practical training. Skills taught in the course include Basic First Aid, CPR, taking vital signs and infection control. Class timings are Monday – Friday 8:30am to 12:45pm. The daytime classes can be completed in just 5 weeks and it is a convenient option for individuals looking to complete the course in a short time.
Website: http://questcollege.edu/programs/nurse-aide/
Location: 5430 Fredericksburg Road, Suite 310, San Antonio, TX 78229
Tuition: $1,000 (including textbooks, registration, lab fee, supplies, test fee and tax). Financial aid is also available through scholarships, loans and grants.
Phone: (210) 366-2701
Savant Achievement Center, Inc.
Savant Achievement Center, Inc. focuses on providing high-quality education and customer satisfaction. They go all out to ensure your expectations are met and they help you succeed. Savant aims to equip individuals with the necessary knowledge, skills and ability which will lead to employment and advancement in their career. Savant provides a foundation from which students will be able to achieve advancement and employment. Training programs provided here include Nursing Assistant, Office Assistant and Customer Service fields, all are affordable for those interested. Savant aims to provide guidance and support along with training which will promote employment and advancement opportunities.
The Nursing Assistant Program is a 4-week course, hours are 8am – 1pm on Monday to Friday. The program provides several essential skills including infection control, communications, basic emergency, basic nursing, mental health and personal care skills. Graduates from this program will then be able to interact effectively with patients and assist them with their day-to-day activities. Students are taught various important skills such as bathing patients, feeding them, bed making etc. The training program requires applicants to be 17 or older and be physically able. All graduates are offered employment assistance and they find entry-level employment as nursing assistants in nursing homes, hospitals, home health agencies and other medical settings. Once students have successfully completed the program, they are qualified to take the State Examination and become Certified Nursing Assistants.
Savant also offers the Nursing program in Spanish for individuals who need to undertake the entire course in Spanish. If you're interested, you can contact the college for more information.
Website: https://www.savantachievementcenterinc.com/
Location: 6151 Northwest Loop 410, San Antonio, TX 78238
Tuition: $1,300 (average cost)
Phone: (210) 682-0600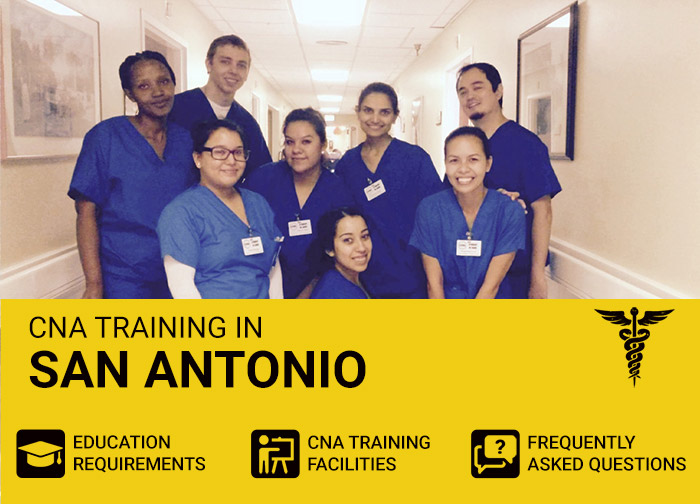 St. Philip's College
The Certified Nurse Aide course offered by St. Philip's college is a 108-hour course that includes lectures and practical training, and it prepares students for the state of Texas examination to become a Certified Nurse Aide by the Texas Department of Aging and Disability Services. This program prepares students to become entry-level nursing assistants by achieving a level of knowledge, skills and abilities in order to provide care in the best way possible. Some of the topics covered include patient comfort and safety, communication skills, basic nursing skills etc.
Website: https://myspccatalog.alamo.edu/content.php?catoid=156&navoid=9438#CE_IHB
Location: 1801 Martin Luther King Drive, San Antonio, Texas 78203
Tuition: $1,033
Phone: (210) 486-9000
The Healthcare Institute
The Healthcare Institute of San Antonio has been around since 2002 and many students have successfully graduated from the classes and built good careers in the field. The institute provides hands-on training and aims to develop the skills and knowledge of students. Students gain assistance from professional individuals in training, exam preparation, continuing education and seminars on various topics in the field. The CNA program is designed to prepare students for entry-level careers and students must meet certain requirements including possessing a high school diploma/GED, some work experience and a background check.
Website: https://www.thehealthcareinstitute.com/uncategorized/nursing-assistant/
Location: 1822 Fredericksburg Road San Antonio, TX 78201-5035
Tuition:
Phone: (210) 692-3262
Other Training Centers in San Antonio
Brackenridge Education and Training Center
Located: 532 Center St, San Antonio, TX 78202
Phone: (210) 485-0280
The Institute of Allied Healthcare
Located: 7434 Louis Pasteur Dr #15, San Antonio 78229
Phone: (210) 616-0880
CNA Classes Online
Online programs are convenient ways for CNAs to acquire the skills and knowledge that they need to become certified nursing assistants. Students taking an online training program benefit from flexibility because they can choose the most suitable college even if it is located in another country! Online training even opens up job opportunities in this fast-growing field and builds a solid foundation for career advancement.
The requirements to apply to an online program include:
Applicants must be at least 16 years of age
Must hold a high school diploma or GED
Pass immunizations and physical examinations
Fluency in English (reading, writing and speaking)
Have reliable access to a computer with internet.
Here are some other things to take a note of before applying to an online program:
The application requirements differ from state to state and therefore students need to ensure that the online program they're applying meets the state requirements. If the online program is not approved, CNA students cannot become certified or licensed.
Accredited vs. non-accredited. To become a Certified Nurse Assistant, a college degree is generally not required, however, if an online program is accredited, it will help students to determine the quality of the school's main nursing program.
A nursing program usually consists of a knowledge portion and a clinical (practical experience) portion. The knowledge portion aims to equip students with the knowledge of CNA guidelines and duties while the clinical portion trains students for real-life situations through skill labs and shadowing.
The length of online programs is usually shorter than the length of a school program, however, this depends on the school and the type of program. Time required is between 90 and 180 hours including clinical practice.
CNA Training by City (Choose your City):
CNA Training Center Reviews
Quest College: This school offers flexible class timings that work for students who are also working full-time. Staff and professors are very friendly and helpful, small classes with less students promote easier understanding of the lesson. The school provides the essential equipment and resources that students need and the technology is also high-class. It has a huge and lovely library! Quest College also provides an opportunity for practice and experience which helps students after graduation. All in all, there are a lot of great opportunities for students not to miss! Definitely recommend!
St. Philips College: Great service from administration! The professors are amazing, they go all out to help and support students in everything! They make learning fun and motivate students to work hard! Tuition is affordable and totally worth for the quality of education provided. Students are so friendly and become like family in no time. Makes you feel like you're home! The campus is diverse with so many amazing people and the best part is that everyone is outgoing and willing to help you out. The advisors give their best to help you get the right classes in order to pursue your major. Overall experience has been really great and I will definitely recommend St. Philips to friends and family.
The Healthcare Institute: Positive environment with smiling faces to welcome you, especially if you're new. A great combination of hands-on and classroom learning! There is also a lot of opportunity for students to put their skills to use on real patients and that prepares them well for the career. Class hours are flexible and easy to adjust according to a students' schedule. The instructors are supportive and motivate students to go out and get a job. Teachers are helpful in ensuring that the lesson has been well understood and if a day has been missed then, they make sure that they explain again so that way no one misses out and that ensures a 100% success. I would recommend this program to friends and family because if anything, it has taught me confidence, kindness and all the nice things.
Frequently Asked Questions
Is becoming a nurse assistant right for me? If you're someone who's caring and compassionate and love helping others, this could be just the career choice for you!
How long after graduating will I receive my diploma? Please allow approximately 12 weeks for processing by the Registrar's office.
Where can I take CNA classes online? Online CNA courses can be found at community colleges, technical schools, not-for-profit colleges, hospitals and clinics, all depending on the type of program you choose.