Certified Nurse Assistants are individuals who are trained to provide care under the supervision of physicians and Registered Nurses. They are generally employed in hospitals, clinics, nursing homes, rehabilitation centers and other long-term care facilities. The training includes classroom instruction and hands-on practice totaling to minimum of 75 hours required by the state. According to the Tennessee Department of Health, students must take the CNA certification exam within 2 years of graduating from a state-approved nurse aide training program. CNAs are currently in high demand due to the rising elderly population and therefore considering a career as a CNA or in the nursing field is a wise idea because there are several job opportunities available and it is a rewarding career.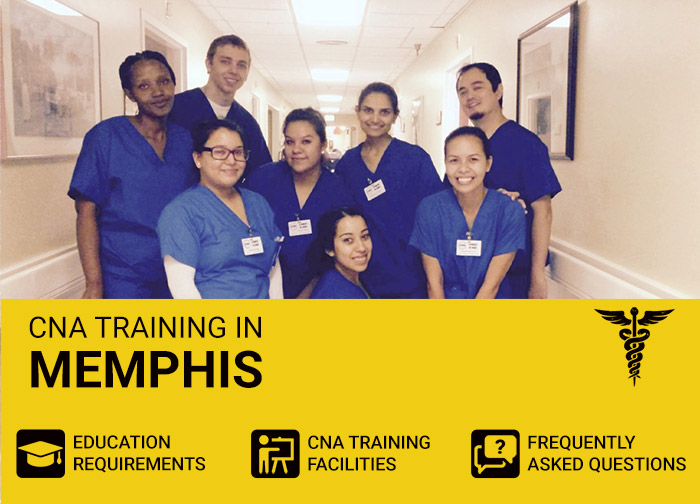 Below are some of the state-approved training centers in Memphis;
Bridges
Bridges provides students with an opportunity to find their voice through unique and adventurous activities. These activities aim to empower individuals and prepare them for educational opportunities and careers. The Bridges Center brings people together from diverse communities and motivates them to be confident and inspires them to make a difference in the community!
The Nurse Assistant training program is an 8-week course (85 hours) which covers the essential skills and knowledge required by the state. On completion of the course, students are awarded with a certificate which can be used to gain entry into RN and LPN programs too. Successful completion of the state's nurse aide certification exam qualifies students for employment at hospitals, nursing homes, clinics and other long-term care facilities. Further details about this course and other courses can be found on the website.
Website: https://bridgesusa.org/
Location: 477 North Fifth Street, Memphis, TN 38105
Tuition: $1,600 (includes textbooks, the certification exam fee and CPR certification)
Phone: (901) 452-5600
Career Academy
Career Academy is an authorized center for post-secondary education by the Tennessee Higher Education Commission. Career Academy offers equal opportunities (employment and training) to all individuals regardless of their race, religion, age and gender. Career Academy maintains a drug-free environment and the school complies with all regulations required by the state. Students are required to submit their TB screening and background check results prior to beginning the clinical training.
The Nursing Assistant Training Program equips students on various essential skills including bathing patients, grooming (nail care and hair care), feeding patients, taking temperatures, blood pressure and pulses, weighing patients, helping with exercises etc. Becoming a CNA is the perfect opportunity to help others. It is also a great stepping stone to careers such as LPN and RN. The program is offered for 4 weeks (daytime) and 6 weeks (evening classes), it includes class and clinical time. There are excellent placement opportunities for graduates and the school even helps with job placement.
There may be no cost for individuals who qualify for financial assistance through the WIN program. For those individuals paying the whole tuition cost can choose the "Pay As You Go" plan. More information can be found on their website added below.
Website: http://www.careeracademymemphis.com/
Location: 2600 Poplar Ave, Memphis, TN 38112
Tuition: $1,350
Phone: (901) 761-4500
Concorde Career College
Concorde Career Colleges, Inc. is proud to prepare America's next generation of healthcare professionals through career-focused, hands-on training and class instruction. Concorde operates in over 10 campus locations and many of the campuses have been serving their local communities for 50+ years. Concorde Career College Inc. is committed to prepare students for successful employment in a rewarding healthcare career through high-quality training and real-life experience.
The CNA program consists of classroom instruction and clinical training where students are prepared for clinical responsibilities including performing CPR and first aid when required, checking vital signs, infection control, administering medication etc. The program prepares students for a diploma with hands-on classes and teaches them the skills required by employers. Successful completion of the training program qualifies students to sit for the state's nurse aide competency exam and successful completion of the exam will qualify students as Certified Nurse Assistants.
Website: https://www.concorde.edu/allied-health-programs/medical-assistant
Location: 5100 Poplar Ave #132, Memphis, TN 38137
Tuition: $14,535 (financial aid is available)
Phone: (901) 761-3293
The Healthcare Institute Inc.
The Healthcare Institute Inc. (THI) was established in January 2015 and is dedicated to provide high-quality healthcare training for individuals. The first CNA class comprised of only 2 students but gradually the number of students increased and this lead to the expansion of program offerings including phlebotomy and other careers in the healthcare field.
The Nursing Assistant training program is a 3-week (daytime) program that provides students with the skills and knowledge required to practice as a Certified Nurse Assistant (CNA) in long-term care facilities. The course curriculum consists of classroom instruction and clinical training. Topics covered in classroom instruction includes physiology and basic nursing care needs when caring for patients. Students learn through various methods including hands-on, discussions, instructional videos and laboratory based work experience. Upon successful completion of the training program, students will be eligible to sit for the certification exam and completion of the exam will qualify students for employment.
The institute also offers a 5-week evening program to complete your required hours for CNA certification. Details about timing and tuition can be found on the website.
Website: https://www.thi-tn.com/nursingassistant/
Location: 7253 Winchester Rd, Memphis, TN 38125
Tuition: $1,050
Phone: (901) 244-0844
William and Johnson Career College
William and Johnson Career College offers a wide range of programs and help the students not only to graduate but also to inspire others and make a difference. The college ensures student success and helps students achieve their career goals. The Certified Nursing Assistant (CNA) program provides students with a wide range of skills which helps them to progress in their career and there are plenty of resources which helps the students achieve success.
The instructors are experienced in the healthcare industry and teach through various methods to ensure that each individual understands and the program prepares the students for real world situations. Skills and topics covered in the program include infection control, checking vital signs, monitoring patient progress and assisting with daily activities such as bathing, feeding, grooming and dressing patients. Choosing a career as a CNA is an amazing opportunity to help others and there is also high demand for CNAs due to a rise in the aging population.
Website: http://williamandjohnson.com/#
Location: 4400 Hickory Hill, Memphis, TN 38141
Tuition: $2,500
Phone: (901) 590-1166
Other CNA Training Centers in Memphis
CNA Training Academy
Located: 3675 New Getwell Rd. Memphis, TN 38118
Phone: (901) 347-3143
MaySept Healthcare Services
Located: 4514 Summer Avenue, Memphis, TN 38122
Phone: (901) 474-7687
CNA Training Center Reviews
Career Academy
The students going to Career Academy are so nice and helpful. They share their material and are always willing to help around. The positive environment motivates one to study and work hard towards success. The course tuition is very affordable and students may also receive scholarships and grants. The course equips students with the skills and knowledge required to pass the state's certification exam. There are also amazing job opportunities for graduates and the school assists students with job placements. Class hours are flexible and the small class sizes allows for one-on-one assistance from professors. I would recommend this program to a friend.
Concorde Career College
The faculty and staff are all so friendly and helpful, they are willing to help you and ensure that you're successful. There is so much to learn and I am having such an amazing time here! The hands-on training and the labs here at Concorde Career College are the best! The instructors are very caring and ensure that you have what you need in order to succeed. Their teaching methods are great and very unique, they make the theory simpler and more fun too! I love the beautiful environment, it's always filled with positivity and it's kept clean at all times. There are also various resources and equipment available including tutoring facilities and high speed internet access. I love this college and I would recommend the programs here!
The Healthcare Institute
This institute has a classroom setting that makes learning easier and the study groups, computer training, state board testing boost students' success. The professors at THI are professional and they work hard to get you where you need to be. There is a great passing rate and this motivates students to do their best to achieve success. There is an opportunity to gain lots of experience in the medical field and a lot to learn. The teachers go all out of their way to give you a better understanding on the lesson. They simplify it and ensure that every student has understood well. The school hours are great and convenient for working parents. There is a good combination of classroom and hands-on training. The cost is affordable and most students are able to pay on their own. It is a 3-week course, fast paced but no one gets left behind. I would recommend this program to friends, family and peers.
CNA Training by City (Choose your City):
Frequently Asked Questions
What happens if I fail my CNA test? Your testing center will permit you to retake the test but keep in mind that you must retake it within two years in order to get your license.
Where can I get CNA training for free? You can enroll in free CNA classes at nursing homes and hospitals.
What exactly does a CNA license do? The licensure certifies you through the state. It can be used all over the U.S. and it also serves as a stepping stone within the healthcare industry.
Where is the clinical training performed for the CNA training program? Clinical training mostly takes place in hospitals, nursing homes or other long-term care facilities.