Certified Nurse Assistants are individuals who assist patients with vital care activities in hospitals, nursing homes and long-term care facilities. CNAs are trained and work under the supervision of Licensed Practical Nurses (LPNs) and Registered Nurses (RNs). The first step in becoming a Certified Nurse Assistant is completion of a state-approved training program and passing the state certification exam. Becoming a CNA also serves as starting point to a life-long career in nursing. On successful completion of the training program, students may choose to advance their career to become LPNs or RNs.
Avamere Crestview of Portland
Avamere Crestview of Portland is an assisted living facility and has served rehabilitation needs of the Portland community for more than 40 years. This center focuses on developing real human relations with each resident rather than the usual provider-patient relationship. They are committed to making residents comfortable and ensure that each patient's needs are met. The skilled staff work compassionately and provide the best care for residents.
The nurse assistant training program at Avamere Crestview of Portland is offered at no cost and aims to equip individuals with the essential skills and knowledge required by the state. The training program includes classroom learning and clinical training. Graduates of the program are qualified to sit for the certification exam and gain employment.
Website: https://www.avamere.com/avamere-crestview-of-portland/
Location: 6530 SW 30th Ave, Portland, OR 97239
Phone: (503) 244-7533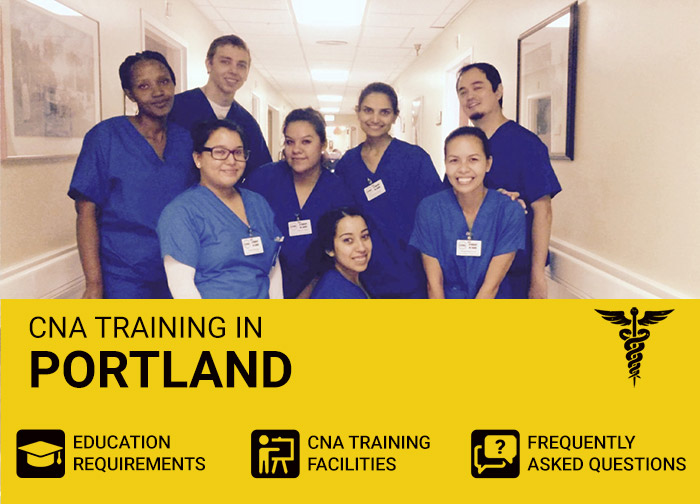 Caregiver Training Institute
The Caregiver Training Institute aims to teach to a higher standard. The institute believes that all individuals are unique, have a right to reach the highest personal potential possible, all individuals have a right to learn, an equal access to education and be successful, all students will receive fair treatment and all students are responsible for their own actions and learning. The institute focuses on each students individually and aims to promote the highest level of training for future CNAs. The Caregiver Training Institute is dedicated to providing high-quality education and to train the next generation to provide the best quality healthcare to patients/clients.
The CNA programs offered include NA-1 training program, CNA-2 training program, Medication Aide training and Medication Aide CEUs. The NA-1 training program equips students with the knowledge, responsibilities and skills expected of CNAs in the state of Oregon. The program consists of 80 classroom hours and 75 hours of clinical training. The Online NA-1 training program consists of 53 hours of online instruction and for the clinical training, students will have to join a class on campus. Upon successful completion of the program, students will receive a Certificate of Completion and will be qualified to take the competency exam.
Website: https://cnatrainingoregon.com/programs/na-1-training-program/
Location: 13909 SE Stark St Portland, OR 97233
Tuition: $1,100
Phone: (503) 257-0117
Mt. Hood Community College
Mt. Hood Community College is located about 17 miles from downtown Portland and it is a public school serving approximately 8,000 students every year. This college offers a variety of programs in different fields including nursing assistant training (CNA).
The nursing assistant CNA 1 program is approved by the OSBN and it involves 150 total hours of classroom instruction and clinical training. Applicants to this program are required to attend an orientation session prior to beginning classes. Other requirements for this program include college-level reading skills, passing a background check, physical strength for heavy lifting and the ability to work in a standing position for long hours.
The CNA 2 program is 84 hours and in order to enroll, students must already hold the CNA-1 certification. Students will learn how to check blood sugar and to better interact with patients.
Website: https://www.mhcc.edu//cna/
Location: Maywood Park, Portland, OR 97220
Tuition: $1,595
Phone: (503) 491-6422
Portland Community College
Portland Community College is the largest post-secondary institution in Oregon and it serves over 70,000 students. PCC offers high-quality education and various opportunities for students and the courses prepare students to serve Portland's economic community. The college offers a wide variety of programs including nursing and nursing assistant training programs.
The CLIMB Center for Advancement at Portland Community College offers CAN-1 and CAN-2 training. Both these programs are approved by the State Board of Oregon. The CAN-1 training program consists of a 115 total training hours, 80 hours of classroom learning and 75 hours of clinical training. On successful completion of the training program, students can gain employment at a nursing facility or hospital. Graduates of the program are qualified to sit for the state certification exam and total tuition cost ($1,500) includes classroom training, clinical experience and lab.
Website: https://www.pcc.edu/climb/health/nursing-assistant/cna1/
Location: 1626 SE Water Ave., Portland, OR 97214
Phone: (971) 722-6111
Prestige Care
Prestige Care is a family of extraordinary people who focus on delivering the highest levels of quality care. Each member of the Prestige family is respected and cherished including residents and patients. Their core values are respect, integrity, commitment and trust which is reflected in the community and in the culture.
Prestige Care sponsors CNA training courses whenever there are job openings at the senior healthcare facility. The classes run for 5-7 weeks depending on the type of schedule. The course only admits a specific number of students at a time and there may also be a waiting list for admission. The requirements for admission into the program include a criminal background check, medical, drug test and TB screening. On successful completion of the program, students are eligible to take the state certification exam.
Website: https://www.prestigecare.com/about-prestige/careers-at-prestige
Location: 5330 NE Prescott St, Portland, OR
Phone: (503) 288-6585
Other CNA Training Centers in Oregon
Clackamas Nursing Assistant Training
Located: 11875 SE 129th Ave, Happy Valley, OR 97086
Phone: (503) 709-6560
Concordia University
Located: 2811 NE Holman St, Portland, OR 97211
Phone: (503) 288-9371
Online CNA Training
Caregiver Training Institute
Students enrolling in NA-1 online classes work independently during the theory portion and must have access to a reliable computer and internet access. For clinical rotations, students will be required to attend the labs on one of the day or evening classes scheduled at the school. Weekend classes for the online NA-1 program is not available due to OSBN time constraints for program completion.
How it works:
When you log into the online classroom, there are 7 modules each consisting of videos and a quiz. Students must complete the quiz before the next module can unlock. The clinical training follows right after labs. NA-1 online students will attend the labs and clinical rotations with one of the scheduled day or evening classes. The labs and clinical training must both be in the same schedule (either day or evening). The final exam date is scheduled at registration. Online NA-1 students must have successfully completed the program and be ready to take the final exam no less than 7 days prior to the start date of class.
CNA Training by City (Choose your City):
CNA Training Center Reviews
Caregiver Training Institute
The instructors are professionally trained and knowledgeable. Their teaching methods are unique and informative too. They teach and train students through videos and tests which prepares them for the job. The classroom has a good combination of hands-on training and classroom instruction (theory). The hands-on training allowed us to demonstrate our skills and gain experience of the real-life situations. Class hours are flexible. The cost is high but it is affordable and totally worth it. I specifically love the positivity in the environment and it really motivates students to work hard and achieve success. The staff are awesome and so helpful!
Mt. Hood Community College
Plenty of resources available including a tutoring facility. The environment is beautiful and the facility is well maintained. Staff and instructors are friendly. Professors assist students one-on-one. There is amazing opportunities to make new friends and meet new people. There is also counseling facilities available for students struggling financially or academically. This school has really helped me improve as a student and as a person. The education is very high quality and professors provide students with everything they need to do well and achieve their goals. I would definitely recommend Mt. Hood Community College for students starting their educational career!
Portland Community College
I have had an extraordinary experience at PCC! They offer so many great programs and the instructors are so awesome! Attending Portland Community College has really helped me improve in my career and as a person as well. I am so inspired and motivated to work hard and do my best in serving the society. The resources are plenty and the professors genuinely wish to see students succeed. Portland Community College is an affordable and effective way to get lower level credits. It's a fun learning environment and the teachers support your efforts. I would recommend PCC to anyone seeking entry into a higher education!
Frequently Asked Questions
Does an individual seeking a CNA or CMA certificate need to be at least 18 years old? No. the Board does not set an age requirement for seeking the CNA, however, most training programs define age requirements for admission.
What continuing education is required for renewing the CNA certificate? Renewing your CNA certificate does not require any continuing education.
Is a CNA required to get into the PCC Nursing program? No. A CNA license is not required to apply to PCC's nursing program. However, additional points may be earned on your application for experiences as a CNA, EMT, Paramedic or LPN. Students are encouraged to gain direct patient care skills applicable to any nursing program.
How many hours does a CNA need to work to maintain the license? A CNA license is valid for 24 months and some states say that it is renewable if the CNA worked at least 8 hours during this time. Some state boards provide the renewal form online, if you are eligible, you can complete a renewal form and submit it along with the fee to your state board.