The demand for CNAs is high and continues to grow over the years mainly due to the increase in the elderly population. Training to become a Certified Nurse Assistant has multiple advantages and benefits, it is a very rewarding career! If you are seeking a career as a CNA in Atlanta and you're not sure where to begin, you've come to the right place! We're going to take a look at a couple of approved training centers that you can apply to followed by the training center reviews and some frequently asked questions. Hopefully, by the end, you'll be ready to start!
American Red Cross
The CNA training course at American Red Cross is a state-approved program that prepares students to provide care for patients and residents at nursing homes, hospitals, rehabilitation centers, assisted living centers and other long-term healthcare facilities. The program trains students to apply several skills including moving/transferring patients, measuring blood pressure and checking vital signs, personal care including bathing and grooming, diet and nutrition etc. Students will also participate in the clinical experience where they will work as CNAs under direction of professionals and Registered Nurses. This is an opportunity to demonstrate the skills and knowledge that they've learnt. Admission into the program requires students to submit a negative TB skin test and a clear criminal background. Graduates of the program will receive a certificate of completion and they will be qualified to sit for the state competency exam in order to become a Certified Nurse Assistant in Georgia.
Website: https://www.redcross.org/take-a-class
Location: 1955 Monroe Drive, Atlanta, GA 30324
Tuition: $799 (includes CPR/First Aid Certification)
Phone: (404) 876-3302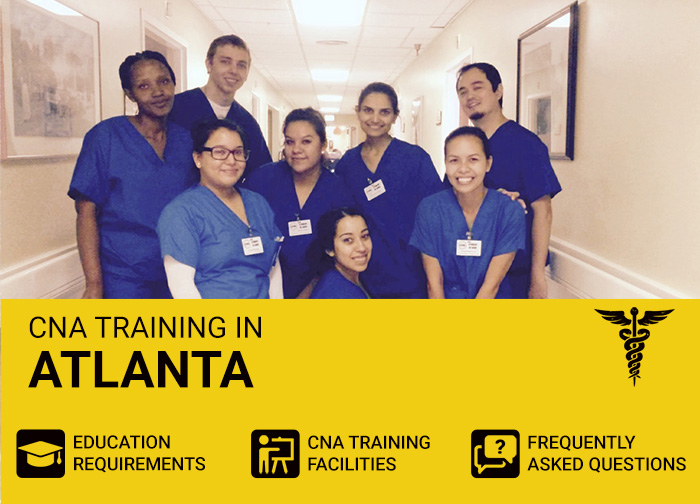 Atlanta Technical College
Atlanta Technical College embraces diversity and welcomes all. The college provides a wide range of programs including Accounting, Business Technology, Carpentry, and Dental Hygiene and Nursing related programs that enables the development and improvement of students' academic skills, technical competence and work attitudes. ATC believes that every student can achieve their goals and advance further into their career.
The Nurse Aide training program at Atlanta Technical College aims to prepare students with classroom training and clinical experiences essentially to care for patients in various long-term healthcare settings including hospitals and nursing care facilities. The course curriculum covers Introduction to Healthcare, Diet and Nutrition for Allied Health Sciences, Medical Terminology for Allied Health Sciences and Nurse Aide Fundamentals. Admission into the program requires; students to be at least 16 years old, proof of a high school diploma or GED, minimum program scores in Reading, English and Math and transfer of previous post-secondary credits will be determined by the registrar. Successfully completing this training program qualifies students to sit for the National Nurse Aide Assessment program (NNAAP) which will determine being listed on the State nurse aide registry.
Website: https://atlantatech.edu/academics/programs/nursing-related-programs/nurse-aide-certificate-program/
Location: 1560 Metropolitan Pkwy SW, Atlanta, GA 30310
Tuition: $3,799
Phone: (404) 225-4461
Covenant CNA School
Covenant CNA School focuses on training highly qualified Certified Nurse Assistants who will make a difference in the healthcare industry. Covenant CNA School is committed to serving its students through commitment, obligation and vision in order to empower and nurture the students by providing constructive training. Covenant CNA School prides in its diversity of international student enrollment from 70+ countries.
The CNA training program prepares students for the state certification exam and to be able to offer high quality services and care for patients at hospitals, nursing homes and other healthcare settings. The program provides the necessary information and training in order to equip students to provide high-quality healthcare. Classes are offered during the day, evening or weekend classes. Day and evening classes are 4 weeks long while the weekend classes are 5 weeks long.
Website: https://covenantcna.com/programs-1
Location: 261 Joseph E. Lowery Blvd NW, Atlanta, GA 30314
Tuition: $600
Phone: (770) 573-0370
FAKS Allied Health Education Center
The programs at FAKS aim to prepare students and help them to function safely and be ready for entry-level employment. FAKS Allied Health Education Center was established in October 2001 and initially offered Certified Nurse Assistant training with approval from the Georgia Medical Care Foundation and since then, a 1000+ students have successfully graduated and been employed at local healthcare facilities. Gradually, FAKS began offering several other programs including Phlebotomy & EKG, Medical Billing & Coding, Pharmacy Technician and Hemodialysis Technician.
The 4-8 week Certified Nurse Assistant training program introduces students to basic nursing skills. The students will be trained to demonstrate these skills at long-term healthcare facilities. The skills taught in this program include; CPR/First Aid, Total Patient Care, Taking Vital Signs, Effective Communication with patients and family members, Patient's rights and infection control. Classroom instruction includes; basic nursing skills, physiology and anatomy, infection control and nutrition. During the hands-on training, students gain experience and an opportunity to demonstrate their skills at an approved healthcare facility. Classes are available during the day, evening and weekend too.
Website: http://faks-allied-health.com/cna/
Location: 5530 Old National Hwy, Atlanta, GA 30349
Tuition: $750
Phone: (404) 763-0055
Murray Career Institute
Murray Career Institute has been serving students since 2008 and aims to offer everyone an opportunity to train and learn at an affordable price. This Career Institute wishes to send out highly trained medical workers to serve all communities in the United States of America. A variety of programs are offered at Murray Career Institute including CNA, Medical Assistant, Phlebotomy training, Coding etc. The program hours are flexible even allowing parents and working individuals to attend and benefit. Murray Career Institute is building new careers one student at a time. Students are motivated and encouraged to work hard and pursue a rewarding career.
The CNA class at Murray Career Institute is an approved course of 15 days (3 weeks) in length. Classes are also available during evening hours but weekend classes are not available. Admission requirements include a clear background check and screening. The course covers essential skills and knowledge required for students to be able to provide high quality healthcare for patients at long-term healthcare facilities. Successful completion of the training program qualifies students to take the state certification exam.
Website: https://murraycareerinstitute.com/cna-class
Location: 233 Mitchell Street S.W. 5th Floor Suite 550, Atlanta, GA 30303
Tuition: $650
Phone: (404) 228-1568
Other CNA Training Centers in Georgia
Alliant Health Solutions
Located: 1455 Lincoln Pkwy E Atlanta, GA 30346
Phone: (678) 527-3000
Atlanta Career Institute
Located: 5380 Peachtree Industrial Blvd., Ste. 120, Norcross, GA 30071
Phone: (770) 807-0170
Cambridge College of Healthcare & Technology
Located: 5669 Peachtree Dunwoody Rd Suite 100, Atlanta, GA 30342
Phone: (404) 255-4500
CNA Training Center Reviews
Atlanta Technical College
The faculty and professors at Atlanta Technical College are very caring and supportive. They dedicate their time and energy into the success of all students and are always willing to provide assistance. The class sizes are small and this allows students to build a better relationship with the other students and professors. I love going to the library, it's so nice and quiet. There's even a quiet area to get some serious studying or homework done. The college not only provides career education but studying here has also taught me so much about myself and how I can make a difference in other people's lives. I love this school and I've had nothing but an amazing experience so far. I would recommend going here!
FAKS Allied Health Education Center
Class hours are flexible, offered during the weekend too. Good information provided by experienced instructors and helpful media resources. Great hands-on training. The classes are quite interactive and fun! The teachers try to teach in the simplest way possible for everyone to understand. Affordable tuition. Great career preparation and job opportunities. Positive and safe environment. Opportunities to meet a lot of new people and make many new friends too.
Murray Career Institute
Good classroom size and great hands-on training. Detailed classroom instruction. Professors are willing to respond to questions and clear every doubt. Plenty of resources and tools. Helpful career services and job opportunities are many. Affordable tuition fees and excellent quality of education. I would definitely recommend.
Frequently Asked Questions
Can I sit for the CNA test without classes in Georgia?
You need to complete a state-approved training program in order to be able to take the CNA test. If you are retaking the test because you're certified from another state, then you can take the test without retraining.
How do I become a CNA in Atlanta, GA?
The first step is to select one of the six paths to becoming a CNA in Georgia.
The second step is to complete the required training (an approved training program).
The third step is to pass the NNAAP state exam.
The fourth step is CNA registry and certificate renewal.
The fifth and last step is to work as a CNA in Georgia.
How much do CNAs earn in Georgia?
The average Certified Nursing Assistant average yearly salary is $30,900.
Can I transfer my CNA license to Georgia?
Yes, it is possible to receive certification through reciprocity. If you have an active certification in another state, you can transfer your certificate to Georgia, you will be required to complete an application for reciprocity.
CNA Training by City (Choose your City):