The thriving healthcare industry in Austin attracts individuals seeking a career in the medical field, particularly as Certified Nurse Assistants (CNAs). The career provides opportunities and encourages people to make a difference in patient's lives. However, the job can be difficult as it entails intense physical and emotional activity. Certified Nurse Assistants are in contact with various kinds of patients on a daily basis, some can be helpful and cooperative while others are rude and impatient. CNAs are taught to deal with all kinds of patients and provide care for them in the best way possible. A nursing assistant works under supervision of a Registered Nurse (RN) or Licensed Practical Nurse (LPN) and some nurse assistants may advance their career to become nurses.
Austin Community College
The Austin Community College Nurse Aide program has been designed to train passionate individuals to provide care for the elderly population. The college aims to educate entry-level nursing assistants and help them achieve the level of knowledge and skills required to provide basic care for residents at long-term care facilities. The wide range of skills provided include residents' rights, effective communication, observation, reporting and assisting residents with basic comfort and safety.
The course combines a 60 classroom hours and 40 clinical hours where students gain experience in providing direct patient care. Before starting the course, students are required to have a clean criminal record and proficient English reading, writing and speaking skills.
Website: http://continue.austincc.edu/nurseaide
Location: 5930 Middle Fiskville Rd. Austin, Texas 78752
Tuition: $1,110
Phone: (512) 223-7271
EZE Learning Center for Healthcare Professionals
EZE Learning Center for Healthcare Professionals is a career training school that provides market ready job skills within a short time period. It aims to provide assistance in the chosen area of interest and instill in students the concepts needed for success. EZE Learning Center is based on a vision to bring healthcare and educational training opportunities to Austin and its vicinity. The healthcare industry has always provided jobs for its practitioners of all levels. EZE has developed programs that facilitate flexible learning and delivers the material in the most efficient manner in compliance with regulatory requirements.
The nurse aide program is a minimum of 100 training hours divided into 40 hours of practical training in a nursing facility and 60 hours of classroom training. The course is designed to equip students with essential skills and concepts needed for providing high-quality healthcare for residents in long term care facilities, nursing homes and other medical facilities. Graduates of the nurse aide program will learn the concepts of the body functions and assist patient to be able to function independently. The instructors will train the students on respecting patients' rights, communicating effectively with patients and other staff, observations and timely reporting of incidents. The practical training session involves the use of specialized equipment, materials, knowledge of specific procedures and laws as specified by the Texas Department of Aging and Disability Services. Students who successfully complete all the requirements will receive a certification of graduation and will be qualified to take the Nurse Aide Competency Evaluation (NATCEP). Graduates may find employment as a nurse aide with hospitals, nursing homes and other facilities.
Website: http://ezehealthcareers.com/nurse-aide
Location: 9411 Parkfield Drive, Suite 310, Austin, Texas 78758
Tuition: $784
Phone: (512) 759-3007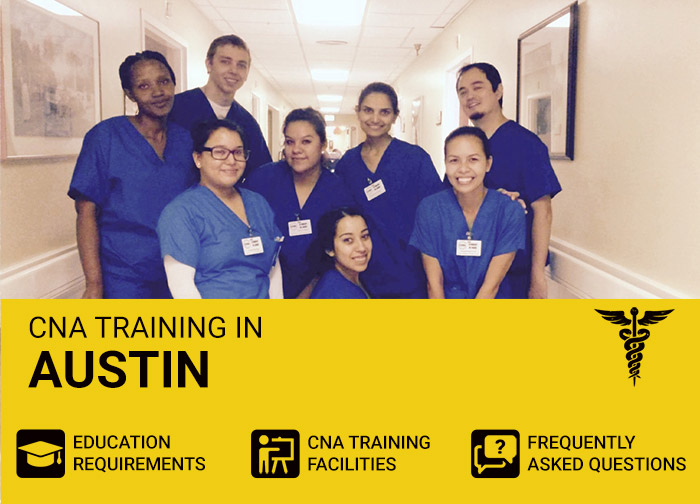 Goodwill and Technical Career Academy
Goodwill has empowered thousands of people over the past six decades, it is a private, non-profit organization which is empowers more than 13,000 people each year helping them to reach their full potential, improve lives and contribute to the growth of the community. Goodwill Central Texas aims to increase its range of education, job training and business services in line with the core mission of 'transforming generations by empowering people through education, career training and work'.
The nursing program at Goodwill Central Texas is a 122 hours of classroom and practical training. The program provides students with the vital skills needed to provide basic care for patients in just 4 weeks! The curriculum combines various skills including introduction to long term care, simulated patient environment, basic nursing skills, personal care skills and clinical practice at a long term facility. There are certain requirements that applicants must follow including; submitting proof of at least 8th grade education, be 18 years or older, provide a copy of a valid state ID and social security card and pass a criminal background check. Graduates are qualified to sit for the state certification exam to become a Certified Nurse Assistant.
Website: https://www.goodwillcentraltexas.org/
Location: 1817 East 6th Street, Austin Texas, 78702
Phone: (512) 499-0481
Graham's Nursing Training
Graham offers three class schedules for students enrolling in the nursing program. The daytime classes are from 8am – 4pm or 8.30am – 3.30pm and the evening classes are from 5pm – 9pm. Applicants to the program are required to take a TB skin test at a licensed medical facility, submit proof of 8th grade education (minimum) and a produce a valid photo ID.
Graham Nursing Training also offers online training facilities. Before deciding on an online training program, students must ensure that it is approved by Texas Department of Ageing and Disability Services (DADS). Majority of the coursework is completed online, however, students will be required to attend a physical examination and practical training sessions. Online training is a quicker and flexible method of learning which is convenient for students who are unable to physically attend classes due to other responsibilities. Online training can qualify students in a shorter time, it is affordable and convenient.
Location: 15501 N. FM 620 #1000, Austin, TX 78717
Tuition: $1,180 (includes textbooks, supplies, registration, CPR and lab fee)
Phone: (512) 773-9808
Rosy Home Health Care
Rosy Nurse Aide Training aims to provide comprehensive care services in the comfort of clients' homes. Providing clients with the best health care possible is a priority and Rosy focuses on employing a team that is willing and committed to work hard and give their best in providing high-quality healthcare to elderly patients. The kinds of customers/patients at Rosy Home Health Care include individuals, employers, hospitals, managed care organizations and governmental agencies who depend on Rosy as their single source for home health care services.
The nursing training program is state-approved and classes take place on the weekends for 5 weeks. The program prepares students for success on the Nurse Aide Competency Exam. Topics and skills covered in the program include; communication, residents' rights, safety & security, basic nursing skills, personal care and infection control. Applicants to the program are required to be fluent in speaking English and pass the health requirements such as the TB test, physical exam and provide documentation of Hepatitis B, Varicella and MMR immunization.
Website: https://rosyhc.com/
Location: 3724 Airport Blvd, Austin TX 78722
Phone: (512) 251-7555
CNA Training by City (Choose your City):
Other CNA Training Centers in Austin
Abeam Medical Training LLC
Located: Austin, TX 78745
Phone: (512) 949-0544
Educatex CNA Training
Located: 5800 Manor Rd, Suite B-100
Austin, TX 78723
Phone: (512) 928-8989
The Learning Center
Located: 724 Eberhart Ln #500
Austin, TX 78745
Phone: (512) 326-8655
Windsor Nursing
Located: 5301 West Duval Road
Austin, TX 78727
Phone: (512) 574-4926
CNA Training Center Reviews
Austin Community College
Austin Community College is a good place to begin your career, especially if you're looking for inexpensive classes. The professors are passionate about teaching and making sure that the course material is well understood. Small class sizes and good combination of classroom learning and hands-on training. Austin Community College also had employers coming in and offering jobs for graduating students. Class hours are flexible and suitable for working individuals. The tuition cost is also affordable. I would suggest this program to family and friends.
Goodwill Central Texas
The instructors at Goodwill Central have a unique style of teaching, they make learning fun and simple! They encourage you to work hard and achieve your goals. The people around are so friendly and helpful, the environment is positive. Affordable tuition, good career preparation and flexible class hours. I earned my certificate in such short time! I'd recommend every high school graduate, looking to begin their career to go to this school. I really enjoyed going to this school and I'm glad I chose it for the betterment of my career.
Rosy Home Health Care
Rosy Home Health Care trains its students to provide high-quality health care to clients and this prepares students for the career ahead in all aspects. The essential skills taught include personal care and basic health care such as bathing, feeding or helping patients with small day-to-day things. Students also learn to respect their patients and be compassionate toward them at all times. The training program is short and affordable too. Instructors give their best at teaching and are always willing to assist students with anything.
Frequently Asked Questions
Can I submit an application even if not all my immunizations are complete? No, students must first submit a copy of the immunizations record indicating completion of all required immunizations before submitting the application.
Can a student attend the program on a part-time basis? When a student applies, they are required to complete the full course and attend during their given timings.
Do students have to have their own health insurance while in the nursing program? At present, students are required to show proof of health insurance and they can enroll in individual health coverage.
How many times can I take the test? Students who fail the exam may retake it once and there's no charge for the second test. A request to retake the test must be sent and the second exam must be completed within 45 days from the date of the failure notification.
Do I need continuing education hours to renew my permit? No, however, you must complete a 7-hour continuing education approved program 3-4 months before your permit expiration date.