Certified Nurse Assistants are in high demand in California and the course can be completed in just a few weeks! Training centers in San Jose can qualify students with just a 160 hours of training and promise you a better future. In order to be able to work as Certified Nurse Aides in licensed nursing homes and long term care facilities in California, individuals are required to be certified by the California Department of Health and certificates can be awarded through the successful completion of an approved training program. Other requirements include; individuals having a clear criminal record, passing a physical exam and passing the state's certification exam (written and skills test).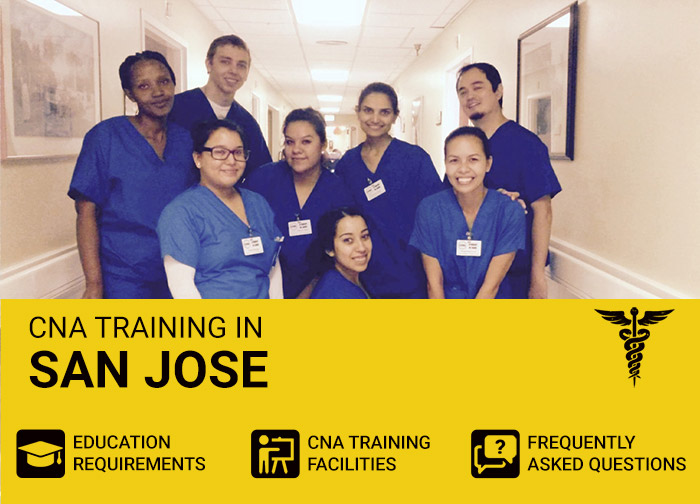 American Red Cross
The Red Cross offers CNA classes in San Jose that help students develop the skills and confidence to begin their career in the healthcare field. The course combines academics and hands-on training as well as essential skills such as good communication skills and the art of care-giving. The course aims to prepare students for the state CNA certification exam and to become a vital and irreplaceable member of a medical team. Prior to signing up for the program, individuals are required to attend a local information session, pass a reading and math assessment or present a high school diploma/GED, pass a Red Cross criminal background check and complete the Red Cross TB test.
The CNA training at San Jose's American Red Cross is approximately 8 weeks long and includes both classroom training and hands-on training. All classes are taught by professional and experienced nurses in order to best prepare the students for the state certification exam. In addition to academics and hands-on training, the curriculum focuses on effective communication skills and the art of care-giving. The program also includes training on CPR, First Aid, infection control, taking vital signs etc. Individuals are qualified to work as Certified Nurse Assistants after they receive certification. CNAs work directly under a Registered Nurse (RN) who are professionals in the field and the perfect guide for training CNAs.
Website: https://www.redcross.org/local/california/take-a-class/cna-san-jose-ca
Location: 2731 North 1st St. San Jose, CA 95134
Tuition: $1,300 (includes textbooks and course materials).
Phone: (877) 727-6771
Center for Employment Training (CET)
For 50 years, CET's training programs have been recognized as unique because contextual learning method. One being, there are no fixed semesters, it is an open-entry admission process. The second reason is that CET is aware of students' goals and they are working hard to help them achieve it in the shortest time. CET aims to upgrade human development and education by providing marketable skills training and services that contributes to self-sufficiency. CET is committed to help those who seek a better life get the skills needed for efficient work. CET's training programs provide individuals with the essential skills for all educational levels and backgrounds. CET also assists with job placement and provides other supportive services. CET wishes to help lift people and provide brighter futures for students in the medical field.
In the hands-on Medical Assistant training program at CET, students will acquire the skills and knowledge required in order to be able to work as a CNA at a medical facility. Students will receive training in work settings in order to gain experience and be prepared for their career. The students will carry out administrative roles including scheduling, drawing blood and preparing patients for examination. After successful completion and graduation, CET will assist students in finding a job in the medical field.
Website: https://cetweb.edu/program/medical-assistant/
Location: 701 Vine Street, San Jose, CA 95110
Tuition: $1,500 (average)
Phone: (408) 534-5360
Evergreen Valley College
For nearly 45 years, Evergreen Valley College has been an essential part of the south San Jose community. There's exciting activities for friends, neighbors and the entire community. Their courses provide students with skilled training, prepare students for university transfer and pursue lifelong learning opportunities. Evergreen is committed to providing the very best that they can, faculty and staff prioritize students in everything they do and the college ensures student success.
The nursing program focuses on daily tasks that nurse aides perform under supervision of a Registered Nurse (RN). Course topics include environmental safety, bed making, range of motion, patient rights, death and dying, patient transfers and more. Graduates of the program are qualified to sit for the state certification exam. The requirements for applicants include possessing a high school diploma or equivalent, health clearance, BLS for Healthcare Providers and clear criminal background.
Website: http://www.evc.edu/academics/academic-affairs/nursing-allied-health
Location: 3095 Yerba Buena Road, San Jose, CA 95135
Tuition: $2,989 (includes tuition, books and other expenses)
Phone: (408) 274-7900
Silicon Valley Adult Education
SVAE is a comprehensive adult school offering entry-level and advanced courses in health, technology and career trades. The school aims to provide a learning environment where students are prepared to achieve their fullest potential by equipping them with the essential skills that they need to succeed in a local and global society. SVAE provides a platform for students to grow in the field and become self-sufficient, life-long learners who will contribute to the society.
The nurse assistant training program at SVAE is a 1-year long program which consists of 8 modules and 1 month externship. Classes meet daily for 5-6 weeks. Students will be required to demonstrate proficiency in medical procedures and take the National Center for Competency Testing (NCCT). Prerequisites of the program include; 8th grade equivalent reading level, TB test results, proof of current immunizations and a complete physical exam.
Silicon Valley Adult Education also offers online training options where individuals can learn and advance in a comfortable environment and flexible hours. Online training is affordable and a quick, easy and self-paced way of learning which is now preferred by majority individuals especially those that are working or occupied with other responsibilities. The course is led by an expert instructor, it encourages interaction with students & promotes enjoyable learning methods. The course can be completed in just 6 short weeks and awards students for successful completion.
Website: https://www.metroed.net/SVAE
Location: 760 Hillsdale Avenue, Bldg. 1, San Jose, CA 95136
Tuition: $2,100
Phone: (408) 723-6450
South Bay School of Nursing
The Nurse Assistant Training Program aims to qualify students for the California State Certification exam. The course includes 60 hours of classroom instruction and 100 hours of hands-on training under supervision of an experienced nurse. Students must pass the competency examination to be a Certified Nurse Assistant. Course topics include body mechanics, nutrition, communication skills, anatomy, patient transfers, personal care skills and medical terminology. Instructors assist in preparing students for the exam, their role is to ensure that the students are proficient for the skills exam. The college facilitates for day, evening and weekend classes.
Website: https://www.thesouthbayschoolofnursing.com/cna-course
Location: 1580 Oakland Road, Suite C – 106 San Jose, CA 95131
Tuition: $1,500 (median cost)
Phone: (408) 564-7242
Other Training Centers in San Jose
Bay Area Medical Academy
Located: 31 N 2nd Street #100, San Jose, CA 95113
Phone: (408) 896-9440
Silicon Valley School of Nursing
Located: 1620 Oakland Rd. Ste-D 100, San Jose, CA 95131
Phone: (408) 392-8903
St. Francis Career College
Located: 749 Story Rd. #50, San Jose 95122
Phone: (408) 286-8903
CNA Training by City (Choose your City):
CNA Training Center Reviews
American Red Cross
American Red Cross offers small classes and hands-on training that are held in easily accessible locations. The course is taught by licensed instructors who are very caring, professional and experienced. The Red Cross even offers great career opportunities for people of all ages and different backgrounds. Students are provided with the skills and confidence to begin a career in the medical field and I think that is very helpful because students won't have to struggle when finding a job. The training emphasizes on teamwork and effective communication skills in order to ensure a smooth, successful career. More skills taught include the act of care-giving and workplace safety. Resources available are developed and reviewed under the Red Cross Scientific Advisory Council.
Evergreen Valley College
The training program at Evergreen Valley College taught me to remain calm under pressure and make logical decisions when under stressful situations. The experience is great and good combination of class. The teachers are really good too, helpful and supportive. The learning environment is positive and pushes you to work hard and be successful! The course tuition is affordable and they even offer grants and scholarships. Flexible class sessions, helpful career services and preparation. Good balance of classroom learning and hands-on training. Diversity of staff and students, there are all kinds of people at the school and each of them is friendly and kind, willing to help you out with anything! This is so great because over the period of the course, you can make lots of life-long friends! I would certainly recommend this program to friends and family, and I would encourage them to attend!
South Bay School of Nursing
I learned a lot in the classroom and clinical training. The instructors are very helpful and always willing to guide you in any area, if the lesson hasn't been understood, the instructor will clarify and simplify it for you. The CNA class can be completed in a very short time period and it is also quick to get a license which is nice. Class hours are flexible and conveniently fit into a busy schedule, more so for working individuals. Tuition is affordable and worth the quality of education provided! Good career preparation and hands-on training. I'm surely recommending South Bay School to my friends!
Frequently Asked Questions
Can one become a CNA without a GED? The GED or high school diploma is necessary because some employers prefer to hire individuals with a high school education, so having the diploma can improve your chances of getting the job!
How long is a CNA certificate good for? A CNA license is good for 2 years from the issue date. In order to renew it, you will be required to work under an employer for a specified time period and complete a continuing education course. Please note, these requirements will vary depending on the state requirements.
How much do online CNA classes cost? The median cost of completing an online CNA training program is much less compared to attending on campus. The cost depends on which school you choose but typically ranges from $500 – $2,500.