As we all are aware by now, the healthcare industry is the fastest-growing industries in the nation and the demand for healthcare professionals including the demand for nurse assistants. The State Department of Health in Washington ensures that all interested individuals receive the proper training and skills in order to be certified as Nurse Assistants and provide patient care at hospitals, nursing homes and other healthcare facilities. All individuals are required to complete 85 hours of state-approved training and thereafter sit for the certification exam. Also included in the curriculum, nurse aides in Washington must complete 7 hours of HIV/AIDS training other than federal required training. Let's take a look at the training centers offering CNA classes in Seattle.
American Healthcare CNA Training School
American Healthcare CNA School is a licensed educational institution which stands for excellence. It provides courses that lead to certification as a Certified Nurse Aide and their home care assistants are known as the most preferred caregivers in the county. American Healthcare CNA School offers an affordable and flexible 4-week training program!
The Nursing Assistant training program aims to prepare students for a career in the healthcare field, more specifically, assisting in caring for patients. Nurse Assistants commonly work alongside Registered Nurses (RN) and Licensed Practical Nurses (LPN). The typical roles that a nurse aide performs include; transporting patients, making beds, serving meals and helping to feed the patients, answering patient calls etc. The Nurse Aide must successfully complete a minimum of 85 hours of training and pass a certification exam.
Website: https://www.nurseassistwa.com/school-cna-career
Location: 6951 Martin Luther King Jr Way S, Seattle, WA 98118
Tuition: $695
Phone: (206) 838-4094
Divine CNA Training
Divine CNA Training is determined to ensure that it is a first option for a CNA training provider and it continues to offer excellence and ensuring students' success. The CNA program is designed to be a foundation, where students can begin and gradually progress towards their future career. The professors are experts in this field and work hard to train students and equip them with the skills and knowledge that they need to achieve success. The training program not only prepares students for the state's certification exam but also helps you to gain experience and life skills necessary to be an effective healthcare professional in your field of interest.
Classes are available in the morning, evening and during the weekend too. The flexible class schedules are accommodating for all students especially those who are busy working during the week. The curriculum covers 48 hours of classroom instruction and 40 hours of clinical training including 7 hours of HIV/AIDS training and 3 hours of CPR training. Skills taught include infection control, CPR, vital signs, first aid, effective communication skills, personal care needs etc. Graduates from this program can sit for the state certification exam and then advance in their career or apply for a job at a hospital, nursing home or other long-term care facilities.
Website: http://www.divinecnatraining.com/cna-training-class-schedules
Location: 11740 Aurora Avenue, Seattle, WA 98133
Tuition: $700 (includes $50 registration fee)
Phone: (206) 724-083
Mena Nursing School
Mena Nursing School is determined to deliver high quality and cost-effective healthcare education in order to best prepare students to become Certified Nurse Aides and provide the best quality healthcare to patients at nursing homes and other healthcare facilities. The teachers at this school are qualified and professional instructors who are licensed and approved with many years of experience and they are also approved by American Heart Association to teach BLS, CPR and First Aid.
The CNA Certificate program includes 75 hours of state-approved training and the course curriculum covers anatomy and physiology as well as patient care procedures. The course allows nursing assistants to work in certain settings and perform certain tasks that are usually performed by licensed nurses only for example; blood glucose testing. The training program focuses on preparing students and equipping them with the required skills and knowledge to assist patients or residents under direct supervision of licensed and registered nurses.
Website: https://menanursing.com/
Location: 3220 Rainier Ave S, Seattle, WA 98144
Tuition: $500
Phone: (206) 402-5698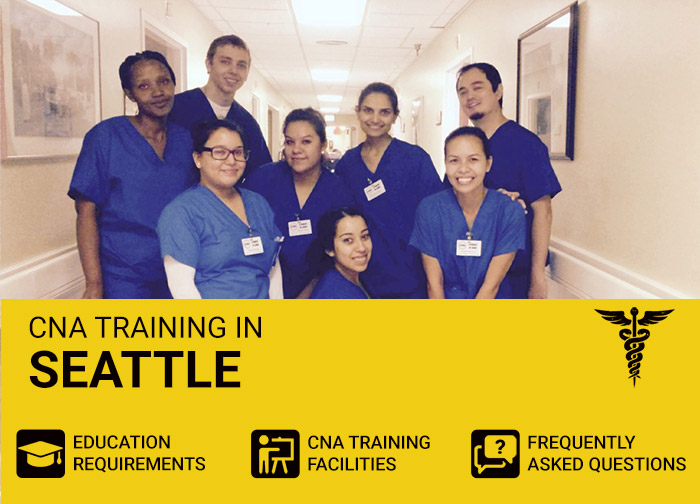 North Seattle College
North Seattle College is a progressive educational resource known for innovation and responsiveness. The college promotes continuous learning and growth and practices diversity, quality, innovation, collaboration and other values. North Seattle College is accredited by the Northwest Commission on colleges and universities.
The Certified Nurse Assistant program is approved by the Washington State Department of Health and prepares students for entry-level employment in long-term care, nursing homes or hospitals. The program includes theory, skills lab and practical training hours in basic nursing skills, personal care, communication skills, interpersonal skills and body mechanics. Nurse Aide training students who complete the program successfully are qualified to sit for the Washington State Nursing Assistant Certification exam.
Website: https://northseattle.edu/programs/nursing-assistant-certified#
Location: 9600 College Way North, Seattle, WA 98103
Tuition: $1,280
Phone: (206) 934-6067
Queen Anne Healthcare
Queen Anne Healthcare aims to enhance the life of every patient/client that they serve and to provide high-quality education so that individuals can provide the best quality healthcare to the patients. Queen Anne Healthcare is a DOH-approved training provider and the program aims to equip students with the skills and knowledge to be able to provide high-quality personal care to patients who require monitoring 24 hours a day. The nurse assistants along with senior physicians, registered nurses and licensed practical nurses work alongside each other to help with healing, rehabilitation and smooth recovery process to get patients back to a normal and healthy life.
Nursing assistants at Queen Anne have support to gain their certification leading to employment as a CNA. The nursing assistant classes are free and individuals gain the opportunity to expand their skillset and begin a career in long-term care.
Website: https://www.avamere.com/cna-queen-anne-healthcare-avamere-nursing/
Location: 2717 Dexter Ave N, Seattle, WA 98109
Phone: (206) 284-7012
Seattle Central College
Seattle Central College began as the first community college in Seattle, WA and has grown into a prosperous center for higher education that supports the dynamic, growing community. Seattle Central College has provided effective and easily accessible programs for over 50 years and these include bachelor's degrees, associate degrees and professional certificates. The college environment embraces diversity and provides students with various opportunities including great friendships, joining clubs and attending events.
The Certified Nursing Assistant program prepares students for a rewarding career in the healthcare field and the program is 8-weeks. This program will equip students with the training required to start a nursing career and help you take the next step in your nursing education. The skills and knowledge for a professional career in healthcare include the following; medical terminology, body systems, basic nursing skills, personal care skills, communication skills, infection control procedures and more.
Website: https://healthcare.seattlecentral.edu/programs/nursing-assistant-certified
Location: 1200 12th Ave S, HEC Rm 202, Seattle, WA 98144
Tuition: $495
Phone: (206) 934-4347
Other CNA Training Centers in Seattle, WA
Seni Nursing Assistant Training
Located: 3220 Rainier Ave S, Seattle, WA 98144
Phone: (206) 214-7232
South Seattle College
Located: 6000 – 16th Avenue, S.W., Seattle, WA 98106-1499
Phone: (206) 768-6414
CNA Training by City (Choose your City):
CNA Training Center Reviews
Divine CNA Training
It's a good school with amazing professors and staff. There is an adequate amount of resources available for students. Good combination of classroom and hands-on training. Our teacher was an experienced RN and she made the class very interesting, involving every student. The classes were mostly quick-paced and don't take much time. They also help to prepare you for your skills test and written exam. Affordable, low cost and very worth it! Positive environment with various students from different countries. The school also has a lot of opportunities that involve students' participation but at the same time, it is a balance of learning and fun. I highly recommend this program to friends, family and just everybody who may be interested!
North Seattle College
North Seattle College has a beautiful environment and everything is pretty functional. It has lots of resources for students including computer labs and a bookstore. The instructors teach professionally and are also very helpful when students require their help. If you make sure not to miss any class and get all your assignments done, it's not very hard. I have wonderful tutors and other classmates help me stay motivated. There are all kinds of students from various countries and they're friendly and supportive too. There is also plenty of parking space and lots of food places. It's an awesome college and I love it here!
Seattle Central College
Seattle Central has transformed my life! I love the environment here, there are lots of shops and food places around. The tuition is affordable and there are lots of people that can help you. The teachers, students and staff are also so friendly and supportive. The teachers want to see all their students succeed and they work really hard to ensure that everything is clear. The campus feels very welcoming and is easy to navigate. The programs here at Seattle Central are especially ideal for continuing students with day jobs due to its flexibility in schedule. It is also a great place for students to get a base in their career and then advance from there. There are also students of different ages and I find it really cool that people in their 50s and 60s are also accepted at the college!
Frequently Asked Questions
How do I keep my CNA license active? The federal regulation requires a person to work at least 8 hours, for pay, providing nursing services without a 2-year break to remain active.
Can I become a CNA online? Yes, you can apply to become a CNA through online programs. Admission requirements include; a high school diploma or GED to enroll, or in some colleges, you will be accepted as long as you're 16.
How can I get a CNA job with no experience? Some healthcare institutions may permit you to work alongside a Registered Nurse. You could also contact a home health agency and inquire if they'd let you in. Lastly, scan newspapers for advertised jobs or online employment ads.