Becoming a Certified Nurse Assistant in Las Vegas requires applicants to complete a state-approved training program and successfully complete the state's nurse aide competency exam. The Nevada State Board of Nursing grants certification based on a number of qualifying factors. The Board of Nursing lists a variety of approved training programs and provides updated information on certificate renewals and a comprehensive curriculum to help individuals choose an accredited school and prepare for the state exam. The common admission requirements to these programs includes that applicants must be at least 18 years of age and hold a current CPR and First Aid Certification. Below are some of the training centers offering CNA training programs in Las Vegas, Nevada.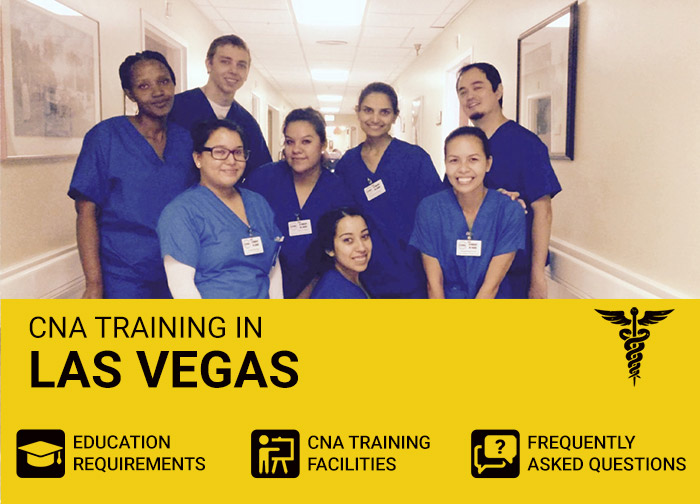 College of Southern Nevada – Charlestown Campus
The College of Southern Nevada is the place where your dreams come true! The team at CSN takes your potential to the next level. They help provide everything you need to succeed in your career. As the largest CSN is the largest and most diverse college in Nevada that provides an affordable and welcoming surrounding allowing all students to grow in their field. CSN offers approximately 70 accredited programs including online programs.
The 180-hour nurse assistant program trains students to perform specific clinical tasks under the supervision of a physician or RN. The typical tasks that a nurse assistant performs daily include maintaining medical records, checking vital signs, drawing blood, scheduling appointment, assisting patients with tasks such as bathing, grooming and feeding them and many more. Admission into the program has specific requirements including Hepatitis B vaccinations, applicants must be at least 16 years, have good physical health and moral character, be able to read and write English at an eighth-grade level or above.
Website: https://www.csn.edu/healtharea
Location: 6375 W. Charleston Blvd., Las Vegas, NV 89146
Tuition: $1,200 (includes course tuition, books, lab fees, uniform, medical insurance, state exam fee, fingerprinting and other expenses).
Phone: (702) 651-5000
East Career & Technical Academy
East Career & Technical Academy aims to uplift students and empower them with problem-solving skills, effective communication skills, and technological skills and collaborate in order to be able to successfully meet the challenges of the changing workplace.
The nurse assistant training program will train and equip students with important patient care principles, medical terminology, applied anatomy and physiology. Successful completion of the training program qualifies students for the Certified Nurse Assistant Examination through the Nevada State Board of Nursing. Students will be encouraged to pursue post-secondary educational opportunities.
Website: https://www.facebook.com/EastTechTitans or www.easttechtitans.com
Location: 6705 Vegas Valley Drive, Las Vegas, NV 89142
Tuition: ranges from $500-$1000
Phone: (702) 799-8888
Milan Institute
Milan Institute was founded in 1985 and has successfully graduated 35,000+ students. Milan Institute aims to meet the needs of students and employers by offering the best quality, short-term educational programs in various career fields. The name Milan Institute is recognized by many employers and therefore graduates are guaranteed job openings on successful completion of the training.
The 128-hour nurse aide training program trains students to be confident and well-equipped to be able to advance in their career and on the job. Students are trained on several essential skills including assisting patients with personal care, food and nutrition, basic anatomy, vital signs, maintaining patient records and much more. Admission into the program requires students to have a high school diploma or an equivalent, a TB test, Livescan fingerprint, medical exam and criminal background check.
Website: https://milaninstitute.edu/
Location: 710 S. Tonopah Dr. Las Vegas, NV 89106
Tuition: $2,523
Phone: (702) 671-4242
Pima Medical Institute
Since 1972, Pima Medical Institute has been serving students and changing lives! Each year, a big number of students find success at PMI and achieve their career goals. Students and individuals are encouraged to become a part of the Pima Medical Institute community! PMI is where your dream of becoming a healthcare professional will come true!
The nurse aide training program at Pima Medical Institute can be completed in just 6 weeks! The program covers 130 total hours of training combining classroom instruction and clinical training. Instructors cover various topics including effective communication skills, interpersonal skills, basic nursing skills, safety and emergency procedures, infection control and quality improvement. Upon successful completion of the training program, students are qualified to sit for the state's nurse aide certification exam. Credits earned at Pima Medical Institute may be transferable to neighboring schools.
Website: https://pmi.edu/programs
Location: 3333 E. Flamingo Road Las Vegas, NV 89121
Tuition: $1,505 (financial aid is available for those who qualify)
Phone: (800) 477-7462
Saint Therese Learning Institute
Saint Therese Learning Institute was established in 2014 by a team of healthcare professionals who aim to provide a high quality education and produce highly qualified trainees to make a difference in the community and contribute to a brighter and better future for Nevada residents. Saint Therese Learning Institute has been granted accreditation by the Commission of the Council on Occupational Education which, a National accrediting body recognized by the U.S. Department of Education.
The nursing assistant training program is offered in day classes (6 weeks) and evening classes (6 weeks). The 125-hour program includes classroom, laboratory and clinical instruction sessions. Admission requirements include; students to undergo a physical examination, a 2-step TB test and X-Ray if needed, CPR and a background check. On successful completion of the program, students are eligible to sit for the certification exam.
Website: http://saintthereselearning.com/programs-offered/
Location: 6600 W Charleston Blvd Suite 134 Las Vegas, NV 89146
Tuition: $2,450
Phone: (702) 395-1802
Other CNA Training Centers in Nevada
Nevada Career Institute
Located: 3231 N. Decatur Blvd #201, Las Vegas, NV 89130
Phone: (702) 209-0030
Standards of Excellence Academy
Located: 1931 Stella Lake St, Las Vegas, NV 89106
Phone: (702) 367-4348
University of Nevada – Las Vegas Campus
Located: 4505 S Maryland Pkwy, Las Vegas, NV 89154
Phone: (702) 895-3011
CNA Training by City (Choose your City):
CNA Training Center Reviews
College of Southern Nevada
The college takes great pride in keeping things personal. The class sizes are small with the student-to-teacher ratio being 23-to-1 and this ensures that each students gets the most out of the training program. There is a wide variety of extracurricular activities too including clubs, sports and events to keep students engaged and connected. The baseball team has even taken home a national championship! The instructors use amazing teaching techniques and help students to succeed. The clinical training offers really great experience and trains students for the actual job. The college helps students prepare for the career and to be able to easily get a job after graduation. It's a great college! I would recommend this program to peers and family.
Milan Institute
The instructors of the nursing assistant program teach everything thoroughly and carefully to ensure that no student is left behind. Good combination of classroom learning and hands-on training. Flexible and convenient class hours, makes it easier for working individuals and parents. If for any reason, you missed a class, the instructors will assist you and cover the lesson so that all students are successful! I love this institute and I am so glad that I chose to study here. The environment is positive and safe too. The tuition cost is affordable and they also help students who require financial assistance. Excellent preparation for the certification exam! The teacher and the classmates are so supportive and friendly. I would definitely recommend this program to friends, peers, family and anyone interested!
Pima Medical Institute
Pima Medical Institute has a clean, safe and fun learning environment. The school has all the equipment that students need for hands-on learning. Class hours are flexible, offered in the morning, evening and night. The instructors and classmates are so friendly and helpful. The staff is also quite helpful. The admission process is quick, no time wasted. They offer a wide variety of programs and a diverse team that assists you along the way! There's tutoring services and a lot of hands-on learning which is the best way to learn. The institute has an online library, a great lab where students can practice respiratory care and a computer lab with great internet access too. I am very proud and grateful to be a student at Pima Medical Institute and I am excited for the plenty of opportunities available out there! Great school to go to! Definitely recommend!
Frequently Asked Questions
Where can I get free CNA training? Nursing homes and hospitals are the most popular places offering free CNA training programs.
What is the process to getting my CNA license in Nevada?
Applicants must be at least 18 years old
Physically healthy and fit
A current immunization record including TB test
Pass a criminal background check
Graduate from an approved CNA training center in Nevada
Successfully complete the state exam
Register as a Certified Nurse Assistant
Show proof of a high school diploma or an equivalent
Is it possible to have a valid CNA license in two states at the same time? If you meet certain criteria then it is possible to hold a CNA certificate in more than one state.