In this quickly growing field, Indianapolis offers various approved programs that individuals can enroll in and receive their certification or diploma. Certified Nurse Assistants help patients with daily basic activities such as feeding and bathing under the supervision of a Registered Nurse. CNA's are also often referred to as nurse aides or patient care assistant. Job outlook for CNAs in Indianapolis is continually increasing and individuals who have a high school diploma can quickly become qualified as a nursing assistant and gain employment in this healthcare field.
Just like every other state, Indiana has a set of requirements that individuals have to follow before obtaining their certification. Applicants must be 18 years or older, pass a criminal background check, pass the state's nurse aid evaluation and graduate from a state-approved training program. Let's look at some of the training centers offering CNA programs in Indianapolis.
CNA Institute of Indiana
Currently, the demand for hospital and other health care services is rapidly growing but the amount of patients that can be treated by available nurses and doctors is limited. To meet this changing need, medical facilities are looking for CNAs to support doctors and nurses. They require individuals to complete approved training programs that consist of at least 30 hours of classroom instruction and 70 hours of practical training. Successful completion of the program qualifies students for the state nurse aide written and skills exam and completion of the exams certifies students to work as a CNA at hospitals, clinics and other medical facilities.
The certification requirements include; completion of the coursework or training program, pass the Certified Nursing Assistant Exam, submission of fingerprint cards and clearance of a background check.
Website: https://www.nursegroups.com/programs/CNA/IN
Location: 3901 W 86th St. Indianapolis, IN 46268
DaySpring Career Institute
"Enhancing the Quality of Healthcare" is their motto. DaySpring Career Institute (DSCI) is a state-approved training center aiming to train students and equip them with the necessary skills and knowledge to be efficient individuals in their respectful fields. DSCI focuses on providing a quality education and professional training to prepare students for the everyday challenges in the healthcare field. The program trains students to make a difference and provide the best quality healthcare to patients in healthcare facilities.
The Certified Nurse Assistant training program trains students on administrative and clinical duties, monitoring and recording vital signs, handling patient scheduling and much more. On successful completion of the training program, students can take the certification exam and achieve the certificate. Once certified, individuals are eligible to work at healthcare facilities.
Website: http://dayspring.dayspringanddaystar.com/healthcare-training-programs
Location: 6255 Coffman Rd, Indianapolis, IN 46268
Tuition: $65 for the written and skills exam
Phone: (317) 640-9725
Fortis College
The nurse aide training program at Fortis College provides students with clinical and administrative skills required in order to provide patient care and to keep medical offices running smoothly. A nurse aide is typically an individual whose main role is to assist Registered Nurses and Licensed Practical Nurses. Their daily duties may include patient assessments, checking vital signs and helping patients with basic activities such as feeding them, bathing them and keeping them company. Fortis has the expertise to provide students with the education necessary to help them move forward in their career.
The training program emphasizes on providing skills training in the areas of office administration and medical computer systems. The training aims to prepare individuals for the job as a nurse aide, it prepares them to perform the job effectively and therefore succeed in the career.
Fortis College also offers the online training option where working individuals can benefit and achieve their professional goals. Students have access to instructors during the day and during evening hours too. Their hybrid health programs allow students to complete a majority of the curriculum online with the practical portion to be completed at a local Fortis campus. This aims to combine the convenience of flexible learning with the community and support of a campus setting.
Website: https://www.fortis.edu/programs.html
Location: 9001 N, Wesleyan Rd Suite 101, Indianapolis, IN 46268
Tuition: $20,000 (average tuition)
Phone: (317) 808-4800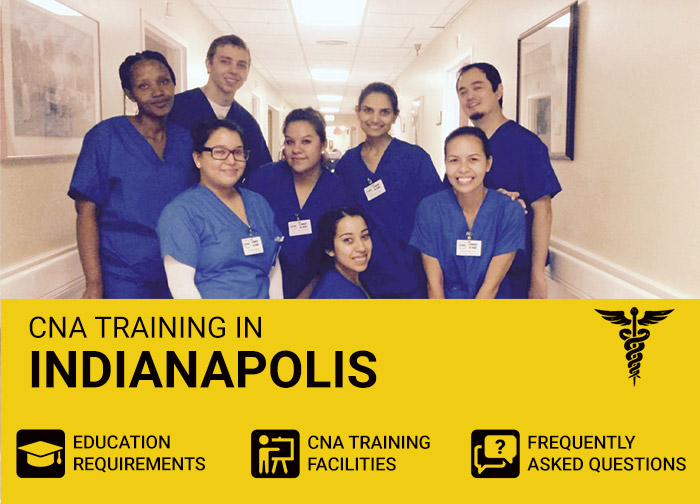 Ivy Tech Community College
Ivy Tech was founded in 1963 as Indiana Vocational Technical College when its main focus was on technical and vocational education. However, over the years, Ivy Tech has undergone major changes and today, Ivy Tech is Indiana's only developed community college! It offers various programs including information technology, business, public affairs, nursing and health sciences. Ivy Tech has grown to become the largest public post-secondary school in Indiana. It has more than 40 different locations and provides training in more than 75 communities.
Ivy Tech offers hands-on training with the state's most advanced technologies and training facilities. The CNA program prepares its students for a job in various settings and trains them on several skills including taking vital signs, drawing blood and other procedures to assist with critical daily care that some patients require. Successful completion of the program qualifies students for the nurse aide state examination and awards them with certificates.
Ivy Tech Online is also available and it allows students to take classes on their own schedule and study at their own pace. The training is done through interaction with an instructor who will guide the students on how it works and assist them with assignments and practice tests. Some of the programs are a mix of face-to-face, online and video instruction which consists of on-campus classes, internships and other on-site requirements, but majority of the time is spent in a "virtual" classroom.
Website: https://www.ivytech.edu/programs-a-z/index.html
Location: 50 W Fall Creek Pkwy. N. Dr. Indianapolis, IN 46208
Tuition: $2,400 (for Indiana residents)
Phone: (888) 489-5463
Legacy CNA Training
Legacy CNA Training is a certified nurse assistant school owned and operated by Senior1Care. Most of this school's graduates then work for Senior1Care which is an example of the outstanding staff assisting patients compared to the other competitors in the industry. Legacy CNA Training continues to grow and it operates in several locations including Mishawaka and Carmel, Indiana.
The requirements for applying to the program are; clearing a criminal history background check ($20), completing a physical exam and uniforms.
Website: https://www.legacycnatraining.com/cna-training/
Location: 598 W Carmel Dr F, Carmel, IN 46032
Tuition: $2,000 (median cost)
Phone: (317) 993-3577
RESQ Health & Safety Training
This training center in Indiana is the #1 trusted health and safety training provider and aims to continue being the #1 with a focus on quality care and emergency situations. The instructors are professionals in the field and they are experienced in healthcare, education and emergency medicine. The founder of this training center is also a licensed nurse and paramedic. The center is approved by the Indiana State Department of Health.
The Certified Nurse Assistant (CNA) program is designed to prepare students to successfully complete the Indiana State Certification exam for CNAs and for jobs in hospitals, nursing homes and long-term care facilities. The course can be completed in 4/5 weeks and successful completion will qualify students as a Certified Nurse Aide.
Website: https://resqtraining.com/cna
Location: 5110 Commerce Square Dr. Ste a, Indianapolis, IN 46237
Tuition: $1,099 (all-inclusive)
Phone: (317) 786-7260
Other CNA Training Centers in Indianapolis
MedTech
Located: 6612 E. 75th Street, Indianapolis, IN 46250
Phone: (317) 845-0300
Miller's Senior Living Community
Located: 8400 Clearvista Place, Indianapolis, IN 46256-3700
Phone: (317) 845-0464
Walker Career Center
Located: 9651 East 21st Street, Indianapolis, IN 46229
Phone: (317) 532-6199
CNA Training Center Reviews
Fortis College
The college location isn't very far, makes it easier to commute whenever I have classes (saves on travel costs). The professors teach in a unique way and ensure that everything is cleared for the students. The online classes are very convenient for students like me, who are also parents and need to take care of our child/children. The teachers are also flexible. Staff are kind and helpful. The student body is diverse with various kinds of people, I love it because I've had the chance to make life-long friends here! Quick internet access is helpful when doing research work or assignments. Overall, good school and great staff!
Ivy Tech Community College
Ivy Tech focuses greatly on students' success. The professors are hardworking and motivate students to also work hard and achieve success. Enrolment process is quick and simple. They assist students with financial issues by waiving application fees so that no one misses out and I love that about Ivy Tech. the staff is also very helpful and passionate about students' education. They offer a wide variety of majors in various fields! Excellent resources and services available to students. I love the atmosphere in the library, nice and quiet, peaceful for studying. It's a wonderful start place and a decent experience overall. I only wish that the advisors were more available for students. Definitely recommend going here.
Legacy CNA Training
Legacy CNA Training offers its students with various employment opportunities not only at Senior1Care but also from across Northern Indiana and Indianapolis regions. The training program is short, can be completed in 3 weeks (day-time classes) or 6 weeks (evening training) in order to prepare students quicker for employment. Flexible class schedules, students can choose the schedule that suits them best. It has the most successful CNA program in the state. Legacy CNA Training's program has the highest pass rate in Indiana.
Frequently Asked Questions.
How can I verify my CNA license in Indiana?
To verify your CNA license in Indiana, you will be required to go to the Indiana State Department of Health website and click on Nurse Aide Registry. This will take you directly to the professional Licensing Agency. Once there, click on Search and Verify License under Online Services.
What is the fastest way of becoming a CNA?
The most important thing to help you become a CNA in a shorter time is to start preparing from high school. Take as many healthcare classes as possible. Once you receive your high school diploma or GED, you will need to successfully complete an approved CNA training program. On completion of the program, you will be qualified to take and pass the certification exam and thereafter, you can apply for jobs with your certification.
What do CNA classes include?
The course description typically includes training on skills on how to assist patients with daily basic activities such as safety & cleanliness, effective communication skills, feeding, clothing and bathing patients etc.
CNA Training by City (Choose your City):