Colleges in Texas offer lots of free and low-cost training opportunities and for CNA training, it's the perfect time to get enrolled and get trained for entry-level employment. The average annual salary of a CNA in Texas is $30,683. Applicants are only required to complete training at a state-approved center and upon completion of the training, students must complete the state exam and get listed on the Texas Nurse Aide Registry before taking up a position as a CNA. Individuals are encouraged to take advantage of the training opportunities especially if they want to pursue nursing as a future career.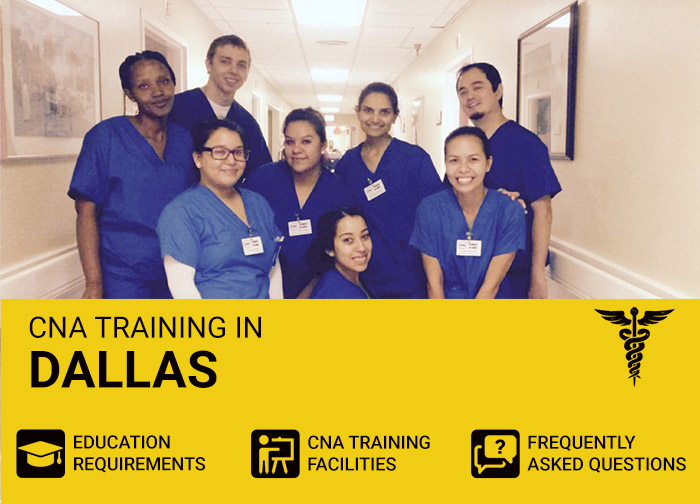 B & M Career Institute
B & M Career Institute has been providing excellent training since 2010 and continues to evolve its teaching methods by introducing new ways of learning and supporting students in order to help them achieve their goals. B & M provides a variety of opportunities for students to enhance their career, regardless of their level of education or experience. B & M Career Institute prides in providing comprehensive medical career knowledge through hands-on experience by implementing a peer-to-peer learning environment into the North Texas community.
Their nursing program is a 4-week (100 hour) course that ensures to provide students with the essential skills and abilities required to be able to provide basic care for patients. Upon completion of the program, students will be able to communicate effectively with the patients and maintain independence while observing patient rights. Topics and skills covered in the course include; being able to perform infection control measures, bed making, lifting and turning patients and many others. Graduates of the program may easily find entry-level employment as a nursing assistant at hospitals and nursing homes.
Website: http://www.bmcareerinstitute.com/nurse-aide.php
Location: 9550 Forest Lane Ste 515, Dallas, TX 75243
Tuition: ranges from $470-$1,500.
$150 (application fee)
Phone: +1 972-876-8226
Dallas Career Institute
Dallas Career Institute, established in 2008, is a licensed private career school committed to providing high-quality training to medical professionals in federal health services. The institute aims to meet the needs of the community as it relates to basic health care. The approved health and allied courses are provided through professional training and dedicated, skilled instructors. The nurse aide program is a 4-week program that prepares and equips students with the necessary skills and knowledge needed to become certified. Graduates of this program are fully qualified for jobs in nursing homes, hospitals and other healthcare facilities. The medication aide program is also a vital program that prepares students to function efficiently whenever they are faced with complex situations in administering medication. Students will also need a current CPR certification during clinical training at the nursing home. The cost for CPR training is $50 cash. Students will also require a TB test clearance before starting clinical rotation.
Dallas Career Institute also provides continuing education programs.
Website: https://www.dallascareerinstitute.org/cna/
Location: 8499 Grenville Ave Suite 200, Dallas, Texas 75243
Tuition: $600 (includes tuition and uniform).
The book can be rented for an additional $10 or purchased for $30.
The payment plan requires students to pay a $200 deposit and then pay the rest up until graduation.
Phone: (214) 691-0555
El Centro College
El Centro's health courses are paths to immediate employment. The nurse aide training program is a 100-hour course and it provides the essential knowledge and skills required by students to provide high-quality personal care for patients. Topics covered include resident's rights, safety, observation, reporting and basic patient care. Students are also enlightened on communication skills in order to be able to communicate efficiently and effectively with their patients and other members of the healthcare system. Students must hold CPR certification and for those aren't CPR certified, training will be provided. Upon completion of the program, students are qualified to take the state exam for Nurse Aide Certification.
Other requirements include;
Applicants must attend an information session
Provide valid government-issued identification
Provide proof of immunization (TB screening, Hepatitis B and others)
Sign the student responsibility form.
Website: https://www.elcentrocollege.edu/cd/credit/nursing/ecc/pages/default.aspx
Location: 801 Main Street Dallas, TX 75202
Tuition: $950 (includes training materials, background check, liability insurance, immunizations and state exam fee)
Phone: (214) 860-2000
Mountain View College
The CNA program is a 100-hour course which is comprised into; 40 hours of clinical training and 60 hours of in-class training. The program will equip students with the skills required to make a difference in people's lives. A Certified Nurse Assistant (CNA) provides fundamental patient care and generally receives on the job training under supervision of a Registered Nurse or a Licensed Practical Nurse in clinics, hospitals, nursing homes and other healthcare facilities. Graduates who have gained professionalism and are well equipped with the required hold a high chance of gaining employment immediately. The skills taught include infection control, communication skills and personal care. This CNA program follows the curriculum provided by the Texas Department of Aging and Disability Services (TDADS) and it prepares students for the TDADS nurse aide state exam.
Website: https://www.mountainviewcollege.edu/cd/ce/cepgms/health/pages/certified-nurse.aspx
Location: 849 W. Illinois Avenue, Dallas, TX 75211
Tuition: $750
Phone: (214) 860-8835
Texas Career Institute (TCI Dallas)
The goal of Texas Career Institute is to prepare healthcare professionals to be leaders tomorrow in their communities by providing high-quality care and compassion towards patients. With over 35 years of experience in helping adults improve their lives through education and offering high-quality programs in fields such as healthcare, TCI also offers flexible class schedules, reasonable class sizes, job placement assistance for graduates and financial aid plans for most programs.
The nurse aide program at TCI is a 4-week course that provides students with the skills to effectively communicate with patients and other members in the healthcare field. The course curriculum covers several topics including vital signs, CPR, safety, first aid, nutrition and much more. The program also focuses on the skills necessary to pass the Texas Nurse Aide Certification and succeed on the job.
Website: http://tcidallas.com/
Location: 302 N. Buckner Blvd Ste. 116 Dallas, TX 75228
Phone: (214) 275-9600
Vinepress Training Center
Vinepress Training Center was founded in 2009 and is committed to providing the best training in all its approved health courses through established teaching practice and dedicated skilled staff. The training facilities are spacious and helpful to learning with up-to-date equipment for students to use.
The CNA program requires; students to complete the application for admission prior to starting class, students to be at least 18 years of age, present a high school diploma or GED, pass a basic skills test for training program eligibility and undergo a Nurse Aide Registry verification prior to enrolment. Students in this program will gain hands-on experience with actual patients at a nursing home where they can demonstrate the skills they've learned in the courses under the supervision of a professional instructor. Students who successfully complete the program will be eligible to take the state certification exam for nurse assistants.
Website: http://vinepresstrainingcenter.weebly.com/nurse-aide.html
Location: 9550 Forest Lane, Suite 114, Dallas, TX 75243
Tuition: $550
Phone: (214) 874-8647
Other CNA Training Centers in Dallas
Alliance Career Institute
Located: 9304 Forest Ln #107
Dallas, TX 75243
Phone: (214) 575-4774
Alpha Medical Institute
Located: 13601 Preston Rd
Dallas, TX 75240
Phone: (214) 676-5154
Brookhaven College
Located: 3939 Valley View Lane
Dallas, TX 75244
Phone: (972) 860-4700
iMed Health Training
Located: 7441 Marvin D Love Fwy #401
Dallas, TX 75237
Phone: (972) 808-7976
CNA Training Center Reviews
Dallas Career Institute: The professors are professional and teach really well. Good hands-on training and activities. Class hours are flexible and convenient for working individuals. The tuition is reasonable and worth the quality of training provided. The environment is diverse with a wide variety of students and staff, all friendly and supportive. The schools helps us to be prepared for anything coming up and even the financial aid advisors are so kind. Enrolling and admissions is quick. The course is challenging but the instructors have a way of making it fun and simpler! I am thankful for my experience at Dallas Career Institute and I would definitely recommend this program to friends and other people I know.
Mountain View College has such a unique vibe! Students are very hard working and enthusiastic to learn every day. There is diversity and integrity in professors and staff. The people there are just amazing! It is easy to commute to college every day and easy to navigate around the campus too. I love Mountain View and I am so glad that I applied here! The experience has been just the best! There is a workout center and a place where you can chill with friends. There is also a wide variety of clubs and activities that students can join and gain the opportunity of meeting new people and making new friends. There are job fairs, university fairs and even karaoke! This schools has a lot of school spirit which motivates you to do well and succeed! I would definitely recommend going here, 100%.
Texas Career Institute: This institute has a great combination of classroom and hands-on training! Class hours are flexible which is convenient for students because some are either working or have other responsibilities such as parenting. The teachers are really good, they teach professionally and try their best to make the difficult parts simpler! The environment is buzzing with all kinds of people, friendly and helpful, ready to assist you whenever you ask! I am so grateful that I have the opportunity to advance in my career! I would definitely recommend this program to family and friends.
Frequently Asked Questions
Can a CNA be a CNA instructor? The specific requirements for becoming a CNA instructor vary from state to state but each state requires CNA instructors to follow some general steps that is earning a registered nurse degree. Therefore, yes, a CNA can pursue a degree as an instructor as long as they have earned that degree.
How long can a CNA work without certification? CNAs can work approximately four months without certification and some employers may also permit individuals to work if they have completed 16 hours of training and intend to sit for the exam.
Can I get my CNA certification online? Yes, there are various web-based training programs available for CNAs where most classes are completed online and a small portion requires students to attend an on-campus clinical training.
CNA Training by City (Choose your City):