The demand for Certified Nurse Assistants (CNAs) in Massachusetts is currently high due to the senior and disabled population. CNAs work in a variety of facilities providing long-term care for patients/residents, assisting with their vital hygiene and daily activities. Some of the typical work places include hospitals, nursing homes, resident homes, rehabilitation centers and clinics. The need for CNAs continues to increase as the population continues to age and therefore, for a high school graduate to consider joining this career is a very wise option. CNA training programs are designed to help train and prepare students for a career ahead. The training program equips students with the essential skills and knowledge in order to provide the best quality healthcare for patients. Below, we will look at some of the training centers offering state-approved CNA training in Boston.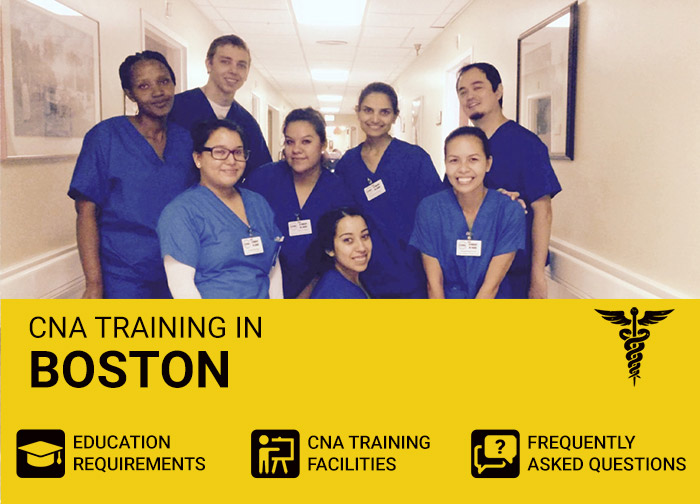 Bunker Hill Community College
Bunker Hill Community College is the largest community college in Boston, Massachusetts with more than 19,000 students enrolled yearly. This college is fully accredited by the New England Association of Schools and Colleges (NEASC). Students can choose to attend day classes, evening, late-evening, weekend, web-based (online) or distance learning courses to fit their daily schedules. BHCC offers a wide range of programs including certificate programs, associate degree programs and bachelor's degree programs.
The nursing program is divided into specialized programs including introductory courses, refresher courses, focusing on adult patients, focusing on mental health and focusing on advanced concepts of nursing care. Various skills are taught throughout these programs critical thinking, nursing concepts, time management, stress reduction, test-taking techniques and lifelong learning. Timings and number of hours vary for each course. More details can be found on the website or by visiting the college.
Website: https://selfservice.bhcc.edu/Student/Courses/Search?subjects=NUR
Location: 250 Rutherford Ave, Boston, MA 02129
Tuition: ranges from $300-$1,000
Phone: (617) 228-2000
Catholic Charities of Boston
For over a century, Catholic Charities has mainly focused on establishing a caring and compassionate society and provides high-quality education for aspiring nurses and nurse assistants. Catholic Charities is one of the largest providers of social services in Massachusetts and it offers approximately 75 different programs in over 20 different locations around Eastern Massachusetts.
Nurse assistants is one of the quickest growing occupations and there are very many job openings available at nursing homes, hospitals, assisted living facilities and private care agencies. The training program offers flexible schedules, you can apply for part-time classes, day classes, evening or night classes and weekend classes too. Completion of the nurse aide program could be a first step into a more advanced career in the healthcare sector including Registered Nurse (RN) and Licensed Practical Nurse (LPN). Successful completion of the training program qualifies students to take the state exam and passing of the state exam certifies students as nurse assistants. More details can be accessed on the website.
Website: https://www.ccab.org/NurseAssistant
Location: 275 West Broadway, South Boston, MA 02127
Tuition: $1,000 (includes textbook)
Phone: (617) 464-8545
JVS Boston
JVS stands for Jewish Vocational Service Inc. and it empowers and inspires individuals from diverse backgrounds to find employment and build a rewarding career while also cooperating with employers to recruit, develop and retain productive employees. JVS listens to the needs, opportunities and suggestions as they arise in the constantly changing marketplace. This institution is determined to provide a quality education that supports positivity and offers long-term benefits in all services.
The nurse aide training program is a 6-week program that prepares students to pass the American Red Cross Nursing Assistant Test and become Certified Nurse Assistants. The course covers a variety of different skills and topics including medical terminology, healthcare customer service, basic computer skills and specialized skills for working in a hospital setting. The admission requirements for this program are as follows; fluency in at least an intermediate level of the English language, applicants should be able to undergo a criminal record screening and drug screening, it is preferred that applicants have at least 3 months of work experience in the field and must be physically fit to lift, push or move up to 50 lbs. without restrictions. There is also a 14-week training available. More details can be found on the website.
Website: https://www.jvs-boston.org/our-services/build-your-skills/nurses-aide-training-program/
Location: JVS Boston, Federal St, 3rd Floor, Boston, MA 02110
Tuition: no cost for those who are selected to participate.
Phone: (617) 399-3131
MassBay Community College
Nurse assistants perform vital daily tasks of patients in their care. They are responsible for various tasks including positioning and transporting patients, obtaining vital signs, maintaining a clean and safe environment and monitoring the overall health and safety of their patients. Nurse assistants play a very important role in caring for the sick, elderly and disabled patients. Nurse assistants can find employment in nursing homes, hospitals, rehabilitation centers and other long-term care facilities. Nurse assistants enjoy working with people who rely on them and always serve patients with a smile on their face. They aim to make a difference in the lives of people and thus desire a rewarding career!
The nurse assistant program at MassBay Community College is an 8-week course that aims to prepare students for the Red Cross Nurse Aide Competency Evaluation (NACE) test. It is a 120-hour program that is divided into 80 hours of lecture on campus and 40 hours of practical training at a long-term care facility where students will demonstrate their skills and also learn how to perform routine healthcare tasks. The course also includes a medical terminology course, basic skills training, monitoring vital signs, infection control etc. The certification exam will be held at the Framingham campus and successful completion of the exam will qualify students as Certified Nurse Assistants and enables them to start a job.
Website: https://www.massbay.edu/cce/nursing-assistant
Location: 19 Flagg Drive, Framingham, MA 01702-5892
Tuition: $950
Phone: (508) 270-4000
Massachusetts College of Pharmacy and Health Sciences
With the power of compassion, MCPHS aims to promote and maintain health, prevent ill health and provide care and comfort for patients. The program prepares students and equips them with the essential skills and knowledge to achieve their career goals. The professors are professionals in the field and with a wide range of clinical opportunities, the training offers hands-on experience too to prepare you and build your confidence.
The training facility is modern and advanced, including advanced technology providing students with the basic knowledge and skills necessary to provide safe and effective care. The approved program aims to provide students with the best quality education in order to provide the best quality care for patients and residents at hospitals, nursing homes and other long-term facilities.
Website: https://www.mcphs.edu/
Location: 179 Longwood Ave, Boston, MA 02115
Tuition: $381
Phone: (617) 732-2850
CNA Training by City (Choose your City):
Other Training Centers in Boston
American Red Cross
Located: 139 Main Street, Cambridge, MA 02142
Phone: (617) 274-5200
Notre Dame Education Center
Located: 200 Old Colony Avenue, South Boston, MA 20127
Phone: (617) 268-1912
Tufts University
Located: Catholic Charities, 275 West Broadway, South Boston, MA 02127
Phone: (617) 464-8544
CNA Training Center Reviews
Bunker Hill Community College
The professors at this community college are outstanding! There also lots of events taking place and students can participate and make more friends! The diversity at BHCC is great! The staff and professors are very supportive and helpful with any situation. They also offer great advice concerning job opportunities, scholarships and internships. BHCC offers the lowest tuition in Massachusetts! The shuttles to each of the campuses are convenient and make it easy to maneuver around the campus. This has been especially helpful to students who come from out of town. Flexible schedule and reasonable tuition cost. Definitely recommend!
Massachusetts College of Pharmacy and Health Sciences
I love how this college has great diversity! It is so important to embrace the different people and cultures around us. Professors are awesome! Always willing to assist students and they are so supportive too. The campus is small but it's great! There is great transportation access to school, trains and buses that come straight to school. I've had a great experience at MCPHS. I have had the opportunity to make lots of new friends, memories and connections. I highly recommend the nursing program at MCPHS, it is a huge advantage to be right next to all the major hospitals in Boston and gain hands-on experience! The school also offers free tutoring as well as help sessions. The school environment is amazing and I am surrounded with other future health professions which motivates and encourages me every day to do well academically.
Frequently Asked Questions
How much does the CNA job pay? The annual salary for a Certified Nurse Assistant (CNA) is above most non-degree careers. The average annual salary for a CNA is approximately $24,500.
Why is Nursing Assistant Certification so important? There are many reasons including;
Certification is the only way one can be listed in the state's Nurse Aide Registry
Certified Nurse Assistants tend to earn more money
Certification opens up more job opportunities and possible promotions.
Is there math on the CNA test? This depends on the institution you're applying to. Some schools' CNA programs require students to be skilled in simple mathematics. You may also be required to take the Test of Adult Basic Education (TABE).