Certified Nurse Assistants (CNAs) are individuals working at long-term healthcare facilities such as hospitals, nursing homes, assisted living centers, rehabilitation facilities and other long-term care settings. CNAs work alongside Registered Nurses and professionals, assisting them with duties such as reporting the patient's progress, checking vital signs, assisting to move or transfer the patient, assisting with bathing, grooming, food and nutrition and much more! The demand for CNAs in several places including Long Beach City is high and continues to rise, therefore, considering joining the career and becoming a CNA is a rewarding opportunity and the job growth rate is also high.
The CNA Requirements for Certification and Employment in Long Beach, California
Applicants are required to complete an approved CNA training program
Pass a competency exam in order to be listed on the state registry
Criminal background clearance
Fulfillment of continuing education requirements
Renew listing on the state's registry to continue working as licensed CNAs.
American Red Cross
The Red Cross offers CNA classes in Long Beach that help students to develop their skills and confidence to begin a rewarding career in the healthcare field. The course combines academics and hands-on training as well as essential skills such as good communication skills and the art of care-giving. The course aims to prepare students for the state CNA certification exam and to become a vital and irreplaceable member of a medical team. Prior to signing up for the program, individuals are required to attend a local information session, pass a reading and math assessment or present a high school diploma/GED, pass a Red Cross criminal background check and complete the Red Cross TB test.
The Certified Nursing Assistant training program is 100 hours (28 days) and students learn firsthand the duties and responsibilities of Registered Nurses (RN) and Licensed Practical Nurses (LPN). Applicants must be at least 16 years of age. Students also gain benefit from the state of art classrooms and medical equipment, extra tutoring, resume writing workshop and hands-on clinical experience at an approved training facility. Graduates of the training program receive job placement after completion of the training.
Website: http://www.redcross.org/ca/long-beach/take-a-class/nurse-assistant-training
Location: 3150 East 29th Street, Long Beach, CA 90806
Tuition: $1,500
Phone: (800) 627-7000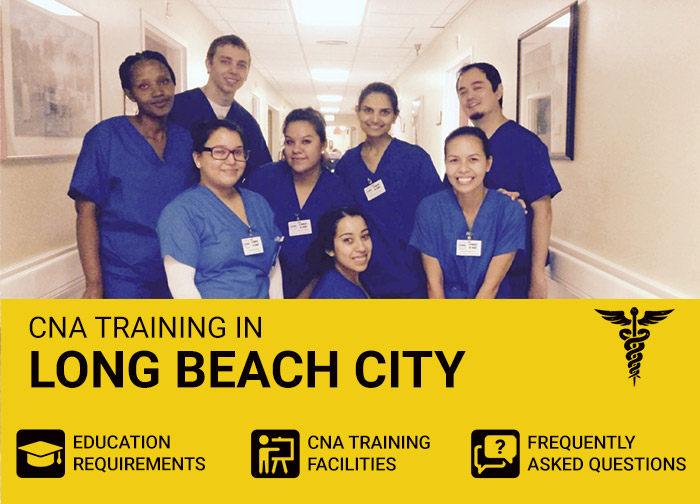 Goodwill, Serving the People of Southern Los Angeles County (SOLAC)
Goodwill, SOLAC is a non-profit organization that transforms donated goods into job training and education services for individuals with barriers to employment. Goodwill SOLAC serves 22 communities throughout Southern Los Angeles. The training programs and placement programs focus on building lives, families and communities one job at a time. Goodwill, SOLAC is one of 165 independent Goodwills with membership in Goodwill Industries International. Goodwill, SOLAC is also the first Goodwill organization to become a state certified CNA Training Academy in the nation.
The Certified Nurse Assistant training program provides classroom instruction and hands-on clinical training to prepare students for the State of California CNA examination. It is an 11-week program that covers various essential topics including personal care, medical terminology, vital signs and patient's rights. The training also emphasizes on financial literacy and work readiness. Applicants must be 18 years or older, have no criminal history, pass an educational assessment of ninth grade reading and math levels, pass a nurse entrance interview and pay nominal eligibility fee. The healthcare training program works with successful graduates and provides assistance in locating higher level employment and higher level training programs including Pharmacy Tech, Phlebotomy and RN.
Website: https://www.thinkgood.org/certified-nurse-assistant-training-program/
Location: 800 W. Pacific Coast Hwy, Long Beach, CA 90806
Tuition: $500 – $600
Phone: (562) 435-3411
Long Beach City College
Long Beach City College is a 2-year community college and has been at the heart of the community providing educational programs aiming to enhance student learning in a diverse and vibrant environment. LBCC provides a range of educational training programs including Language Arts and Communication, Career and Technical Education and Health, Science & Mathematics. Long Beach City College has a high reputation for its excellent quality programs offered and its graduates achieve tremendous success throughout their career.
The Fundamentals of Nursing Program prepares students for the state certification exam and for employment in skilled nursing facilities. The course is one semester long and comprises of classroom instruction and clinical training. Students are also required to complete 4 hours of vocational nursing activities in a Success Center.
Website: https://www.lbcc.edu/
Location: 4901 East Carson Street, Long Beach, CA 90808
Tuition: $276
Phone: (562) 938-4111
Long Beach School for Adults
Long Beach School is a public school that welcomes and serves all students who come there. The school embraces diversity and works at their best to meet each student's unique needs. The professors, staff and counselors assist students regarding any concerns and they aim to provide high-quality education in order to prepare and equip students to provide high-quality healthcare at hospitals, nursing homes and other facilities. The overall program aims to equip students and train them to become effective communicators and creative thinkers.
Long Beach School for Adults is in partnership with JVS SoCal and the American Red Cross to offer free CNA training. The training program is a great opportunity to learn the skills required to become a Certified Nurse Assistant. Classes are carried out by experienced instructors and it comprises of classroom instruction and clinical training. The program is 9 weeks long. Applicants are required to take an assessment entry test, a criminal background check and submit to a drug test.
Website: https://lbsa-lbusd-ca.schoolloop.com/certified-nurses-assistant
Location: 3701 E Willow St, Long Beach, CA 90815
Phone: (562) 595-8893
Trident School of Nursing
Trident's 5-week CNA training program requires students to pass the CA Board Exam upon completion of the training program. Students need to ensure that their documents such as their ID and Social Security card are up to date. Students must also ensure that they provide a TB clearance result and physical exam results. The course comprises of classroom training (theory) which is completed in 3 weeks and clinical training. The curriculum aims to prepare students for employment at hospitals, nursing homes and other long term healthcare facilities. The total tuition cost includes CPR, live scan, textbooks, medical supplies, registration and other expenses. Students must also pay for the state certification exam. Graduates of the program are eligible to take the state exam.
Website: http://tridentnursingschool.com/program-information.html
Location: 2047 ½ Orange Ave, Long Beach, CA 90806
Tuition: $1,900 ($1,700 for students who pay at the beginning of class)
Phone: (562) 253-0094
Other CNA Training Centers in Long Beach
Long Beach Job Corps Center
Located: 1903 Santa Fe Avenue, Long Beach, CA 90810-4050
Phone: (562) 983-1777
Preferred College of Nursing
Located: 1950 E 220th St #209, Long Beach, CA 90810
Phone: (310) 952-1005
CNA Training Center Reviews
American Red Cross
Good combination of classroom and hands-on learning. I enjoyed every part of the nursing assistant training program and this will really help me to get a good job. The clinical experience gave us the opportunity to practice our skills and be ready for the job. Flexible and convenient class hours. Positive environment, motivates you to work to your best. The classes are educational and the professors use various teaching methods including videos, handouts and practice tests. Affordable tuition. Excellent and helpful career services.
Long Beach City College
Long Beach City College is committed to provide an amazing experience for students. The environment is great and very safe! There is a wide range of programs offered here including vocational degrees, certificate programs and other majors. The counselors are amazing and really helpful too! The professors are professional and genuinely care about assisting students to achieve success. Plenty of resources available. Tutoring, help centers on various subjects and the teachers are very helpful and supportive. I love this school. I've had a great experience and I would definitely recommend!
Trident School of Nursing
The teacher was very helpful throughout the course! Her teaching methods are the best! She makes it so much simpler to understand. The program offers great hands-on training and educational training. Bonus, our teacher even makes great food! The school has a nice friendly and family atmosphere. Everyone around is friendly and nice. Affordable tuition and guaranteed job. Helpful career services. Lovely environment! The program builds on your skills and confidence, especially when the teacher is supportive and willing to assist in every way possible. I would recommend the nursing assistant program to friends and family!
Frequently Asked Questions
Why is nursing assistant certification so important?
There are various reasons including; certification is the only way that an individual can be listed on the state's Nurse Aide Registry, Certified Nurse Assistants tend to earn a higher pay and a CNA can specialize in small areas making more money.
How long does it take to renew CNA license in California?
You will be required to renew your license every two years. However, in order to be eligible for renewal, you will need to complete a 12-hour continuing education training program.
CNA Training by City (Choose your City):