Philadelphia offers nurse aide training programs approved by The Pennsylvania Department of Health and maintains a registry of certified nurse aides. Due to its population of nearly 1.6 million, Philadelphia has over 90 hospitals, about 220 nursing homes and mental health facilities to serve its residents. Approximately 20% of the population are senior citizens and the need for CNAs is rising, therefore, more nurse aide training providers are offering low cost and free programs in order to be able to meet the growing demand for CNAs in Philadelphia.
In order to achieve state certification, students are required to successfully complete at least a 100 hours of classroom and clinical (hands-on training).
American Red Cross
The CNA classes delivered by the Red Cross are held during daytime hours and the courses emphasize on academics and hands-on training. Once in-class training has been completed, students will continue their education professionally by taking part in clinical rotations. Students learn various essential skills such as providing personal care for patients and communication skills, CPR, First Aid, AED usage, infection control, teamwork and workplace safety. The training aims to prepare individuals to become professional nurses who will help guide and support patients at all times.
There are a couple of requirements to be met before students can sign up for CNA training:
Individuals must attend a local orientation session
Individuals must pass a reading and math assessment or present a high school diploma/GED certificate.
Pass a criminal background check and complete the Red Cross physical/TB test.
Once students have successfully completed the CNA classes in Philadelphia, they are qualified to take the state licensing exam and skills test. The CNA training provides a rewarding career for students and a promising future. The need for Certified Nurse Assistants is growing and this field provides a wide variety of opportunities for students in gaining valuable skills and exploring all possible options while gaining experience in the field.
Website: https://www.redcross.org/local/pennsylvania/take-a-class/cna-philadelphia-pa
Location: Southeastern Pennsylvania Chapter, 2221 Chestnut Street, Philadelphia, PA 19103
Tuition: $1,300 (includes course materials and textbooks)
Phone: (215) 299-4000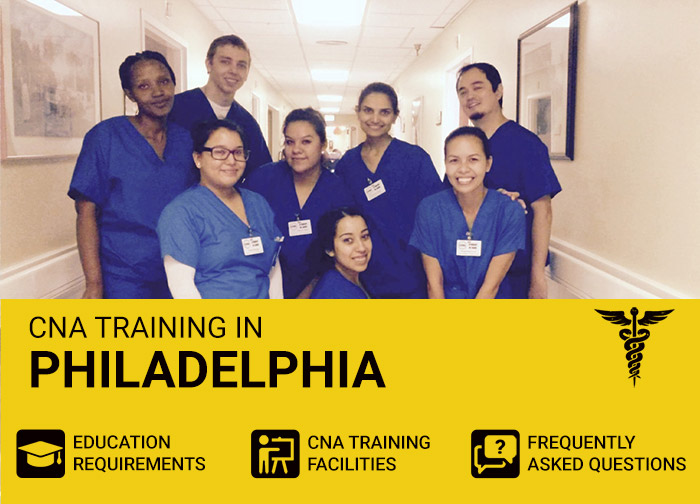 Community College of Philadelphia
This community college aims to prepare students for a career in healthcare and provides a 120 hours of classroom and clinical training. Applicants to this college are required to hold a high school diploma or GED and pass a reading comprehension and math test in order to enroll. For the clinical experience, students will be required to pass a criminal background check, a physical exam and a TB test. Students are also required to submit all documents two years prior to commencement of classes. Topics taught in the curriculum include resident rights, roles of nurse aides, communication skills, personal care skills, vital signs etc. after graduating, students are qualified to take the state board exam. The course takes about 8 weeks to complete and classes are held on Saturdays only.
Website: https://www.ccp.edu/
Location: 1700 Spring Garden Street, Philadelphia, PA 19130
Tuition: $1,495 (including textbook)
Phone: (215) 751-8000
Prism Health Aide Training
Prism's Health Aide CNA program is specifically designed to help individuals who want to advance in their career but are struggling to make ends meet. Majority of our students are single parents and we are aware of how difficult it can be to support a family and that is why we have ensured that this career program is flexible and takes a shorter time to complete! Individuals can take morning classes, late morning or evening classes according to their convenience.
Prism Health Aide Training also offers affordable tuition, support with job placement, flexible class schedules and upon completion of the course, students are eligible for State Board Exam.
Website: http://cna-education.com/cna-training/
Location: 8040 Roosevelt Boulevard, 3rd floor, Philadelphia, PA 19152
Tuition: $1,400
Phone: (215) 329-1322
Philadelphia Academy for Nurse Aide Training (PANAT)
The Philadelphia Academy for Nurse Aide Training Inc. offers various topics and skills in order to prepare students for the Nurse Aide Registry Exam and for a career as a nurse aide. These topics and skills include roles of a nurse aide, communication skills, infection control, safety and emergency, nutrition, personal care skills, CPR/First Aid etc. The completion of the 4-week program leads to a Diploma in nurse aide training and the program also covers CPR and first aid training. The 4-week program provides students with the essential skills and knowledge to pass the Pennsylvania State Nurse Aide Competency Training Examination. Upon successful completion of the 4-week program, graduates can take the Pennsylvania State Nurse Aide Competency and Training exam in order to be listed on the Pennsylvania Department of Health Nurse Aide Registry. Immediately after graduation, students are eligible to work for up to 120 days between course completion and taking the exam.
The program requires applicants to be at least 17 years of age, pass a reading and simple math test and undergo a physical examination including a negative TB screening. Individuals are also required to complete a criminal background check free from any criminal offense.
Website: https://www.mypanat.com/
Location: 5070 Parkside Ave Suite 1422, Philadelphia, PA 19131
Phone: (215) 495-3473
Other CNA Training Centers in Philadelphia
Olney Northeastern Institute
Located: 800 W Olney Ave, Philadelphia, PA 19120
Phone: (267) 335-2424
Adult Basic Education
Located: located in Community College of Philadelphia, 1700 Spring Garden St. Philadelphia, PA 19130
Phone: (215) 751-8000
Gwynedd Mercy University
Located: 1325 Sumneytown Pike, Gwynedd Valley, PA 19437
Phone: (215) 646-7300
CNA Training Center Reviews
American Red Cross – The application process is quick. Professors are a great help too! The Red Cross offers various opportunities for people of all ages and different backgrounds. It provides opportunities to advance in the medical field. Individuals can achieve their certified nursing assistant license. Individuals around are all out to help you learn and grow as an individuals and promoting team working as well. The CPR and AED training is easy and the instructor made the learning experience fun and memorable. All in all, great people! I made great friends, shared some laughs and we pushed through the tough times all together! The course aims to prepare students for the state exam and motivates you to work hard in order to achieve success. I would recommend this course to anyone beginning their career, it is a great place!
Community College of Philadelphia –I really enjoy attending CCP. The school provides students with a wide variety of experiences and students are also involved in clubs, discussions and community service opportunities that greatly enhanced my college experience. There is diversity of people, all from different cultures and backgrounds and everyone is friendly with each other, I have met amazing staff and students here at CCP. I also appreciate the low cost tuition for classes, the quality of education provided and the scholarship opportunities available for students of CCP. The professors are helpful and supportive. They go all out and do everything they can to ensure students' success and resources available are plenty. The campus is not very big and easy to navigate. The community around is warm and friendly and the campus is safe with security all around. Community colleges are cheaper but definitely worth the money, sometimes even better than attending a 4-year school which is more expensive.
Prism Health Aide Training – Class hours are flexible. The location of the school is convenient, it is easy to commute to and from school every day. The learning environment is great! Teachers are amazing and they go all out to assist students and ensure their success. Pricing is reasonable. Hands-on training provided is excellent. Class sizes and groups are small, every individual is friendly and helpful. Instructors provide students with assignments that are beneficial and prepare them for the exam. Overall a great learning experience and I would definitely recommend this school.
CNA Training by City (Choose your City):
Frequently Asked Questions
How long does it take to be certified? CNA classes are 4-weeks long and classes are for 5 hours a day, 5 days a week. Sessions are offered in the morning and evening hours too in order to accommodate all students, therefore, certification is awarded upon successful completion of the program and students will also be prepared to take the State Board Exam.
What sort of jobs does the nurse aide training program prepare me for? The program aims to prepare students for various jobs in the medical field such as nursing homes, adult day care centers, hospitals and clients' personal homes too. The program provides students with essential academics and hands-on learning that prepares you to care for the elderly. Your roles and duties include gathering information about the patients' health, assessing vital signs, assisting with their basic needs such as bathing, feeding, dressing and checking their general health etc.
How long can a CNA work without certification? This may vary from state to state, you may be able to work without certification for only about 4 months and in some states, employers also hire individuals who have completed at least 16 hours of a CNA training program and also intend to sit for and pass the certification exam.
How long does it take to process my application? Applications are processed two weeks prior to beginning classes. Applicants must pay $100 registration fees and must attend orientation a week before the first class. Lastly, students will also be required to pay for and take a physical and PPD in order to be able to sit for the State Board Exam.
Is there any way to get my tuition reimbursed? Yes! All PA State nursing homes are required to refund your nurse aide training cost once you have worked as a CNA at the facility for 260 hours.