CNAs and other healthcare careers are currently in high demand. Due to the increase in the population of the elderly, several jobs are offered to graduates. If you're looking to become a CNA, there is a wide variety of colleges providing training and we will take a look at them in just a bit.
The demand for Certified Nurse Assistants is currently high and increasing over the years therefore considering a career as a CNA is wise and it is a rewarding career too. The Department of Aging and Disability Services (DADS) serves as the governing body for the Texas Nurse Aide Registry. In order to be able to serve as a Certified Nurse Assistant, individuals can enroll in training programs, however you must ensure that the programs are state-approved to be qualified to take the certification exam.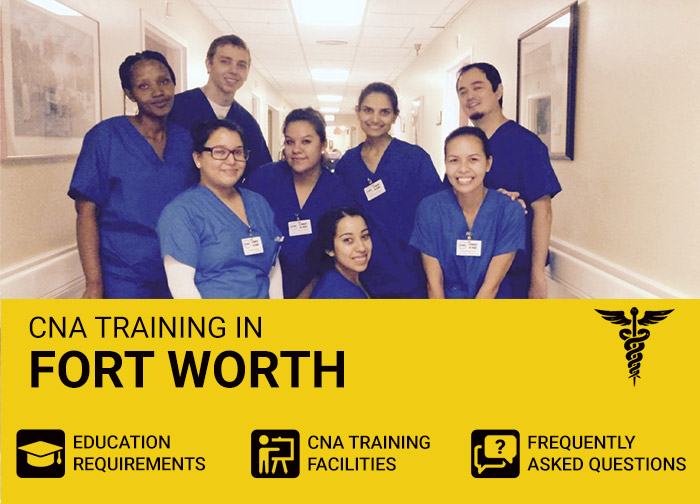 Alpha Medical Institute
Alpha Medical Institute offers a wide variety of courses including Medical Assistant, Nurse Aide, Medication Aid, First Aid Training and CPR. This training center offers various opportunities and promotes the development of individuals through creativity and application of knowledge for the benefit of the society. Its main aim is to prepare the graduates for employment in their field of training regardless of race, gender, religion, disability or ethnic origin.
The nurse aide program focuses on preparing students with the necessary skills and knowledge to provide high-quality nursing care to patients at hospitals, nursing homes and other healthcare facilities. The course is 6 weeks in length and is also available in the evening hours. The program also prepares students to be able to take the certification exam upon successful completion. Applicants have to be at least 18 years old and are required to submit a high school diploma or GED, a criminal background check and physical exam results.
Website: https://www.alphamedicalinstitutetx.com/programs.html
Location: 6800 Brentwood Stair Rd #104, Fort Worth, TX 76112
Tuition: $500 (average tuition)
Phone: (817) 395-1311
RC Health Services
RC Health Services is Fort Worth's preferred training center for CPR, BLS, ACLS and PALS. RC Health Services – Fort Worth campus offers free CNA training to deserving individuals who demonstrate hard work and excel in the academic field. The program helps interested individuals become a healthcare provider in the city and receive employment benefits. RC Health Services has been providing CNA training for many years now and graduates are fortunate to secure a balanced nursing career. Admission requirements include; submitting the application at the admission's office, submitting a high school diploma, a background check and physical examination results. Topics covered in the course include medical terminologies, physiology, anatomy, vital signs and many others. Students also receive training in a lab to add to their learning experience and acquire the necessary nursing skills.
Website: https://www.rchealthservices.com/Fort_Worth.html
Location: 6421 Camp Bowie, Suite 403 Fort Worth, TX 76116
Tuition: $200 (average tuition)
Phone: (281) 416-5939
Remington College
Since 1995, Remington College focuses on helping college students achieve their career goals. They are committed to their students' success and work hard to ensure that they achieve their goals. Remington is dedicated to help students learn, grow and develop. They provide various education programs and hands-on training opportunities which are a good fit for busy lifestyles.
This 8-month diploma training program provides students with the skills and knowledge needed to be able to provide compassionate care for patients. It trains individuals who work closely with patients to be compassionate and also provides essential skills such as effective communication. Nurse aides play a critical role in providing patient care as they work alongside a team of healthcare professionals (Registered Nurses, Licensed Practical Nurses etc.). The typical duties of a nurse aide (that they are trained on) include measuring vital signs, observing & recording patients' progress, assisting patients with daily basic activities and first aid.
Website: http://fort-worth.remingtoncollege.edu/
Location: 300 E Loop 820, Fort Worth, TX 76112
Tuition: $12,500 (financial aid available)
Phone: (817) 522-4500
Stone Academy
Stone Academy provides students with high-quality and affordable training within a supportive and inspiring environment. Their main focus is on educating and encouraging training because education is the key of knowledge and growth. Stone Academy aims to produce well-educated, talented and caring nurse aides. The course combines classroom instruction and hands-on training to increase participation of students and provide them with relevant experience. The course grooms individuals for real-life experiences in the healthcare field. It trains individuals to provide health care services to the sick and elderly at hospitals, nursing homes and long-term care facilities. Students are trained to perform various skills including assisting with bathing, feeding and clothing patients. After completion of the program, students are qualified to sit for the certification exam.
Website: https://www.stoneacademyoftexas.com/
Location: 6326 Brentwood Stair Rd, Fort Worth, TX 76112
Tuition: ranges from $900
Phone: (817) 863-4676
Springpack Healthcare Institute LLC
Springpack is a new school that started in 2010 and is approved by DADS and TWC to provide nurse aide training. The program prepares students to provide healthcare for patients at long-term care facilities. Classes are offered in the morning, afternoon, evening and weekends too in order to accommodate all students. The admission requirements include submitting a high school diploma or GED, students must be 18 years of age or 16 with parental consent and submitting a valid photo ID (a passport, Green card etc.) The registration fee is approximately $50.
The 100-hour program is a combination of 60 classroom hours and 40 hours of clinical practice. A clinical practice aims to train students and provide them with experience on what really happens. It provides them with an opportunity to showcase their skills by providing patient care in a long-term care facility. The tuition does not include textbook, CPR, uniform and clinical supplies.
Website: https://www.springpackinstitute2.com/
Location: 6715 Meadowbrook Drive, Fort Worth, TX 76112
Tuition: $599
Phone: (817) 446-4441
CNA Training by City (Choose your City):
Online CNA Training
Enjoy the flexibility and convenience of studying online and become a Certified Nurse Assistant in 4-12 weeks! Admission requirements are flexible and are mostly the same as applying to a college. A high school diploma or GED are not very necessary as long as applicants are at least 16 years old. The program requires a certain number of clock hours rather than a specific number of credits. These hours include online coursework as well as practical training on campus. Topics covered in the coursework include CPR, patient care and wound care. CNA coursework also covers how to check, record and monitor patient vital signs and other skills which prepares students to pass the CNA certification exam.
Other Training Centers in Fort Worth
Faith Forward Nurse Aide Training Academy
Located: 1201 Wesleyan St, Fort Worth, TX 76105
Phone: (817) 630-9756
Tarrant County College
Located: 13600 Heritage Pkwy #100, Fort Worth, TX 76177
Phone: (817) 515-8223
Universal Health Services
Located: 5651 Bridge St, Fort Worth, TX 76112
Phone: (817) 451-1404
CNA Training Center Reviews
Alpha Medical Institute
Alpha Medical has a lot to teach in 6 months! The class hours are so flexible and the timings are very convenient. The teachers are very helpful throughout the course and they ensure everything they teach is well understood. The hands-on training is good, practical learning is a greater advantage because it provides experience and prepares us for the real situations. Small class sizes allow for one-on-one attention from teachers and better understanding of the lesson. Affordable tuition, most of my friends and I paid for it ourselves. I would recommend this program to anyone seeking a career in this field.
Remington College
At Remington, students gain real world experience and when they graduate, they're ready to take on the field! Small class sizes allow for more time with instructors and being able to gain assistance with questions or any doubts. The hands-on training is the best part and students have easy access to the latest equipment and tools. Class timings are flexible and are even available during evening or night. Affordable tuition and students even receive financial assistance if they require. The instructors are awesome! They are so helpful and always willing to assist with tough assignments and they even help students get the experience required for the job. I love this school and I would totally recommend going here.
Springpack Healthcare Institute LLC
Teachers at Springpack Healthcare Institute are just the best! They are very helpful and always offering advice. They even assist students one-on-one if they have any doubts. No question is considered a wrong question, anything that a student has a doubt in, the teacher will assist. Class hours are flexible and conveniently fit into your busy schedule. The best part about Springpack Healthcare Institute is that students gain a lot of experience on real-life situations and this better prepares us for jobs. We do lots of practice tests, train with real patients and test our skills weekly. The environment is clean and safe. There are also lots of helpful career services and events for students to benefit from. I love Springpack Healthcare Institute and I will recommend it to my friends.
Frequently Asked Questions
How long does it take to get CNA license in Texas? Individuals are required to complete total 100 hours of training in order to receive the CNA license.
Can I take my CNA test online? The written exam can be done by working through practice tests online. However, for the practical exam, the student must perform 3-5 common CNA skills under supervision of a representative.
What skills are on the CNA state exam? The same skills that you will be required to perform as a qualified Certified Nurse Assistant. Some of them include measuring blood pressure, measuring body temperature, measuring and recording pulse etc.