Certified Nurse Assistants are in high demand in Mesa, Arizona. Patients at nursing homes, hospitals, clinics and assisted living facilities greatly depend on nurse assistants to help them with their daily basic activities such as feeding them etc. Individuals interested in becoming CNAs in Arizona are required to complete an approved CNA training program and sit for the certification exam. The Arizona State Board of Nursing requires nurse assistants to complete 120 hours of classroom instruction and clinical training. This will equip them with the essential skills and knowledge required to provide the best quality healthcare for patients and clients.
Arizona Medical Training Institute
For the past two decades, AMTI has been the state's leading provider of medical training. This training institute provides various healthcare programs including CNA training. AMTI has years of experience in training students and equipping them with the knowledge and skills that they need to be able to provide high-quality healthcare in the field. There are students from all walks of life and instructors who teach using unique teaching methods, making learning practical and fun! AMTI has a high success rate and graduates more nursing assistant students than any other single provider in Arizona.
The CNA course is a fast-paced course combining eLearning, classroom instruction, hands-on skills learning and externship at an approved, local facility. The course curriculum covers; introduction to healthcare, physiology, basic psychology, basic nursing skills, infection control and job seeking skills. Students must complete 86 hours of classroom instruction and pass with 80% or higher. Students will then complete 40 hours of clinical work and pass the clinical externship with 80% or higher. Upon successful completion of the training program, students are eligible to sit for the Arizona Board of Nursing final exam.
Website: https://arizonamedicaltraininginstitute.com/programs/certified-nursing-assistant-licensed-nursing-assistant/
Location: 1530 North Country Club Drive #11, Mesa, AZ 85201
Tuition: $1,355 (includes the textbook, lab materials, CPR, TB test, uniform, stethoscope, gait belt and blood pressure cuff)
Phone: (480) 835-7679
East Valley Institute of Technology
This institute is also known as EVIT Career & College Prep. The course aims to prepare individuals for the state certification exam. The course is 148 hours (8/9 weeks) and comprises of classroom training (theory), skills lab and clinical training. The training equips students with basic nursing skills to be able to provide high quality direct care to patients or residents in long term healthcare facilities. Students learn a variety of skills including anatomy, medical terminology, communication skills, mental health disorders, laws and ethics etc. Admission into the program requires applicants to complete the student information form, provide a government issued ID, a high school diploma or GED, DPS fingerprint clearance card, immunization card, negative TB skin test and CPR card. After successful completion of the training program, students are eligible to sit for the state certification exam.
Website: https://www.evit.com/adult_career_training_programs/nursing_assistant
Location: 1601 West Main Street, Mesa, AZ 85201
Tuition: $1,385
Phone: (480) 461-4094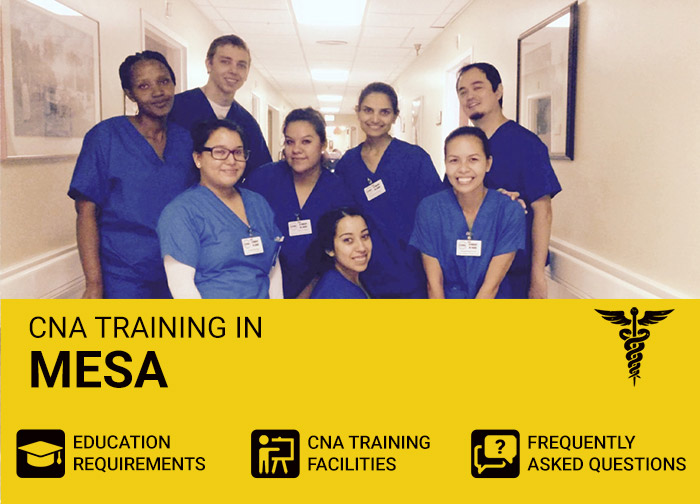 East Valley Medical College
East Valley Medical College aims to offer students a jump start on their journey to a new career. The faculty at EVMC is dedicated to help all students achieve their career goals. Students are required to begin by filling out the information sheet then move to selecting the program of their choice. Students also receive help with paying for the course fees, those who qualify may get a scholarship and others may get help through private or state grants. East Valley Medical College is licensed by the Arizona State Board for Postsecondary Education and is approved by the Arizona State Board of Nursing. The college offers a wide range of different programs including Medical Assistant, Phlebotomy Technician and Certified Nursing Assistant (CNA or LNA).
The Certified Nursing Assistant training program is a 4-week program which comprises of classroom instruction sessions and practical learning by professional instructors. The various topics covered in the course include; patient safety and rights, diet and nutrition, introduction to the healthcare system and basic life support (CPR). Nurse assistants are also trained to assist their patients with bathing, feeding and dressing. Successful completion of the training program qualifies students to sit for the Arizona State Board nurse assistant certification Exam and acquire a job at a hospital, nursing home or any other long-term healthcare facility.
Website: https://www.eastvmc.com/certified-nursing-assistant.php
Location: 205 E Southern Ave, Mesa, AZ 85210
Tuition: $1,358
Phone: (480) 776-0070
Mesa Community College
MCC prioritizes the success of their students and the faculty aims to help and support students in every way possible. The instructors at MCC are professional and students gain the knowledge and skills to enable them to provide excellent healthcare to patients. The instructors also equip students with a variety of other important skills such as critical thinking and teaching students the techniques for success. Students applying at MCC are investing in their future and the team is dedicated to helping them on their journey.
The Nursing Assistant program is one semester and it combines classroom instruction, skills lab and clinical training. The program aims to prepare students for the state exam and entry-level employment as a nurse assistant. The knowledge and skills taught by licensed instructors helps students to advance further into a career in healthcare industry or continue as a Nursing Assistant. Successful completion of the program prepares students for certification as a Nurse Assistant by the Arizona State Board of Nursing. So, if you're the kind of individual who has a passion for helping others and earn a rewarding career in healthcare then the CNA course is for you!
Website: https://www.mesacc.edu/programs/nurse-assisting
Location: 1833 W Southern Ave, Mesa, AZ 85202
Tuition: $654 for Arizona residents.
Phone: (480) 461-7000
Pima Medical Institute
Pima Medical Institute (PMI) is dedicated to providing top quality healthcare education in order to make individuals the best healthcare professionals in their field of choice. Each year, thousands of students achieve success at Pima Medical Institute and reach their career objectives. The PMI community is where individuals can realize their dream of being a healthcare professional.
The Nursing Assistant training program aims to prepare students for the medical field and equips them with the essential required skills. The 130-hour program comprises of 52.5 hours of classroom training, 37.5 hours for skills lab and 40 hours of clinical training. Students will learn; infection control, safety and emergency procedures, reporting patient observations to the nursing staff, effective communication skills and interpersonal skills, law and ethics, transferring or moving patients and various other essential skills. Certified Nurse Assistants typically assist Registered Nurses with patient charting and instruction. Upon successful completion of the training program, graduates are eligible to sit for the state exam and be listed on the nurse aide registry.
Website: https://pmi.edu/programs/certificate/nursing-assistant-nurse-aide
Location: 957 S Dobson Rd, Mesa, AZ 85202
Tuition: $1,520
Phone: (800) 477-7462
Other CNA Training Centers in Mesa City
Sun Valley High School
Located: 1143 S Lindsay Rd, Mesa, AZ 85204
Phone: (480) 497-4800
Arizona School of Health Sciences
Located: 5850 E Still Cir, Mesa, AZ 85206
Phone: (877) 469-2878
CNA Training Center Reviews
Arizona Medical Training Institute
For someone just getting started in the healthcare field, the AMTI Certified Nursing Assistant course is a great place to start. AMTI accommodates for students who do not have a computer, they provide computers for students to use within the school operating hours. At AMTI, the faculty only focuses on student success and are willing to assist students in every step of the way. Flexible schedules, classes are offered in the morning, evening and even weekend classes to accommodate students with busy schedules. Affordable tuition, accompanied by several tuition payment approaches. Students receive help with job placement too. Expert instructors who aim to provide the essential knowledge and skills that students require in order to succeed.
East Valley Medical College
One on one tutoring. Dedicated job placement assistance to all graduates. Amazing instructors and great atmosphere! Flexible and convenient class hours. I had the opportunity to learn a lot of new things and refreshed on old things. Great combination of classroom and hands-on learning. The class sizes are small with only 10/12 students which is awesome because students can get more one-on-one help from professors. The staff is awesome and my experience has been nothing but great! Affordable tuition and worth the quality of education provided! I highly recommend!
Mesa Community College
This school is great! It has a diverse group of people and everyone is so welcoming and friendly! Studying at this school keeps you motivated throughout your time spent and it encourages you to work hard to achieve success. I love that this college is close and easy to get to. I've learned so many different and new things here! The professors are genuinely concerned about the success of all students and they work hard to ensure that students achieve their career goals. There is plenty of resources available for students to use and benefit from. There are also great scholarship opportunities and the tuition cost is quite reasonable. Overall, it has been a great experience and I would definitely recommend this program to friends and family.
Pima Medical Institute
The faculty and professors at Pima Medical are very helpful with admissions and other things as well. The professors are willing to put in extra effort to help students achieve their goals. Good class sizes. I loved the hands on experience and training provided. They even have tutoring facilities and study groups available. Job prospects for graduates is great, the quality of education you receive from Pima Medical is exactly what hospitals and offices are looking for!
CNA Training by City (Choose your City):
Frequently Asked Questions
How much do hospitals pay CNAs? The overall salary average earned by CNAs working at hospitals is $22,000.
What supplies do I need for a CNA class? Pens, pencils, highlighters, a notebook, your name badge and current edition school CNA-2 workbook.
Do you get paid while taking CNA classes? Your employer may pay for your training, many nursing home facilities also pay for individuals to gain certification. However, in order to earn an actual pay, individuals will be required to work for an agreed amount of time.