Certified Nurse Assistants are trained individuals who care for patients at hospitals or residents at nursing homes. All nursing assistants must complete a state-approved training program and successfully complete the state's nurse aide exam. According to the state's guidelines, the training program must cover 16 hours of training on essential skills such as communication skills, patient's rights, infection control and emergency procedures. Within 2 years of completing the program, graduates can sit for the state's nurse aide competency exam. The job outlook for CNAs currently is great, Certified Nurse Assistants are in high demand and this is due to an increase in the elderly population.
The Nurse Assistant Training program can also be taken online, however, students are required to ensure that the program is approved by the state. Students also need to keep in mind that only the written exam can be completed online but for the practical training and exam, students will be required to attend an on-campus session.
American Red Cross
In most states, a nurse assistant is referred to as a CNA – Certified Nurse Assistant. A CNA is a vital individual in today's world of healthcare. The American Red Cross is the leading provider of Nurse Assistant Training (NAT) and has trained & prepared individuals to work in the nursing field for over a 100 years. The program is designed with input from experienced instructors, care-givers and long-term industry representatives from around the United States. Training requirements for CNAs are; attending a local orientation information session, a reading and math assessment or proof of a high school diploma/GED, passing a Red Cross criminal background check before registration and completion of the Red Cross physical exam/ TB test.
The 4-8 week nurse assistant training program equips individuals with the necessary knowledge and skills required to work in the healthcare field and provide high-quality care for residents in hospitals, nursing homes and other long-term care facilities. Day CNA classes are available where students learn in a hands-on environment under supervision of professional nurses reinforced by a nationally developed Red Cross curriculum that meets the state's standards. Through lectures, DVDs, role-playing and lab practice, students learn essential skills such as bathing, dressing and positioning. Graduates of the NAT program are prepared to pass the state test as well as for employment in hospitals, long-term care facilities and home healthcare facilities.
Website: https://www.redcross.org/take-a-class/cna-training
Location: 2201 Charlotte Ave Nashville, TN 37203
Tuition: $1,300
Phone: (615) 250-4300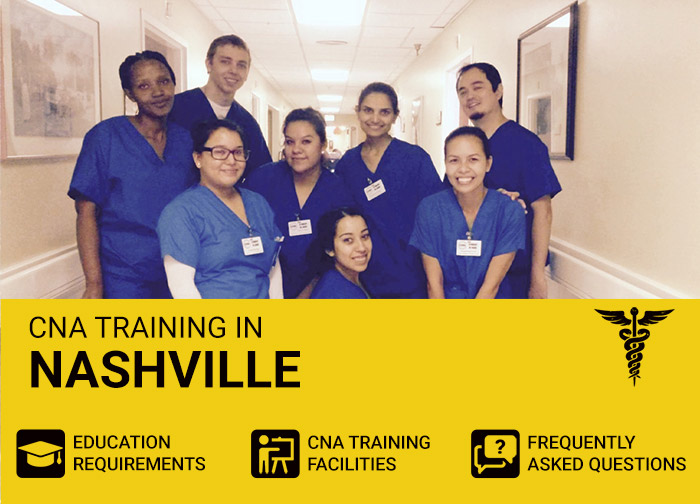 Fortis Institute
The nurse assistant training program at Fortis Institute provides students with the required skills and knowledge in order to provide quality patient care for patients/residents at hospitals, nursing homes, rehabilitation centers and other long-term care facilities. A nursing assistant typically assists Physicians or Registered Nurses and their duties include assisting patients with daily activities such as moving them, making beds, bathing and feeding patients, checking vital signs and helping to keep a smile on their face! Fortis Institute provides adequate training and experience for individuals and prepares them for the real world.
Website: https://www.fortis.edu/campuses/tennessee/nashville.html
Location: 3354 Perimeter Hill Dr #5, Nashville, TN 37211
Phone: (615) 320-5917
NATS Inc.
NATS Inc. is a for-profit operation authorized by the Tennessee Higher Education Commission and approved by the State of Tennessee Department of Health for functioning as a post-secondary education institution.
The 4/6-week Nursing Assistant Program provides extensive classroom training and clinical training aiming to enhance the levels of performance to prepare the student to perform tasks effectively as a member in the healthcare team. Day classes are 4 weeks long and evening classes are 6 weeks. The program mainly focuses on preparing students to take the State's Nurse Aide Competency Exam required by the Tennessee Department of Health for being listed on the State Nurse Aide Registry.
Website: https://www.natscnt.com/nurse-assistant-training-cna
Location: 1161 Murfreesboro Pike #217, Nashville, TN 37217
Tuition: $800
Phone: (615) 333-8474
Nashville General Hospital – School of Health Sciences
For 60 years now, NGH School of Health Sciences has been dedicated to providing students with up-to-date classes that will prepare them to build a career in healthcare. The Certified Nursing Assistant Training Program aims to promote high quality patient care skills and professionalism through a 3-month curriculum. The CNA program is offered every three months. For the next start date, contact the school.
The nursing assistant program aims to provide learners with the essential knowledge and skills required to provide high quality healthcare to patients. The program also focuses on preparing students to successfully pass the state Nursing Assistant Certification exam. This 12-week program (12 Saturdays) consists of 96 hours total, 60 hours of classroom instruction and 36 hours of clinical training. During the course, students gain experience in the classroom and clinical setting, provides the learners with capabilities required for entry-level nurse assistant jobs, provides learners with training required by the State and Federal laws for employment as a nursing assistant and prepares individuals to pass the state certification exam.
Website: https://www.nghschoolofhealthsciences.com/academics-certified-nursing-assistant
Location: 1818 Albion St, Nashville, TN 37208
Tuition: $750
Phone: (615) 341-4659
SASH Healthcare PLC
SASH is a non-profit community development project directed by physicians and supported by nurses. The program is approved by the Tennessee Department of Health and authorized by the Tennessee Higher Education Commission. Admission to the program has the following requirements:
Applicants must be 18 years or older
High school diploma or GED
Criminal background check
Letters of recommendation
Completed application form
A valid photo I.D.
Interview with a program coordinator
$5 application fee (non-refundable)
The 5-week nursing assistant program emphasizes on nursing skills & functions and a psychosocial approach to healthcare. The program is designed to provide students with the most current training in essential nursing principles and procedures in order to equip students with the fundamental skills to deliver quality care. The course comprises of classroom and clinical training (which takes place in the 4th week) that boosts your confidence and ensures achievement of success. Upon successful completion of the course requirements, students will be awarded with a Certificate of Completion and will be qualified to take the state's nurse aide competency exam. Individuals will also be eligible for employment in hospitals, long-term care facilities, rehabilitation centers, home healthcare and assisted living facilities.
Website: https://sashhealth.org/
Location: 604 Gallatin Ave #107/114, Nashville, TN 37206
Tuition: $700
Phone: (615) 321-2005
Other CNA Training Centers in Nashville
OnePlus Inc.
Located: 3250 Dickerson Pike #202, Nashville, TN 37207
Phone: (615) 915-0612
Remington College – Nashville Campus
Located: 441 Donelson Pike #150, Nashville, TN 37214
Phone: (615) 229-6057
Saint Thomas Health
Located: 2000 Church Street, Nashville, TN 37236
Phone: (615) 284-5555
CNA Training by City (Choose your City):
CNA Online Training
Fortis Institute
Fortis Institute offers online training where students can enroll and complete the training at their own pace. The flexible schedule of online programs is ideal for working individuals because they can study later in the day or even during weekends. Students have access to instructors at all times. Instructors share videos and practice tests to prepare students for the state's nurse aide certification exam. Online programs allow students to complete the academics online, however, the clinical training will have to be completed at the Fortis campus under supervision of licensed instructors. This setting aims to combine the convenience of flexible learning and support of a campus setting.
CNA Training Center Reviews
American Red Cross
The instructors are licensed with professional experience in the field and they emphasize a lot on hands-on training to best prepare students for situations in the workplace. The small class sizes allow for one-on-one interaction with professors and students can gain direct assistance from them. The campus location is easily accessible and students can use the public transport too. Good career preparation, the program prepares students really well for employment and graduates have various options for employment. Flexible class timings accommodating all students. The program really emphasizes on communication skills which is great because effective communication is of key importance in the healthcare industry. The American Red Cross NAT program is the best in the industry and it is affordable too! I would definitely recommend the program to family and friends!
Fortis Institute
Extremely welcoming campus and the small town feels like family. I love the challenge of the program, it's totally worth the struggle! They have all the resources and equipment available for students to use and help them excel in their career. The teachers are professional and work hard to ensure no one is left out, they even simplify the material so that everyone can understand. Staff are all helpful and supportive. The student body is diverse and there's opportunity to make lots of new friends. There's good internet access which is helpful when doing assignments. Overall, great place and awesome people!
NATs Inc.
The instructors are so helpful! The other students also help each other and offer assistance if you need. The training teaches students multiple useful skills and the atmosphere is set up like the actual work place. The program was very informative and definitely prepares students really well for the state exam. Good hands-on training. Flexible class hours. Affordable tuition cost. I would recommend this program to friends and family.
Frequently Asked Questions
How do I get my CNA license in Tennessee?
In order to be certified on the Tennessee Nurse Aide Registry, an individual must have completed an approved nurse aide training program and sit for the state nurse aide exam within 2 years of course completion.
How much does it cost to take the CNA exam?
The cost to take the CNA exam varies between states, however, most states charge $80-$100 for both sections of the CNA exam.
Is the CNA exam hard?
If a nurse assistant has completed an approved training program and has the knowledge and skills required then the exam is not hard. Here's a tip, studying all 25 skills provides the best chance to pass the exam.