Nursing Assistants are vital individuals who train and prepare to serve the society. They offer their services at hospitals, clinics, nursing homes and even resident homes. They are typically trained to work under the direction of physicians and doctors. Their tasks and roles may include assisting to feed patients, making beds, setting up medical equipment, answering patient calls, checking vital signs, helping to lift and move patients etc. The demand for nurse assistants is high, it is the fastest growing occupation. Certified Nurse Assistants (CNAs) also assist with mental health patients at rehabilitation centers. Nurse aides are required to have a compassionate heart and provide the best quality patient care for their clients. The approved training centers in El Paso, Texas aim to provide the best quality training in order to equip students with the essential skills and knowledge to be able to offer the best quality care. Let's take a look at some of the training centers and their programs.
ACE Nursing Education Services
ACE Nursing Education Services is a Nursing Education Company and an industry leading provider of educational services to the society throughout the state of Texas. This training center is committed to providing nursing training programs to help build better quality care within the industry. The curriculum aims to equip students with the necessary knowledge and skills training to prepare them for jobs and to be able to provide care with compassion. They are trained and prepared to provide improved quality healthcare that can improve the community.
The program is aimed at providing advanced training for current certified nurse assistants. It is a 6-hour course that provides education and guidance on nursing ethics. Topics covered include the role and function of the Texas Board of Nursing, Nurse Practice Act, Standards of Nursing Practice, Professional Conduct, Scope and Practice of the RN and LPN, Peer Review and Safe Harbor, Multi-state Compact and Investigatory and Disciplinary Process. The program covers ethical principles relating to professional nursing practice, confidentiality, ethical decision making and moral principles.
Website: https://www.acenursingeducation.com/texas-board-of-nursing-courses.html
Location: 6500 Boeing Suite L208, El Paso, TX 79925
Tuition: $400
Phone: (915) 244-3955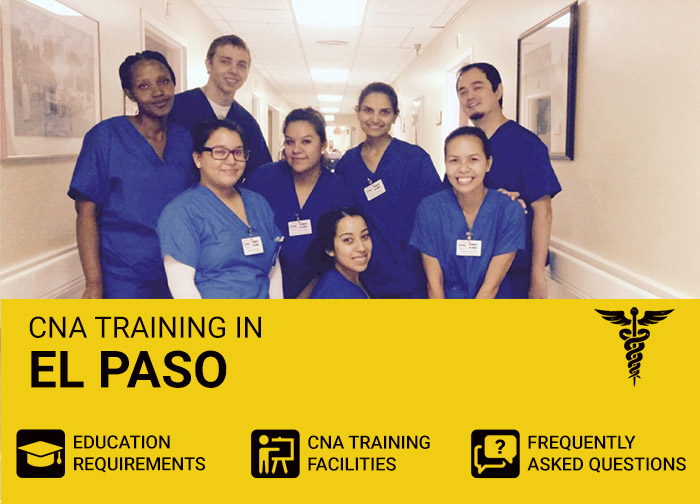 Aurora Health and Educational Institute
Aurora Health Care is a non-profit and all-for-people healthcare provider that serves its society members. Aurora started in 1984 when two hospitals came together and the organization has grown over the years, serving more people and communities.
The 75-hour nursing program at Aurora Health and Educational Institute prepares students for the Texas nurse aide certification. The course consists of classroom instruction and 24 hours of hands-on training. As a requirement for graduation, the school requires 100% attendance. Other requirements include; clearing a background check, possessing the required immunization, passing a TB screening and a drug screening and presenting a report from a physical exam before the clinical training session begins. Graduates of the program are qualified to take the state's nurse aide exam.
Website: https://www.aurorahealthcare.org/
Location: 4209 Hookheath, El Paso, TX 79922
Tuition: ranges from $300-$1000
Phone: (915) 443-5734
Cultural Technical Institute
Cultural Technical Institute aims to provide a combined program of studies to help students advance in their education and gain essential skills that are useful in the workplace. Cultural Technical Institute creates a diverse atmosphere that recognizes and respects differences and believes that quality over quantity is and will always be the key to success!
The nursing assistant program aims to prepare students to provide high-quality care to patients/residents at hospitals, clinics, nursing homes, rehabilitation centers and other long-term care facilities. The program equips students with the necessary knowledge and skills. Students are trained on how to deal with patients' needs and how to assist them with daily tasks such as bathing, feeding and dressing. This program will qualify students as Certified Nurse Assistants and successful completion of the training program enables students to sit for and pass the Texas State Certification test.
Website: https://www.cultural-tech.com/nursing-assistant
Location: 1510 N. Zaragoza B13 El Paso, TX 79936
Tuition: $750 (average cost)
Phone: (915) 591-4141
El Paso Community College
The El Paso Community College aims to provide accessible, high-quality and affordable education that prepares its students for professional and personal growth. This community college offers educational opportunities that prepares individuals to improve their personal life as well as contribute to the diverse community. EPCC currently offers over a 130 different programs and more than 350 continuing education courses at each campus throughout El Paso County.
The nursing assistant program is a 7-week course (240 hours). Students are in classroom sessions for 4 weeks and in clinical training at a licensed nursing facility for 3 weeks. On completion of both the classroom instruction and clinical training, students sit for the Nurse Aide Competency Exam. There are a couple of requirements to enter the program including; drug screening, clear background, current CPR and First Aid certification, students must be 17 years old by the first day of class, an 8th grade reading level, negative TB test etc.
Website: https://www.epcc.edu/Academics/ContinuingEducation/HealthAndFitness/nursing-assistant
Location: 100 W Rio Grande, El Paso, Texas 79902
Tuition: $410
Phone: (915) 831-4029
Emerald Nursing School
Emerald Nursing School is a state-approved testing facility where students can complete a training program and sit for the nurse aide competency exam. The experienced professors work hard to prepare students for the role of a nursing assistant and they also prepare students to pass the state exam. The 75-hour course consists of classroom sessions and practical training at a licensed nursing facility. Class hours are flexible, students can choose to attend day, evening or weekend classes for their students' convenience. CPR classes are also available, the college can be contacted using their Facebook account below:
Facebook: https://www.facebook.com/EmeraldNursingSchool
Location: 4936 Hondo Pass, El Paso, TX 79904
Tuition: $800 (median cost)
Phone: (915) 751-3378
Other Training Centers in El Paso
Bell Institute of Occupational Studies
Located: 10950 Pellicano, Ste. C-1, El Paso, TX 79935
Phone: (915) 592-2467
Silva Health Magnet High School
Located: 121 Val Verde St, El Paso, TX 79905
Phone: (915) 496-8100
CNA Classes Online – El Paso
ACE Nursing Education is the leading provider of CNA classes online. All online CNA classes offered by ACE are 100% certified by the Texas Board of Nursing (BON), therefore, once you have completed the required annual training, you will be able to renew your CNA license in El Paso. Since most students are working as they study, time is very valuable and thus the online training facility aims to enable students to study at their own pace and offers flexible hours too. The program allows students to choose when they wish to complete the training so there are no classrooms with fixed schedules and there is no need to commute to the school. All you have to do is, sit with your computer or laptop and log in to the school website and study in your comfort zone! You can visit the website below for further details and begin your classes whenever you're ready! Good luck!
Website: https://www.acenursingeducation.com/cna-classes-online-el-paso.html
CNA Training Center Reviews
El Paso Community College
The instructors are awesome! They're all committed to teaching not just the material but life lessons too! Small class sizes allow for one-on-one assistance from professors. The environment is positive, clean and safe, it is well taken care of and the greenery is just beautiful! There are plenty of resources available for students to use. The staff is also very helpful and supportive. The college offers a wide range of programs. The college location is also ideal and quite close to home so no time is wasted in commuting. There is also lots of fun activities for students to engage in including festivals, carnivals and other events. The tuition cost is reasonable, most students can pay it on their own. Overall, EPCC is a great place to start and finish! I would recommend attending this college!
Emerald Nursing School
Good combination of class, and hands-on training. The class hours are flexible and even available on the weekends which is very convenient for working individuals. Positive learning environment and great teachers! Good career preparation, the clinical training is an opportunity to meet new people and learn new, essential skills. The training program can be completed in just a month and job opportunities are open for graduates. Affordable tuition cost and totally worth for the training received. I would definitely recommend this nursing school.
Frequently Asked Questions
How much math is involved in nursing? Students are required to reach college-level math and to be eligible for admission, they will be tested too.
Can a student attend the program on a part-time basis? Unfortunately not, once a student applies to the program, they are required to complete the full course and attend during the specified timings.
Can I take my CNA test online? The written test can be completed online but the practical test will have to be completed at an approved training center under supervision of a representative.
How often do CNAs get drug tested? Drug tests are usually valid for one year, so as long as it does not expire during the CNA classes, it will fulfill the requirements.
CNA Training by City (Choose your City):