Certified Nursing Assistants are currently in high demand in Houston due to an increase in the elderly population. You can become a CNA by enrolling into one of the many colleges offering training programs for potential nurses and nurse assistants. The program you enroll in must meet the state's federal requirements. Students must complete 75 hours of both classroom training and hands-on training. Most of the approved programs make sure that students receive the necessary skills and knowledge in order to pass the state exam and achieve success in their career. Once students have successfully completed the classroom training, they can begin the hands-on training under the supervision of a RN.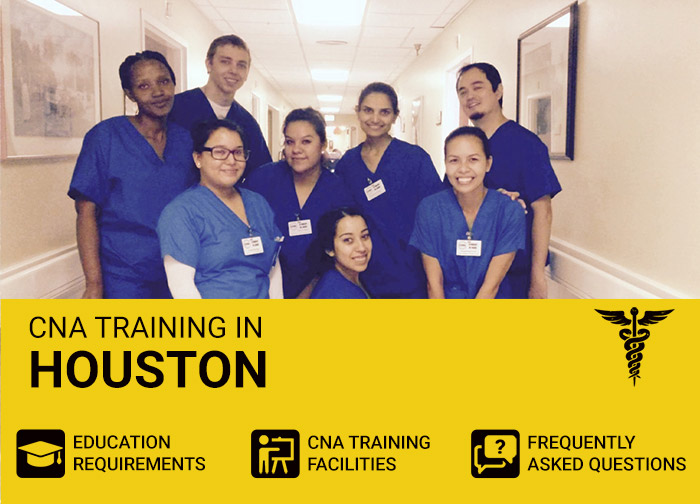 Houston Community College
Houston Community College is a public institution of higher education which offers high-quality and affordable training programs for academic advancement, workforce training, career development and lifelong learning in order to prepare diverse individuals for work in a global community. The Houston Community College system is accredited by the Commission on Colleges of the Southern Association of Colleges and Schools to award the associate degree.
Students in the Associate Degree program are provided with the knowledge and skills needed to work with patients and their families in various health-care settings. The Medical Assistant program trains individuals to be able to function as multi-skilled professionals in healthcare and delivery systems. Programs offered include; an Associate of Applied Science (AAS) program, a Certificate Level 1 (hybrid option) and a Certificate Level 2.
The AAS program covers topics in Medical Terminology, Medical Law and Ethics, Basic Health Professional Skills, Medical Insurance, Administrative Procedures etc.
The Certificate Level 1 program trains students to enter information into the medical records under the direction of a physician or practitioner reporting in real time as the provider examines the patient. This makes it easier for physicians to concentrate on caring for the patient and therefore increasing productivity in the medical office. The program curriculum covers the following essential topics; Introduction to Health Professions, Basic Health Profession Skills, Medical Terminology, Integrated Software Applications, Anatomy and Physiology for Medical Assistants, Medical Law and Ethics, Medical Insurance and Field Experience.
The Certificate Level 2 program trains students on specific skills including administrative and clinical duties. Additional skills include electrocardiography, stress testing, phlebotomy, pharmacology and administering medication. The prerequisite courses include Introduction to Health Professions, Basic Health Profession Skills and Medical Terminology.
Website: https://www.hccs.edu/programs/areas-of-study/health-sciences/
Location: 3100 Main St., Houston, TX 77002
Tuition: $76.50 for in-state students and $219 for out-of-state students
Phone: (713) 718-2000
Lone Star College
The CNA program offered at Lone Star College aims to provide the skills, knowledge and abilities required to provide basic medical care to patients at long-term care facilities such as nursing homes and hospitals. Skills taught include; rights of residents, communication skills, safety, observation, reporting and assisting patients in maintaining basic safety and comfort. The course also prepares individuals for the Texas Department of Aging and Disability Services (TDADS) Nurse Aide State exam.
The course curriculum includes 64 classroom hours and 44 clinical experience hours (108 hours total). Students are also required to complete an additional 8 hours of training and have to pay an additional $64 to this special training.
Website: http://www.lonestar.edu/Nurse-Aide-Certificate.htm
Location: 14955 Northwest Freeway Houston, TX 77040
Tuition: $1,452 (financial aid may be available for eligible students).
Phone: (832) 813-6500
Pima Medical Institute
PMI is dedicated to healthcare education for over 45 years now and they aim to provide the best healthcare education possible. Instructors and professors are committed to provide students with the essential hands-on training expected by employers so that students are successful in this field. Pima Medical Institute is a trusted provider of high-quality education in the western United States. Graduates from this institute are respected and offered employment at preferred hospitals, clinics and other healthcare facilities in their communities. Students are encouraged to become a part of the Pima Medical Institute community as it promises that they will reach their goals and achieve their goal of becoming a healthcare professional.
The nurse aide training program is 6 weeks long and it provides students with 90 hours of classroom instruction and 40 hours externship training (130 hours total). The training program covers a wide range of subjects including infection control, communication skills, safety and emergency procedures, personal care skills, basic nursing skills and more. Upon successful completion of the program, students will be prepared for a rewarding career as a nursing assistant, a personal care assistant and several other careers. A nurse assistant's typical duties involve bathing, feeding and dressing patients and typical work environments include clinics, hospitals, long-term care facilities, retirement communities and more.
According to the Bureau of Labor Statistics (BLS), the overall employment of nursing assistants is estimated to grow 9% by 2028 and this percentage is faster than the average for all other occupations. Nursing assistants will be in higher demand as the population of the elderly rises.
Website: https://pmi.edu/programs/certificate/nursing-assistant-nurse-aide
Location: 10201 Katy Freeway Houston, TX 77024
Tuition: $1,624
Phone: (800) 477-7462
Chinese Community Center
The Chinese Community Center at Houston Community College funds an affordable nurse assistant training program to provide students with the skills to care for patients in a health care facility. The program focuses on the rights of patients, patient safety and the nursing assistant scope of practice. The training includes in-class and practical training at a lab or a long-term care facility. Class's meet every day of the week from 9am to 1pm. Graduates of this program are awarded with a certificate which qualifies them for the CNA Certification Exam. Registration requirements include a high school diploma or GED, a social security card, a valid driver's license, a background check, negative TB and immunizations, an entrance interview and a math & language assessment.
Website: https://ccchouston.org/foc/vocational-training/
Location: 9800Town Park Dr., Houston, TX 77036
Tuition: $170
Phone: (713) 271-6100
The Vocational Nursing Institute
The Vocational Nursing Institute Inc. is a small residence school as defined by Texas law. The school holds a Certificate of Approval from the Texas Workforce Commission to operate a private school and is approved to provide a Nurse Aide Training and competency evaluation Program by the Texas Department of Aging and Disability Services (TDADS).
The nursing assistant training program provides and trains students on a variety of essential skills and prepares them to use their skills and knowledge to give quality health care to their patients. Graduates from the nurse assistant program can gain employment in nursing homes, hospitals, clinics and long-term care facilities.
Website: http://www.vocationalnursinginstitute.com/NurseAidProgram.php
Location: 11201 Steeple Park Drive, Houston, TX 77065
Tuition: $995 (includes scrubs, state testing fee, name badge and externship rotation)
Phone: (832) 237-2525
Other CNA Centers in Houston
American Medical Institute
Located: 6902 Cook Road, Houston, TX 77072
Phone: (844) 921-4837
Brightwood College
Located: 711 East Airtex Drive Houston, TX 77073
Phone: (281) 443-8900
Texas Health School
Located: 11211 Katy Fwy, Suite 170, Houston, TX 77079
Phone: (713) 932-0313
CNA Training by City (Choose your City):
CNA Training Center Reviews
Houston Community College: HCC has a diverse student body, it offers a wide range of modern programs that include both theoretical knowledge and practical work. The tuition fees is low and affordable. The professors are amazing! They motivate and support students and assist them where they need. The campus is safe and its environment is clean. Students, staff and professors are all friendly and helpful. Classes are small so it is very easy to get the extra help when you need it. Houston Community College is awesome! It has allowed me to do more and achieve my career goals. Definitely recommended.
Lone Star College: The tuition at Lone Star College is low and affordable, and there are lots of resources available for students to use. Lone Star College is a very diverse school and lots of opportunities to make new friends. The professors are always ready to assist and so friendly too! There are also a couple of afterschool activities to participate in and that is a great way to meet new people. The campus is big and pretty. The small class sizes allow more one-on-one time with professors and students gain a better understanding of classroom concepts. There are many nice and quiet places where students can sit and study.
Pima Medical Institute: PMI has a very nice and calm atmosphere. The instructors are always available to assist students and they are willing to work with you and share advises. You get the hands-on experience that you need. The school offers financial aid to help students and the team is awesome! Pima Medical Institute recently moved to a new location and updated everything. The environment is professional, clean and very motivating. Students can easily get jobs and the service is excellent. The counselors are also great and very helpful.
Frequently Asked Questions
What is the payment method for CNA training? Students can pay 50% at registration and pay the remaining balance as indicated. Receipts must be shown to the instructor on the first day of class.
What do I need prior to enrolling to the program? A signed original social security card, a copy of completed required immunizations and a copy of criminal history background check.
What are the CNA admission requirements? Some of the admission requirements include:
Attending a mandatory CNA Information Session
Immunizations (chicken pox, hepatitis, measles, mumps, rubella, tetanus, flu vaccine and TB)
Criminal history background check
Must have a social security card
Must have a valid photo ID
Must be fluent in English (reading, writing, speaking and understanding)
Applicants must be free of communicable diseases and in suitable physical and mental health in order to be able to safely care for patients
Respect confidentiality of medical information.
How can I qualify for reciprocity? You can qualify for reciprocity if you are currently registered on the nurse aide registry in another state that is in compliance with applicable federal laws and you have completed the necessary documentation required by DADS.