The healthcare field is one of the fastest growing industries and in order to be successful, individuals consider joining one of these fields. Healthcare training centers aim to provide a high-quality and affordable education for those interested in getting certified in this field. Individuals training to become CNAs in Phoenix, Arizona, including other cities too will have to successfully complete a state-approved program and pass the state nurse aide examination. The state-approved programs comprise of minimum 75 hours of classroom training and clinical hours at a skilled nursing facility. The CNA training programs aim to provide students with the necessary skills and knowledge of the modern healthcare system which they can apply when caring for patients. Skills taught include patient assessments, first aid & CPR and communication skills. Upon successful completion of the program, graduates are qualified to sit for the state evaluation exam directed by D&S Diversified Technologies. Career opportunities for nurse assistants in Arizona are plenty and the job growth rate is also increasing. Therefore, considering becoming a Certified Nurse Assistant in Arizona is a wise career choice and it offers a promising future in the nursing field.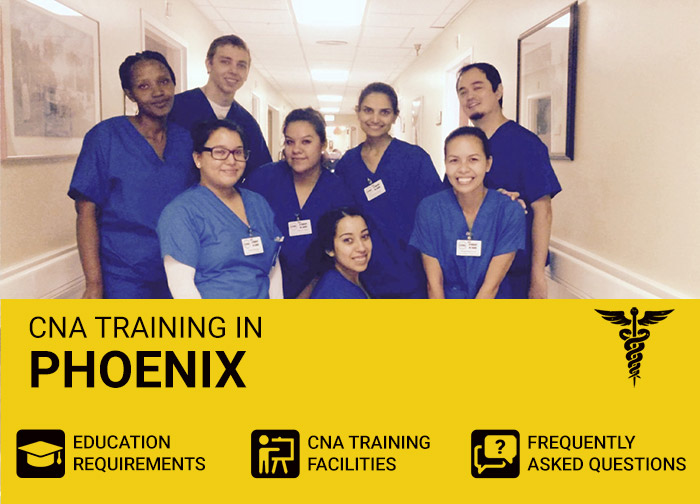 Accord Healthcare Institute
This training school aims to provide students with a solid foundation and various skills to make them successful and able to meet the work place demands. They focus on providing the best learning experience, giving each student an opportunity to prosper in each field of study.
Accord Institute offers a wide variety of training programs including EKG, Phlebotomy, Certified Nursing Assistant and Patient Care Technician. The Certified Nurse Assistant (CNA) program comprises of lecture classes where students learn about the role of a CNA, safety and infection control, the body systems and how to deal with patients' problems. The lab classes provide students with the opportunity to practice the skills that a CNA is required to have and later apply them at their workplace. Students also gain the opportunity to practice on a real patient once they have completed the course and are fully aware of all the necessary skills and knowledge. Finally, students will be qualified to take the Arizona Board of Nursing CNA examination.
Website: https://www.ahiphoenix.com/cna
Location: 3816 N 27th Avenue, Phoenix, AZ 85017
Tuition: $1,500 (average)
Phone: (602) 714-3439
Brookline College
The Medical Assistant Program is now 8 and a half months long and it trains students on how to assist physicians in examining and treating patients as well as carrying out routine office tasks. The hands-on training gives students an opportunity to practice the skills taught so that they're ready for employment after graduating. Programs offered include diplomas, associate degrees and bachelor's degree programs.
Brookline College also offers online training which is a convenient way of learning in the comfort of your home. Online classes are flexible and can even be done during the weekend at your own pace and instructors are also available to assist students whenever they require assistance.
Website: https://brooklinecollege.edu/medical-assistant-program/?location=Phoenix
Location: 2445 W Dunlap Ave #100, Phoenix, AZ 85021
Tuition: $85,000
Phone: (602) 242-6265
GateWay Community College
GateWay Community College is the first technical college in Arizona and it has built a legacy of innovation. The college offers over a 150 degree and certificate programs and other training options to fit your future goals and budget.
GateWay's nurse assisting program involves performing routine tasks in the general care hospital and clinic. Nurse assistants work directly under the supervision of registered nurses and they assist licensed staff in providing high quality patient care. Nursing assistants are very important to the healthcare team. Their typical daily duties include; bathing & dressing, helping patients with personal hygiene, feeding and transporting or moving patients.
The new advanced nurse assistant training program is a 2-credit class that prepares experienced individuals for the Certified Nurse Assistant exam. The program requires all students to attend an Information/Advising session that will provide them with detailed information and enrollment guidance. GateWay does not accept emailed applications, students must fill an application and receive a student ID before the Information session. Information sessions will be held in the CH building.
Website: https://www.gatewaycc.edu/nurse-assisting
Location: 108 N 40th Street, Phoenix, AZ 85034
Tuition: $2,046 for Arizona residents and $7,830 for out-of-state students.
Phone: (602) 286-8000
Paradise Valley Community College
The Certificate of Completion in Nurse Assisting prepares students for entry level employment in various healthcare settings as a nurse assistant. The program combines classroom instruction with lab experience sessions, skilled care and critical care experiences. Once students have successfully completed the program, they are qualified to take a written and practical certification exam and work as a Certified Nurse Assistant (CNA).
Applicants are required to attend an Information session, complete the application packet, submit a copy of the Level One Fingerprint Clearance card, submit a copy of the CPR card and obtain a background check. Full attendance is compulsory as the program is regulated by the state and federal government.
Website: https://www.paradisevalley.edu/programs/nursing/nurse-assisting
Location: Union Hills, 18401 N. 32nd Street Phoenix, AZ 85032
Tuition: $2,046 for in-state students and $7,830 for out-of-state
Phone: (602) 787-7862
Phoenix College
Phoenix College was founded in 1920. It is a diverse college with a vision to transform and provide more opportunities for the youth. Phoenix College serves approximately 17,000 students each year and offers over 150 degree and certificate programs. Phoenix College is determined to provide a valuable and affordable education and community service opportunities too. Phoenix College is not just a school but a part of the community too!
Phoenix College offers a prerequisite course for students planning to earn the Bachelor of Science in Nursing. The AAS in Nursing provides clinical experiences in various healthcare centers including hospitals and clinics. Once students graduate, they are qualified to apply for the national exam and receive the RN license. The program is approved by the Arizona State Board of Nursing and accredited by the Accreditation Commission for Education in Nursing (ACEN).
Website: https://phoenixcollege.edu/programs/nursing
Location: 3700 N 3rd Ave, Phoenix, AZ 85013
Tuition: $6,364
Phone: (602) 532-8605
Other CNA Training Centers in Phoenix
Star Canyon School of Nursing
Located: 8900 N Central Ave #107, Phoenix, AZ 85020
Phone: (602) 935-6628
CollegeAmerica
Located: 9801 N Metro Pkwy E, Phoenix, AZ 85051
Phone: (602) 257-7522
Phoenix Job Corps Center
Located: 518 S 3rd Street, Phoenix, AZ 85004
Phone: (602) 254-5921
Allen School of Health Sciences
Located: 15650 N Black Canyon Hwy #210, Phoenix, AZ 85053
Phone: (623) 385-8150
UEI College – Phoenix
Located: 9215 N Black Canyon Hwy, Phoenix, AZ 85021
Phone: (623) 226-7300
CNA Training by City (Choose your City):
CNA Training Center Reviews
Brookline College – The staff are wonderful people, always willing to help out. At this college, there are various opportunities to meet new people and engage with them, the professors are also very supportive and are always motivating students to work hard and be successful. I enjoy the hands-on training. My experience at this school has been very fruitful and I have reached the best of my abilities. I greatly recommend going to Brookline College for an outstanding experience!
GateWay Community College – Everyone at this school is so friendly and helpful, the advisors, the professors, the staff and other students. GateWay is a very welcoming place and a great place to begin a new career! They know how exhausting the courses can be and when you're still tired in the morning but have to head to class, you can count on the nutrition bars and water bottles to keep you refreshed! The environment ensures safety with security guards always on their rounds. The teachers are very helpful and ensure you have understood what is being taught, and if you haven't understood the class, they will explain until it is well understood. There is a community that students can be a part of and it is very important. I highly recommend GateWay Community College!
Phoenix College – Staff are friendly, welcoming and very helpful! Professors are amazing, they really go all out on helping students achieve their goals and being successful. Phoenix College has opened many doors of opportunities for me and I am very glad that I attended this school. It is like a second home with a wide variety of opportunities and activities for students. Everyone encourages you to give your best and there are even resources available for you to do your best! The college offers tutoring facilities to help students with homework and areas where they need help. There is also a great number of events taking place in the campus which is a great way to involve students and make new friends. I've had an amazing experience so far and I love the college just the way it is!
Frequently Asked Questions (FAQs)
Can I become a CNA online? Yes, there are flexible Certified Nursing Assistant programs available online and it requires applicants to be at least 16 years or older.
What is the fastest way to become a CNA? These are some tips to become a CNA faster:
Start preparing in high school, it is a wise idea to take as many healthcare classes as possible.
Obtain a diploma or GED
Complete a CNA Training Certification program
Sit and pass the certification exam
Once you receive your certification, you can start applying for jobs.
How long is schooling for CNAs? Most certified nursing assistant programs usually take about 4-12 weeks. This is divided into classroom sessions and practical sessions.
How many times can one retake the CNA exam? Most states allow you to retake the exam up to three times within two years of completing your CNA training. If you fail both the written and the practical skills section, you will be allowed to retake both areas.