The growing demand for Certified Nurse Assistants due to the increasing population of the elderly has a high turnover rate in the industry, 20% increase in CNA jobs. Nurse assistant training programs aim to equip students with the necessary skills and knowledge to provide the best quality healthcare for their patients/clients at nursing homes, hospitals, clinics, assisted living centers, rehabilitation centers and other long term care facilities. CNAs work directly under Registered Nurses (RN) and physicians. Their roles require them to assist patients with daily basic activities such as bathing and feeding them. CNAs also assist with other duties including checking vital signs, stocking supplies, talking with patients and keeping them company etc. The state of Albuquerque has various schools offering approved Certified Nurse Assistant training programs. Let's look at some of them below.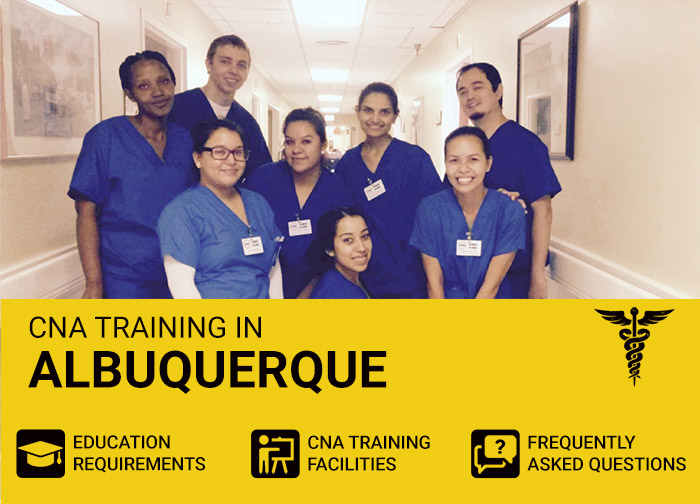 American Red Cross
The American Red Cross in New Mexico serves approximately 2 million people across the state. Nurse assistants are a vital part of the medical team and considering a career as a CNA is a wise career choice and greatly rewarding too. The program provides individuals with necessary information and experience required to work in the industry and provide quality care for patients and residents at hospitals, nursing homes and other long term healthcare facilities. The program emphasizes on classroom instruction and hands-on training in order to prepare students both for the state's CNA certification exam and for the healthcare field. The American Red Cross offers one of the best CNA programs in the industry. The course curriculum provides 114 hours of classroom instruction and hands on training. Topics covered in the curriculum include infection control, effective communication skills, the art of caregiving, workplace safety and how to take vital signs. On successful completion of the training program, students will be eligible to sit for the certification exam.
Website: https://www.redcross.org/local/arizona-new-mexico-el-paso.html
Location: 2121 Osuna Rd NE, Albuquerque, NM 87113
Tuition: $1,300
Phone: (505) 265-8514
Brookline College
Brookline College is more than just a school. It is like home where you make great friends and it's where you take risks and become a better person. The college has provided quality programs for about 40 years now and offers various program options including Certified Nurse Assistant training (Patient Care Technician program).
The nurse assistant training program meets the requirements outlined by the Board of Nursing. The program is 146 hours (total) and it covers classroom instruction, lab and clinical rotation. Applicants to this program are required to have a high school diploma, pass TB and drug tests, provide documentation of MMR, Hepatitis B and Varicella immunization and pass a criminal background check. The training prepares students to pass the state's nurse aide competency exam which students can sit for upon successful completion of the training program.
Website: https://brooklinecollege.edu/
Location: 4201 Central Avenue N.W. Suite J, Albuquerque, NM 87105-1649
Tuition: $995
Phone: (505) 880-2877
Central New Mexico Community College
The nursing assistant training program can be completed in just one semester! Applicants to the program must pass a criminal background check and meet the physical requirements to gain entry into the program. It is a great opportunity for individuals to gain experience in their field of interest. The course covers classroom instruction and skills practice in a lab setting. The course emphasizes on the roles and responsibilities of a Nursing Assistant. It provides instruction in infection control, patient rights, effective communication skills, nutrition, safety and care of the older person. The course's clinical component of the program provides students an opportunity to practice patient care in a long term care setting. Successful completion of the program qualifies students to take the state's certification exam.
Website: https://www.cnm.edu/programs-of-study/programs-a-z/nursing-assistant
Location: 525 Buena Vista Se, Albuquerque, NM 87106
Tuition: $1,310
Phone: (505) 224-3000
Pima Medical Institute
For over 45 years, PMI is committed to providing high quality education in order to prepare students to become the best healthcare professionals. The instructors and staff at PMI are dedicated to provide the best quality education and hands-on training that employers expect so that students may achieve their career goals and become successful. Students who attend Pima Medical Institute are highly respected and are often employed at preferred hospitals and clinics in their community. PMI encourages students to be a part of their community and assures students' success.
PMI's Nurse Assistant training program trains students and equips them with a variety of essential skills including how to assist patients with safety and emergency procedures, checking up on patients and reporting to the nursing staff, effective communication and interpersonal skills etc. The program is 6 weeks long, 130 total hours of classroom instruction and hands on training. During skills lab, students demonstrate the skills taught under supervision of course facilitators in order to be able to apply them in the field. During the classroom instruction, students are taught the roles and duties of nurse assistants, basic nursing skills, law and ethics, feeding and nutrition etc. Upon successful completion of the program, students are prepared for careers as nursing assistants, home health aides, caregiver, personal care aide and others.
Website: https://pmi.edu/programs/certificate/nursing-assistant-nurse-aide
Location: 4400 Cutler Ave NE, Albuquerque, NM 87110
Tuition: $1,520 (includes the textbook and uniform)
Phone: (800) 477-7462
Princeton Place
Princeton Place is a skilled nursing facility where the residents and faculty are all one family! Their skilled team works hard and is dedicated to provide the best quality healthcare for their residents. Princeton Place has been serving the Albuquerque community for 30+ years and aims to continue offering peace and quiet among the community. The place offers various social activities daily, a therapy gym, delicious home cooked meals and several other activities.
Princeton Place has been approved by the U.S. New Mexico licensing board to offer CNA training. The course is 75 hours and covers 16 hours of classroom instruction and 16 hours of hands-on training (minimum). The course curriculum includes keeping medical records, protecting resident rights, CPR, maintaining a clean environment for the residents and proper communication with disabled patients. Applicants are required to provide proof of a high school diploma or GED, two fingerprint cards, a clear criminal background check, a negative TB test within the last 6 months and proof of immunizations. After successful completion of the CNA Certificate program, students are required to sit for and pass the state exam.
Website: https://princetonplacenm.com/
Location: 500 Louisiana Blvd NE, Albuquerque, NM 87108
Tuition: $95 for the exam
Phone: (505) 255-1717
CNA Training by City (Choose your City):
Other CNA Training Centers in Albuquerque
Albuquerque Public Schools (Career Enrichment Center)
Located: 807 Mountain Road NE, Albuquerque, NM 87102
Phone: (505) 247-3658
Manzano Del Sol
Located: 5201 Roma NE, Albuquerque, NM 87108
Phone: (505) 262-2311
CNA Training Center Reviews
American Red Cross
Flexible and convenient class hours which is of great benefit for working students. Great teachers, professional and dedicated to assist students in every way possible. Good emphasis on hands-on training and academic learning. Using a combination of video, lectures and hands-on training, the American Red Cross offers one of the best CNA training programs in the industry. Small class sizes, classes near public transportation and licensed instructors with professional experience.
Central New Mexico Community College
Every professor has been great, helpful and genuinely concerned about the success of their students. The main campus is beautiful and large with lots to do including yoga. There is free tutoring which is of great benefit to students. The student life and diversity encourages and motivates me to go to class and work to my level best. I've also had the opportunity to make lots of new friends and relations. The college also provides financial assistance and helps students with academics too. The admission process is so smooth and effortless, the staff are so friendly and willing to help you out with anything. High quality learning, easy navigation around the campus and reasonable cost. I've had a wonderful experience here and would recommend this college to incoming students.
Pima Medical Institute (PMI)
I love Pima Medical Institute! The hands-on training, the awesome instructors, the staff and even my classmates. The staff are committed to assist students and ensure their success. The instructors are professional and have unique teaching methods. They provide students with all the knowledge and skills they need to obtain their career goals. Pima Medical also helps students with finding a job, writing a resume and cover letters too. The enrollment process is quick and smooth. Flexible and convenient class hours. The environment is positive and beautiful, it motivates students to work hard towards success.
Frequently Asked Questions
Where can I work as a CNA? Most Certified Nurse Assistants work in long-term care where there is high demand for CNAs. CNAs may work at hospitals, clinics, rehabilitation centers, nursing homes and even schools.
How can I confirm that my CNA Certification is still valid? You can call or visit the office to inquire, a representative will check for your current status with your name, date of birth and certificate number. You may be required to show a photo ID as proof of your identity.
How do I get free CNA training? Free CNA is usually available through nursing facilities or local Job Corps. The American Red Cross offers scholarship opportunities that students can apply for.
What is the median Certified Nurse Assistant salary? The salary for CNAs is one of the highest for health related careers. The average annual salary of a nursing assistant is approximately $24,000.
What is the importance of CNA Certification? The reasons why CNA certification is important include;
It provides a sense of relief for people who are already stressed out or traumatized because of the situation they are in.
The CNA certification adds the idea of responsibility for the certified nursing assistant as well as for the patients.
It proves to the society and assures that the person caring for them or a loved one is professionally trained for the position.