The demand for Certified Nurse Assistants is high and is expected to grow 21% by 2021. This growth percentage is faster than all other occupations due to the increase in the population of the elderly, many nursing assistants will be needed in long-term care facilities. That means that if you're a CNA, we need YOU! If you're considering training to become a CNA, Chicago needs you too! The CNA career is a promising one, offering job growth, job stability and a decent pay!
Chicago Community Learning Center
Chicago Community Learning Center (CCLC) aims to assist individuals to become independent through career-focused professional training. The CCLC creates an environment that cares for the students and facilitates strong educational results. It provides career-oriented and certified training programs with its main focus on healthcare. The center aims to provide graduates with the essential skills and training in order to be the best healthcare professionals.
The nurse aide program is 8 weeks long and it comprises of 100 hours of theory and 40 hours clinical training. The Certificate program prepares students for employment in hospitals and in long-term facilities where basic bedside nursing care is required. Topics covered in the theory portion includes an introduction to healthcare, infection control, basic nursing skills, body structure and function etc. Clinical activities take place under the supervision of an instructor.
In order to be able to work in the state of Illinois, students must pass the Illinois State Certification Exam for Nursing Aide.
Website: https://cclctraining.org/
Location: Thorek Hospital Professional Building, 840 W. Irving Park Road, Suite 203 Chicago, IL 60613
Tuition: $1,635
Phone: 773-506-1503
First Step to Excellence Healthcare Training Academy, Ltd
FSTE is devoted to providing its students with quality education and skills, allowing them to become proficient healthcare deliverer. FSTE is committed to ideal educational standards which support a curriculum initiated in critical thinking, problem-solving skills and creativity. The curriculum is designed to enable students to signify personal accountability based on self-development and evaluation, values of respect and caring along with a dedication to the healthcare profession.
The Certified Nurse Assistant Training program is a study of principles and procedures used by nurse assistants in long-term care, hospital and home health care settings. The course is 6 weeks long and involves a total of 120 training hours; 80 hours theory and 40 hours clinical training. Through lectures, role plays and various methods, students receive the skills and knowledge required to care for patients in hospitals, nursing homes and other healthcare facilities. Upon successful completion of all program requirements, students will be qualified to take the Illinois Nurse Aide Competency Examination conducted by the Southern Illinois University of Carbondale. Students will also receive a certification from FSTE in Chicago, Illinois.
Website: http://www.fsteacademy.education/nursing-training
Location: 1639 E 87th St, Chicago, IL 60617
Tuition: $950 (including registration fee and course fees).
Phone: 773-437-5003
International Career Institute (ICI)
International Career Institute provides students with the necessary knowledge and skills required to succeed in the healthcare field. ICI aims to provide an environment that promotes a motivating learning experience. ICI provides the opportunity for students to learn in a setting that caters to their needs and provides all the essential tools for students' success.
The CNA training program aims to provide students with access to real CNA experiences. The CNA program offers classroom instruction that includes lectures, live demonstrations and practical applications. It is a 120 hour course divided into 80 hours of theory and 40 hours of clinical experience. Applicants to this program will be instructed on how to perform basic Nursing Assistant procedures in a healthcare setting, they will be prepared for employment in this field and completion of the course will qualify students to take the Illinois state written examination for Nursing Assistants.
The course also covers several other essential skills such as communication skills, personal care skills, mental health & social services and demonstrating behavior that maintains clients' rights. Some other topics include; medical terminology, infection control, CPR certification (emergencies) and patient care (bathing, dressing, feeding, oral care etc.).
Website: https://www.ici-training.com/cna-course-outline
Location: 6425 N. Hamlinave, Lincolnwood, IL 60712
Tuition: $295 (including application fee, ID card, CNA uniform, nursing kit and practical lab fee)
Phone: 847-920-6129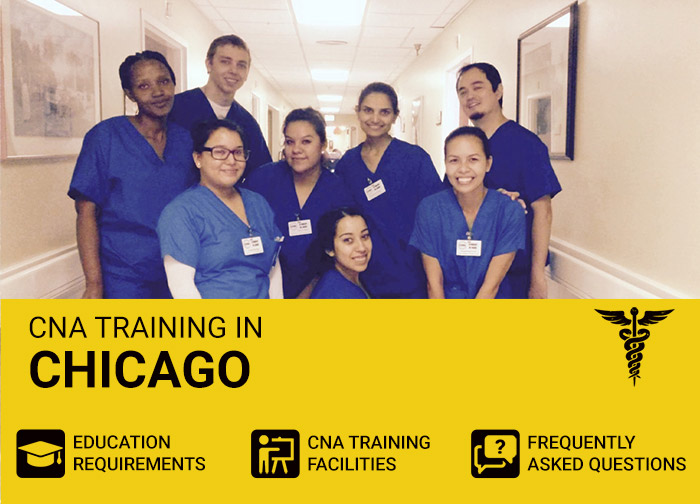 Midwestern Career College
Midwestern Career College offers a Medical Assisting program which aims to prepare students for entry-level employment in the medical field. The students are trained and provided with multiple skills enabling them to work as medical assistants and office assistants at clinics, hospitals and doctor's offices.
Students receive classroom instruction and hands-on training. The course aims to provide knowledge and training in anatomy and physiology of the body structures, knowledge of several diseases and how to perform routine clinical procedures, preparing patients and helping physicians in minor procedures performed in clinics, providing patient care according to laws and regulations etc.
According to the Bureau of Labor Statistics (BLS), employment for medical assistants is expected to grow by 29% by 2026 and the BLS also has information on career outlook for medical assistants.
Website: https://mccollege.edu/healthcare-programs/medical-assisting-diploma-dma/
Location: 100 S. Wacker Dr. LL1-50/203 N. LaSalle, S Wacker Dr, Chicago, IL 60606
Tuition: 18,060
Phone: (312) 236-9000
The Nirvana Institute
The Nirvana Institute Inc. was formed in 2011 and is committed to educate the community and provide skills, knowledge and quality healthcare training. The idea of the Nirvana Institute is that every individual deserves high-quality healthcare regardless of their age, race, religion or gender. The Nirvana Institute was formed to assist students with career goals and prepare them to meet the challenges of the future in healthcare. The Nirvana Institute Inc. aims to create a culture of education, empowerment, and success for all students.
The Basic Nursing Assistant Training Program combines classroom instruction and clinical training. The program provides 120 hours of training and this is divided into 80 hours of theory and 40 hours of clinical experience. The Nirvana Institute Inc. will prepare students with the skills, education and experience needed for proficient and quality healthcare in a variety of settings. The training is 5 weeks long and includes lectures, manual skills and supervised clinical experiences at a healthcare facility. Successful completion of the program qualifies students to take the state certification examination.
Website: https://thenirvanainstitute.org/cna/
Location: 2201 W Madison St, Chicago, IL 60612
Tuition: 1,050 (includes books and uniform)
Phone: 773-675-4000
TTI Medical Training School
TTI has been providing students with the best training for over 13 years and this training helps students to get started and achieve their goals toward a rewarding medical career. The school offers a wide range of medical certification courses and educational advices as well. TTI offers a total of 12 courses including Basic Nursing Assistant, EKG Technician, Phlebotomy Technician and Patient care Technician. All courses require applicants to provide a high school diploma or GED, a background check and completion of physical examinations. These courses offered are approved by various major education organizations and instructors are highly-qualified professionals who aim to share their knowledge and skills using creative teaching techniques to help students become certified in their field of choice. Class schedules are flexible and class sizes are small to allow personal attention and assistance.
The Basic Nursing Assistant (CNA) program prepares students for Illinois CNA Certification. The program aims to provide students with nursing theory and lab experiences to work as a CNA in various healthcare settings. Successful completion of the course will qualify students to work as CNAs and some of a CNA's job responsibilities include; assisting patients with personal hygiene, mobility (transferring and positioning), patient assessments, safety and environmental cleanliness etc.
Website: https://ttimedicalschool.com/programs/basic-nursing-assistant
Location: 5310 N. Harlem Ave., Suite 209, Chicago, IL 60656
Tuition: 1,915 (including registration fees, books, course fees and exam fees)
Phone: 773-774-2222
Other CNA Training Centers in Chicago
Career Training Center
Located: 3525 W Peterson Ave T21, Chicago, IL 60659
Phone: 773-583-8532
Rene's School of Careers
Located: 10329 S Western Ave, Chicago, IL 60643
Phone: 773-233-7400
Verve College
Located: 216 W Jackson Blvd Suite 900, Chicago, IL 60606
Phone: 312-920-8822
CNA Training Center Reviews
Chicago Community Learning Center: CCLC has a good combination of classroom instruction and hands-on training. They also help provide job placement after successful completion of the course. The staff and faculty are nice and very helpful throughout the program. Class hours are flexible and teachers very supportive, they ensure that the lesson is understood and even repeat it if you're still confused. The environment is positive and fellow students around are friendly and helpful too. The tuition is affordable and the education provided is totally worth the money! I enjoyed my time spent at CCLC because I was focused on my bigger goal.
International Career Institute (ICI): Needah Patel says, "ICI is a bit far from where I stay but the commute is worth as the program is flexible with my schedule. The instructor has a way of making learning fun and is constantly livening the class by telling stories relating to class topics".
"I've had a great experience here overall, flexible scheduling for classes, great place to learn the responsibilities of a nursing assistant. I highly recommend this institute for the CNA program, the program is very informative, affordable and fast but at a comfortable pace" says Jean Carlos.
TTI Medical Training School: The instructors at TTI are probably the best you could get in this field! Ms. B has a passion that prepares students for the state exam. Staff and teachers are all great. They also provide tutoring for students who need extra support and they can even help fix studying into your schedule if you're busy working full time. The staff and instructors are constantly advising and guiding students, making sure you are provided with the necessary tools to succeed in your career in the medical field. "I definitely recommend TTI! It is my favorite school!" says Ridwan.
CNA Training by City (Choose your City):
Frequently Asked Questions
How many students are in a CNA class? Usually between 10 and 30 depending on the number of applicants for the semester.
How long is CNA certificate good for? A CNA license is valid for 2 years from the issue date.
Can I work as a CNA without being certified? Nurse assistants become certified aftersuccessfully completing a training program and passing a state certification exam.Without certification, you may still get a job but most of these jobs do not involve the basic medical care that is part of a CNA's job.
Can I do CNA classes online? CNA online training is offered as a hybrid option and in-person clinical training. Community colleges mostly offer accredited online CNA classes. These classes can be trusted with teaching requirements that meet the state's respective health and nursing standards.