Nursing Assistant or Certified Nurse Assistants (CNAs) are careers with high numbers of growth openings and currently certified nurse aides are in high demand across the world including Kansas City. The need for CNAs is expected to increase as the population of the elderly grows and their healthcare needs increase. Individuals interested in training as CNAs will be required to apply to an approved training program and follow its guidelines. Applicants may need to show proof of a high school diploma or an equivalent, provide a valid photo ID and provide record of immunizations. The CNA training program focuses on preparing students for the state certification exam and for the workforce. CNA is a rewarding career and Kansas City offers various opportunities for nurse assistants.
American Red Cross
The American Red Cross offers various programs including a Nurse Assistant program which provides individuals with the essential skills and knowledge needed in order to serve patients with care and compassion in long-term healthcare facilities such as nursing homes or hospitals. The Red Cross CNA classes are offered as day courses and focuses on hands-on learning under direction of professional instructors. The course curriculum combines classroom instruction and clinical rotations where students work directly with patients in a healthcare facility and have the opportunity to demonstrate their skills and knowledge.
The various topics covered in the course include; CPR/First Aid, infection control, checking vital signs, communication skills, workplace safety, teamwork and several others. Within 4-8 weeks of training, students will be ready to sit for the certification exam. Successful completion of the CNA exam lists students on the Nurse Aide Registry and career opportunities are many.
Website: https://www.redcross.org/take-a-class
Location: 6601 Winchester Ave, Kansas City, MO 64133
Tuition: $1,300 (average)
Phone: (816) 931-8400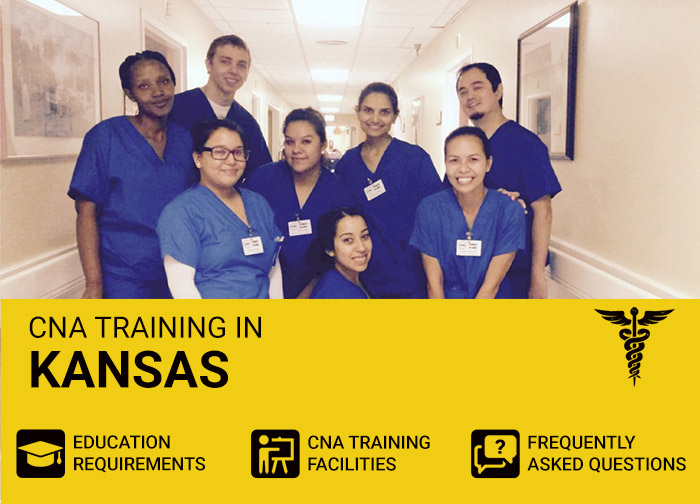 Manual Career Tech Center
Manual Career Tech Center (MCTC) was established in the late 1800s and offers a wide range of programs including Automotive Technology, Construction Technology, Emergency Medical Technician (EMT), Health Science and Water Management. The programs aim to prepare students to become highly educated workers or to advance further into their career of choice.
The training program provides students with the knowledge and skills required to successfully complete the state certification exam and for success in the workplace. The essential topics covered in the curriculum include; physiology and human anatomy, medical terminology, infection control, human growth and development, communication skills, interpersonal skills and much more! During the clinical experience, students work directly under professional staff providing care and emotional support to patients and residents in hospitals, nursing homes and other long term care facilities. Successful completion of the training program qualifies students for the state certification exam and for employment.
Website: https://www.kcpublicschools.org/mctc
Location: 1215 E Truman Rd, Kansas City, MO 64106
Tuition: $1,000 (average)
Phone: (816) 418-5200
Medical Education Development & Support Inc. (MEDS)
MEDS aims to offer individuals quality education at affordable rates in order to be able to train and provide quality patient care for residents or patients at nursing homes, hospitals, rehabilitation centers and other long-term healthcare facilities. By enhancing lives through quality education, MEDS will exceed the expectations of the healthcare industry and the students. Admission into the CNA program requires; applicants to be at least 18 years old, applicants to provide a copy of a valid social security card or work permit at the time of registration, provide a copy of 2 negative TB skin tests and 1 negative TB blood test, a clear criminal background, achieve a minimum score of 75% on a basic 8th grade reading test and have reliable transportation and dependable child care.
The CNA program is a combination of classroom instruction (75 hours) and hands-on training (100 hours). Students will gain the knowledge and skills required for the rapidly growing industry. Instructors provide training on basic nursing skills, demonstrations and presentations. This 8-week course will prepare students for a rewarding career and for the state certification exam as well. The course curriculum covers a variety of skills including transfers, bathing and grooming, feeding and nutrition, observation and documentation, infection control etc.
Website: https://medskc.com/certified-nurse-assistant-cna/
Location: 1425 S. Noland Road, Independence, MO 64055
Tuition: $1,100
Phone: (816) 373-6337
Metropolitan Community College
Metropolitan Community College (MCC) is dedicated to serving the educational needs of the community. The college offers a wide range of programs that aim to help students understand their goals and understand the society which they are a part of. MCC provides a lot of opportunities for students to grow and develop occupational skills. The staff and professors work together to ensure students are achieving their career goals and encourage career advancement. MCC has a mission to prepare students, serve communities and create opportunities. Metropolitan Community College is a high-performing institution that focuses on encouraging lifelong learning, affordable training and motivate students to achieve success.
The nursing assistant program at MCC prepares students for the nurse aide state examination and for the workplace. Admission to the program requires that all students are at least 18 years of age, a valid social security number and a government issued ID. Applicants are also required to provide TB skin test results and a letter from the Missouri Department of Health and Senior Services (DHSS) confirming registration on the Family Care Safety Registry. The training program covers 75 hours of classroom training and 100 hours of clinical training at an approved healthcare facility. Topics covered in the program include infection control, checking vital signs, communication skills, interpersonal skills, lifting/transferring or moving patients and much more!
Website: http://www.mcckc.edu/
Location: 3200 Broadway Blvd, Kansas City, MO 64111
Tuition: $1,040
Phone: (816) 604-1000
Other CNA Training Centers
These Certified Nurse Assistant training centers are couple of miles from Kansas City.
Excelsior Springs Job Corps Center
Located: 701 St. Louis Ave, Excelsior Springs, MO 64024
Phone: (816) 629-3111
Golden Living Centers – Smithville
Located: 106 Hospital Dr, Smithville, MO 64089
Phone: (816) 873-0018
Online CNA Training – Kansas
Online Certified Nurse Assistant classes aim to provide students with an opportunity to gain a quality education in the comfort of their homes. Online courses are self-paced and flexible, ideal for working individuals. Applicants are required to ensure that the online program is approved by the state's certifying agency and that they will receive the certification upon successful completion.
Online classes can be taken anywhere as long as you have a reliable internet connection. The instructor shares videos, lecture notes and practice tests for you to use and revise. Online classes are quite effective and less expensive too. The course comprises of 90 hours of theory work and 45 hours of clinical training for which you will be required to communicate with your school and set a time in your schedule.
Metropolitan Community College in Kansas offers online CNA training. The course includes everything taught in-campus; communication skills, infection control, checking vital signs, bathing and grooming, feeding and nutrition etc. You can find out more about the online program on this website: http://www.mcckc.edu/ or visit the school for more information and better guidance.
CNA Training Center Reviews
American Red Cross
Flexible class hours which is very convenient especially for working individuals. There's positive vibes everywhere! Staff, professors and even fellow classmates are very friendly and supportive. Lots of opportunities that have helped me grow. Great combination of classroom training (theory) and practical learning. Professional and experienced instructors with unique teaching methods. Plenty of resources and equipment available for students to use. Reasonable class sizes, one-on-one interaction with instructors. Affordable tuition and totally worth the quality of education provided. Excellent career services, graduates can easily get a job. Overall, amazing experience and I'm glad that I took my training here. I would definitely recommend this program to friends, family, relatives, peers and anyone interested.
Metropolitan Community College
Good hands-on learning and theory sessions. The course provides the opportunity to learn lots of new and exciting things including how to save someone's life. Positive atmosphere, motivates you to work hard and achieve your goals. Amazing teachers, they genuinely care about the success of students and assist them as much as possible. Helpful career services and advisors, great career preparation. Affordable tuition. Diverse group of students, there are students of different ages and genders. Safety and security at campus. Small class sizes allow for more one-on-one interaction with professors. Top quality education. The classes are interactive and very interesting. I've had the chance to make so many new friends and relations. Yes, I would recommend this college's programs to all!
Frequently Asked Questions
Does Kansas have reciprocity for CNA license?
Kansas offers nursing assistants certification reciprocity with some states, not all. You will be required to pass the CNA exam with at least 75% in order to be able to transfer your license.
How long does it take to get a Kansas nursing license?
You will need to successfully complete an approved training program in Kansas to be able to get your license. It takes about 2-4 weeks.
Can you work as a CNA at 16?
Some states allow 16 year olds under parental consent but in most states, you need to be at least 18 years old. You will be required to show proof of a high school diploma or equivalent. You will need to complete an approved (4-12 week) training program in order to be able to work as a CNA.
How long is a CNA license good for in Kansas?
CNA certifications in Kansas must be reviewed every two years. In order to renew your license, you will be required to complete at least 12 hours of continuing education and then go to the Department of Aging and Disability website to renew your license.
CNA Training by City (Choose your City):