Certified Nurse Assistants (CNAs) are in great demand in California and considering a career as a CNA is an ideal foundation for a rewarding career in nursing. CNAs typically assist physicians and Registered Nurses (RN) with daily routine tasks such as helping to feed or dress patients at hospitals, nursing homes or other long-term healthcare facilities. In order to become a Certified Nurse Assistant in California, individuals must enroll in and successfully complete a state-approved training program. Upon successful completion of the training program, students will be qualified to take the nurse aide competency exam for a position on the California Nurse Aide Registry. Below is a list of approved CNA training centers in Fresno City.
Central Learning Adult School Site
Central Learning Adult School Site (CLASS) has a vision that every student is prepared for success in college, career and community. This training center focuses on innovation and continuous improvement. It aims to provide the best quality training in order to best prepare students for the field. Students will learn using various resources and equipment to enhance learning and this motivates students to work hard toward their career goal.
The Nursing Assistant program prepares students to take the state board exam to become a Certified Nurse Assistant (CNA). Applicants are required to first complete the Jobs First class which is 5 weeks in length and includes training in workplace ethics, interview preparation, resume writing and dressing. Upon completion of the Jobs First training, students can enroll in the 6-week nursing assistant training program which prepares them for the state certification exam. The program consists of academic learning (theory) which is 2 weeks and hands-on experience during the final four weeks of training at an approved nursing facility. Applicants must attend training and registration. The course requires students to submit copies of a photo ID and social security cards.
Website: https://cl.centralunified.org/
Location: 2698 N Brawley, Fresno, CA 93722
Tuition: $170 plus an additional $65 for the textbook.
Phone: (559) 276-5230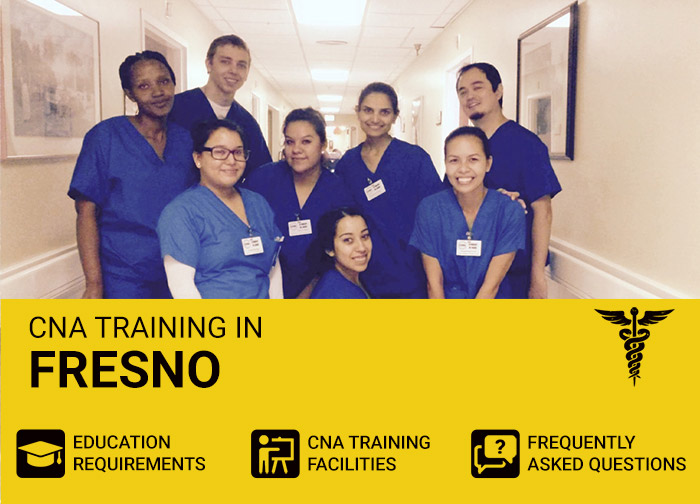 Clovis Adult Education
Clovis Adult Education aims to offer lifelong educational opportunities and services by providing various certificate and degree programs including a Certified Nurse Assistant training program. All the teachers are certified through the State of California or are experienced in their respective fields. The Nurse Assistant program requires applicants to be aged 18 or older, pass the Level A TABE Placement tests at 8.0 or higher, have a valid government issued ID and submit a Nurse Assistant Application to the Nursing Department.
The Nurse Assistant program is based on first come first serve basis. It is a 14-week program which consists of classroom instruction and clinical experience. Topics covered in the program include resident care skills, checking vital signs, nutrition, emergency procedures and many more. Classes are available in the morning hours and evening hours. Upon successful completion of the training program, students are eligible to take the state competency exam for State Certification.
Website: https://clovisadult.cusd.com/NursingAssistantProgram.aspx
Location: 1452 David E Cook Way, Clovis, CA 93611
Tuition: $1,000 (excluding additional costs and the state exam fee)
Phone: (559) 327-2800
Fresno Adult School
Fresno Adult School aims to provide all students with access to high quality options and a wide variety of activities to build their confidence and skills. The school wishes to see students achieve their best and advance in their career. Contributions from parents, staff, students and the community are valuable to the school and the school aims to initiate a collaborative relationship with families. Applicants to the CNA program are required to be at least 18 years of age, show proof of a high school diploma or GED, minimum TABE score Level A 9.0 in all four subjects and completed Computers in the Workplace. Students must also pass a background check and provide a valid state photo ID.
The Certified Nurse Assistant (CNA) program prepares students for the state certification exam. Skills taught include assisting with bathing, grooming and dressing patients. The course curriculum combines theory, skills and clinical training at an approved nursing facility. Pre-requisites to the course include CTE orientation and placement test.
Website: http://www.fas.edu/health-pathways/#cna
Location: 2500 E. Stanislaus St, Fresno, CA 93721
Tuition: ranges from $355-$1,000
Phone: (559) 457-6002
Nursing Assistant Training Academy of Fresno, LLC
The nursing assistant program requirements include;
Applicants must be at least 16 years of age in the state of California and must submit an application before the first day of class.
Proof of a high school diploma or GED is preferred.
Applicants are required to present a California ID and social security card upon submitting the application.
A Live Scan – a clear criminal background
TB skin test 90 days prior to the date of the first clinical practice session
A physical examination
Students are required to be able to read and write English
All students must attend a mandatory orientation prior to beginning the classes.
The basic Certified Nurse Assistant training program can be completed in just 30 days! It focuses on providing students with the essential knowledge, skills and experience to be able to offer high quality healthcare to patients or residents at hospitals, nursing homes and other long term healthcare facilities. Nursing assistants usually work alongside qualified healthcare professionals such as physicians, Registered Nurses (RN) and Licensed Practical Nurses (LPN). The program consists of classroom instruction and practical lab sessions. The course prepares students to sit for California's State Board Exam. The course is offered in evening classes and weekend classes too. Successful completion of the state exam qualifies students as nurse assistants throughout the state of California.
Website: https://www.cnacademy.com/
Location: 3636 N. First Street, Suite 129, Fresno, CA 93726
Tuition: $950
Phone: (559) 917-6121
WestMed College
The requirements to admit into the CNA program at WestMed College include; a high school diploma or an equivalent, passing a criminal background check, drug screening and a TB skin test. Students are also required to attend all classes in order to graduate and receive the certification of completion.
The Certified Nursing Assistant training program is a 6-week program consisting of 16 unit modules. The topics and skills covered in the program aim to equip students for entry-level work in various healthcare settings like hospitals, nursing homes, clinics, rehabilitation centers and other long-term healthcare facilities. The training program also prepares students for the California Certification Exam. Individuals enrolled in this program are required to be prepared for the combined classroom instruction and hands-on training. They will cover various skills and concepts which will prepare them for the demands of employees in this field.
Location: 20 E. River Park Place West Fresno, CA 93720
Tuition: ranges from $500-$1,000
Phone: (559) 256-4980
Other CNA Training Centers in Fresno
California Institute of Medical Science
Located: 1175 Shaw Ave, Suite 103, Clovis, CA 93612
Phone: (559) 490-3911
Fresno City College Health Science Building
Located: 1101 E. University Ave, Fresno, CA 93741
Phone: (559) 244-2604
Golden Living Training Center
Located: 650 W Alluvial Ave, Fresno, CA 93711
Phone: (559) 430-3901
CNA Classes Online
Online Certified Nurse Assistant programs cover all the essential knowledge and skills that students need in the nursing assistant medical field. Students will study various subjects and topics including food & nutrition, anatomy, basic pharmacology, medical terminology and many more. The CNA course serves as a foundation into the medical field. Some students may advance their career towards RN or LPN and serve as a nursing assistant while continuing their nursing education.
The advantages of studying online are many including the most important one which is flexibility. Students can set their own timetable and study at their own pace in a comfortable environment. Online classes are also very convenient for individuals who are working or have other responsibilities such as parenting. Online CNA training is more reasonable depending on which school you choose. Aside from the cost, students must ensure that the online program is accredited by the state in order to be listed in the state's nurse aide registry and be certified. The American Red Cross is one of the top online schools for CNA training. The CNA program is fully accredited and consists of theory, lab skills training and clinical rotations.
CNA Training Center Reviews
Central Learning Adult School Site (C.L.A.S.S)
Class hours are flexible and convenient. The teachers are really great, they genuinely care about the success of their students and they go all out to ensure that everything is understood. The staff and other classmates are all very supportive and friendly. I love the positivity in the environment, it keeps you motivated. The school prepares you well for your career and jobs are easier to get for graduates. Good hands-on training and amazing learning experience overall. I recommend this program to anyone interested!
Fresno Adult School
Excellent classroom instruction and hands-on training! The teachers are great! They teach you the best ways to become a CNA and provide high quality healthcare at hospitals or nursing homes. The teachers are very dedicated to see students succeed and they work hard to assist you in any way they can. Reasonable tuition. Flexible class hours. Helpful career services and excellent career preparation. Safe and clean environment. Friendly staff and classmates. Overall, a great place to be and I would definitely recommend Fresno Adult School to family and friends!
Frequently Asked Questions
Can I renew my CNA license online? Renewing your CNA license is a 2-step process. Firstly, you will be required to complete 24 hours of continuing education and second, you renew your CNA license with your state's Board of Nursing upon completion of 24 hours training.
Is it worth becoming a CNA? Becoming a Certified Nurse Assistant (CNA) is a very rewarding career in many terms including pay. A CNA is responsible for caring for patients or residents that are unable to do so themselves. CNAs gain a lot of patience, confidence and other rewards out of their job. The pay for serving as a CNA is above minimum wage and with more experience, the pay can rise.
Where can I take CNA classes for free? Your local Red Cross may offer free CNA training. Nursing homes, hospitals and other long-term facilities may also offer free CNA training.
CNA Training by City (Choose your City):